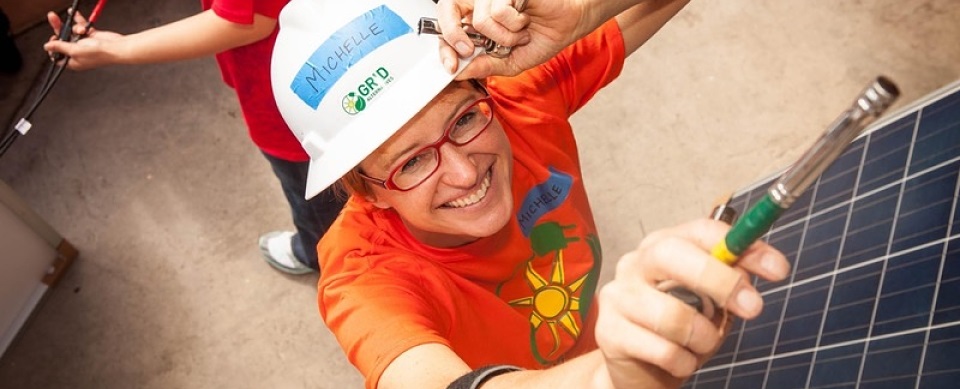 Jobseekers
Now's your chance to meet face-to-face with companies of all sizes and some of the top industry employers. The Career Fair is an opportunity to explore solar career opportunities, engage with hiring employers, and learn the ins and outs of working in solar. In addition to company booths, there will be a dedicated networking space for you to meet new contacts in the industry. Stay tuned for a schedule of events and a full list of the companies that will be attending.
Employers
Get in front of hundreds of diverse and talented jobseekers looking to gain knowledge and begin careers in the solar industry! Attendees of the Solar Career Fair will include GRID Alternatives trainees with extensive hands-on installation experience, students of job training organizations throughout the greater Los Angeles area, and residents of Southern California looking to learn more about leading companies in the solar industry.
Your booth fee includes:
customizable booth area
1 table, 2 chairs
2 lunches
listing on event map and website
Join us at at 400 West Washington Blvd., Los Angeles, CA 90015 and meet tomorrow's rising talent from solar and electrical professions! For more information, contact Adewale OgunBadejo: aogunbadejo@gridalternatives.org.
---
Attend the event!
When: Thursday, April 26, 2018, 10:00 AM - 2:00 PM
Where: Los Angeles Trade-Tech
Transportation & Parking Directions to venue:
FROM THE SANTA MONICA FREEWAY (10) EAST, exit on Grand Ave., turn right to college.
FROM THE SANTA MONICA FREEWAY (10) WEST, exit on Los Angeles Street to 17th Street, turn left on Grand Ave. to college.
FROM THE HARBOR FREEWAY (110) NORTH, exit on Adams Blvd., turn right to Grand Ave. and left to college.
FROM THE HARBOR FREEWAY (110) SOUTH, exit on Adams Blvd., turn left on 23rd Street, turn left to Grand Ave, and turn left to college.
Public Transportation:
METROLINK TRAIN, arrives Union Station, connects to Red/Blue Line and DASH Buses.
From Union Station take DASH Bus D going south, or use the Red Line to connect to the Blue Line (at 7th/Metro).
ON THE BLUE LINE, exit at Grand Ave., the third station from the northern depature point. Walk south.
ON THE EXPO LINE, exit at LATTC/Ortho Institute., located on 23rd St. Walk east.
DASH BUS D stops just about a minute's walk away from LATTC, near the courthouse, on Washington Blvd.
Parking: There are multiple parking structures available, please consult LATTC map.