Greater LA
On Thursday, December 15th, GRID Alternatives Greater Los Angeles held its annual Volunteer Appreciation Night.

Read More »
Greater LA
GRID Alternatives Greater Los Angeles leads teams of volunteers and job trainees to install solar electric systems for low-income families in Los Angeles, Orange and Ventura Counties, providing families with needed savings and giving area workers hands-on experience to help them find employment in the green-tech economy. Since we opened in 2007, we've helped over 1,120 low-income families go solar throughout the Greater Los Angeles region. Be a part of the clean energy transition- become a client, volunteer or make a donation today!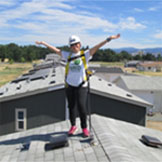 Your gift puts solar power and solar jobs where they are needed most.
Connect With GRID
Follow us on social media:
1338 South Flower Street
Los Angeles, CA 90015
General inquiries
infogla@gridalternatives.org / (310) 735-9762
Individual volunteering
volunteergla@gridalternatives.org / (310) 735-9782
Donations and corporate sponsorships
rgabbay@gridalternatives.org / (213) 725-5123
New Clients and Sevice Calls
glaoutreach@gridalternatives.org / (213)213-5899
News From the Field
Thanks to the Helpful Honda Guys and EcoMedia…

When undergraduate and graduate students spend a week at GRIDLA activities, everything from the site visits to the homeowner install is a step...

In February, Outreach took our show on the road: a beautiful assortment of slides, stories and info for a partner in the South Bay region of our...

"Under different circumstances I would have never met or been in the same room as a UCLA student or engineer or someone who works for Tesla," he says...

GRID Alternatives supports equity and second chances for all. We see the solar industry as a vehicle to open up opportunity for everyone, and in that...