Greater LA
On Thursday, December 15th, GRID Alternatives Greater Los Angeles held its annual Volunteer Appreciation Night.

Read More »
Greater LA
GRID Alternatives Greater Los Angeles leads teams of volunteers and job trainees to install solar electric systems for low-income families in Los Angeles, Orange and Ventura Counties, providing families with needed savings and giving area workers hands-on experience to help them find employment in the green-tech economy. Since we opened in 2007, we've helped over 1,120 low-income families go solar throughout the Greater Los Angeles region. Be a part of the clean energy transition- become a client, volunteer or make a donation today!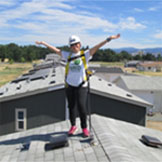 Your gift puts solar power and solar jobs where they are needed most.
Connect With GRID
Follow us on social media:
1338 South Flower Street
Los Angeles, CA 90015
General inquiries
infogla@gridalternatives.org / (310) 735-9762
Individual volunteering
volunteergla@gridalternatives.org / (310) 735-9782
Donations and corporate sponsorships
rgabbay@gridalternatives.org / (213) 725-5123
New Clients and Sevice Calls
glaoutreach@gridalternatives.org / (213)213-5899
News From the Field
On Thursday, December 15th, GRID Alternatives Greater Los Angeles held its annual Volunteer Appreciation Night.

It is our volunteers who make our work at GRID possible. During this holiday season, we would like to shine the solar spotlight on one particular...

As the nation expressed it's gratitude for our veterans on Veterans Day, we must never forget that the highest show of appreciation is not to just...

On Wednesday, as part of Greenbuild International Conference and Expo, the largest green building conference and expo in the world, GRID Alternatives...

Last month, we launched a bold canvassing pilot project aimed at reaching out to the community of Baldwin Hills to serve residents with solar and...