We believe that a successful transition to clean, renewable energy needs to include everyone. See the impact of our work.

Read more. »

Our training programs help job seekers prepare for clean energy careers...

Learn More »

Your gift to GRID helps make sure that everyone can participate in the transition to clean, renewable energy.

Donate now »
Who We Are
GRID Alternatives' vision is a successful transition to clean, renewable energy that includes everyone. Our mission is to make renewable energy technology and job training accessible to underserved communities.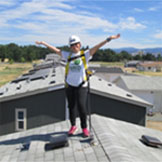 Your gift puts solar power and solar jobs where they are needed most.
Connect With GRID
Follow us on social media:
Our Impact
People
Solar saves families money, which they can use on food or clothing, or save for college tuition.
Planet
With solar, we help environmentally burdened communities see a brighter, cleaner future for generations to come.
Employment
We provide hands-on training that can help launch a new career in solar.
News From the Field
This year, GRID welcomed college teams from across the country for our most ambitious--and impactful--Solar Spring Break yet!

We hate to brag, but our volunteers are the best. They're always willing to roll up their sleeves to get the job done and bring savings to families...

The California Public Utilities Commission (CPUC) plays a big role in GRID's work to bring solar to low-income families in California, but it isn't...

23 SunPower employee volunteers were on site in March to help bring solar to Marcus Garvey Commons--a 22-unit multifamily development in West Oakland.

Daisy Meyer knows exactly what it takes to land a job in solar--she's done it. And now she's turning that experience into opportunities for others.