Who We Are
GRID Alternatives' vision is a successful transition to clean, renewable energy that includes everyone. Our mission is to make renewable energy technology and job training accessible to underserved communities.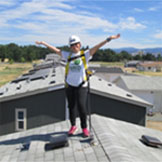 Your gift puts solar power and solar jobs where they are needed most.
Connect With GRID
Follow us on social media:
Our Impact
People
Solar saves families money, which they can use on food or clothing, or save for college tuition.
Planet
With solar, we help environmentally burdened communities see a brighter, cleaner future for generations to come.
Employment
We provide hands-on training that can help launch a new career in solar.
News From the Field
Katie Neal knows her way around a solar electric system. After earning her Bachelor's of Science in Mechanical Engineering, she launched her career...

Hung Nguyen and his family are finally catching a break. After months of electricity bills exceeding $400, they can now look forward to solar savings...

The Chippewa Cree Tribe, Stone Child College, and GRID Alternatives partner to install six 3.5 kW solar PV systems on three duplexes in Box Elder,...

Professional free-climber Alex Honnold helps install solar for a Sacramento family.

Enphase volunteers finish installing the tenth and final solar electric system at the Mt. Burdell Habitat for Humanity development in Novato,...