We believe that a successful transition to clean, renewable energy needs to include everyone. See the impact of our work.

Learn More »

In Nepal, 6.6 million people live without power. Solar has the power to change that. Donate today to help us light up a village in September 2016!

Learn More »

We have so much to celebrate, from big wins for solar access to our daily successes bringing solar power and training to people that need it most.

Learn More »
Who We Are
GRID Alternatives' vision is a successful transition to clean, renewable energy that includes everyone. Our mission is to make renewable energy technology and job training accessible to underserved communities.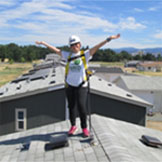 Your gift puts solar power and solar jobs where they are needed most.
Connect With GRID
Follow us on social media:
Our Impact
People
Solar saves families money, which they can use on food or clothing, or save for college tuition.
Planet
With solar, we help environmentally burdened communities see a brighter, cleaner future for generations to come.
Employment
We provide hands-on training that can help launch a new career in solar.
News From the Field
During the first two weeks of October, GRID Alternatives completed its first project in Nepal, bringing power to a community that is still rebuilding...

Watch our new powerful short film about solar's potential to transform disadvantaged communities by lowering energy costs, providing pathways to...

GRID Alternatives Mid-Atlantic recently hosted its first Troops to Solar build in Virginia! GRID Alternatives and HeroHomes teamed up to save money...

In September, a group of 50 women from around the country joined GRID Alternatives Colorado for GRID's first-ever WE Build retreat. Over two days of...

We're excited to introduce our Solar Futures K-8 Toolkit, which was designed in collaboration with SunPower to educate and inspire young students...