Inland Empire
Inland Empire
GRID Inland Empire positively transforms the lives of residents and communities by providing access to clean, renewable solar energy to low income families and hands-on job training to help workers enter the solar industry! Be a part of the clean energy transition- become a client, volunteer or make a donation today!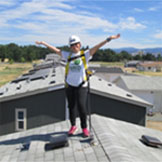 Your gift puts solar power and solar jobs where they are needed most.
Connect With GRID
Follow us on social media:
GRID Alternatives Inland Empire Office
1660 Chicago Ave, Suite M21
Riverside, CA 92507
News From the Field
Frankie Munoz saw a GRID Construction team at work...

Perris resident Sonia Vieyra was surfing...

GRID IE is leading the way...

When Barbara Bowen heard about GRID...

A rewarding first GRID install for Jenny and Melissa...