In response to the rapidly spreading COVID-19 virus, GRID has cancelled volunteer opportunities on all of our public installations indefinitely effective March 16, 2020. Learn more about GRID's pandemic response here.
Volunteering on a solar installation with GRID Alternatives is a great way to give back to your community while getting hands-on with solar technology. No experience is required. Whether you are a solar enthusiast, community activist, a volunteer with your company, or a college student looking for a meaningful way to spend your spring break, our licensed installers will teach you everything you need to know. Our Solar Installation Training Programs provide additional training for those looking for jobs in the solar industry.  
The GRID Volunteer Process
Signing up to volunteer with GRID is a four-step process.
You will receive a confirmation email with a link to the GRID portal.

Create a Login

We'll email you a link to the GRID Portal. Click it to create a login.

 

Attend an Orientation

Visit the Opportunities Calendar to select an orientation near you.

 

Sign up for an Opportunity

Sign up for an installation or other event from the Opportunities Calendar.

 
If you can't attend an orientation in person, we also host monthly online orientations. You must have access to a computer to view the presentation.  
Once you attend an orientation, you can volunteer with GRID Alternatives!
While most of our volunteer opportunities are installing solar for families with limited incomes, some of our regional offices offer additional volunteer opportunities, such as:
Canvassing with our outreach team to introduce families to our services
Resume building and mock interview workshops to help job trainees prepare for the workforce
Special event support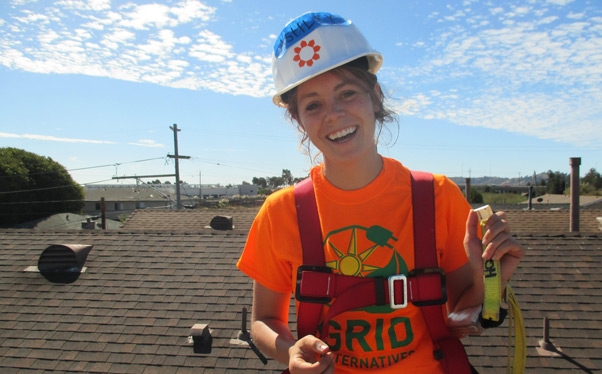 "I started volunteering with GRID when I moved to California to work in solar after college. Working with volunteers and homeowners is endlessly inspirational, and time on the job site brings credibility and insight to my career. I love teaching as a team lead and learn something new on every install!"
-- Ashley Gremel, Bay Area volunteer
 
Volunteer in Your Community
Volunteering with GRID happens at the local level. Please contact the regional office that serves your area or email volunteersupport@gridalternatives.org for assistance.
Having trouble finding your office, or need to connect with your local volunteer coordinator? Click here for contact information.