Who We Are
GRID Alternatives' vision is a successful transition to clean, renewable energy that includes everyone. Our mission is to make renewable energy technology and job training accessible to underserved communities.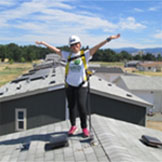 Your gift puts solar power and solar jobs where they are needed most.
Connect With GRID
Follow us on social media:
Our Impact
People
Solar saves families money, which they can use on food or clothing, or save for college tuition.
Planet
With solar, we help environmentally burdened communities see a brighter, cleaner future for generations to come.
Employment
We provide hands-on training that can help launch a new career in solar.
News From the Field
David Bowersox hails from the heart of coal country, but spent his Spring Break installing solar in sunny San Diego.

Nearly 200 college students are trading the beach for a rooftop this spring! Students from 19 schools across the country will spend their school...

Joan Murphy of Loveland, Colorado, is a born fighter. She overcame lasting injuries as a result of a serious car accident, but still felt the stress...

In October 2017, GRID's VP of Construction and Workforce Development, Anna Bautista, received C3E's Advocacy Award for her extraordinary work...

For three days in early December 2017, GRID Alternatives led a small group of Native American women through the process of refurbishing a Navajo...