Who We Are
GRID Alternatives' vision is a successful transition to clean, renewable energy that includes everyone. Our mission is to make renewable energy technology and job training accessible to underserved communities.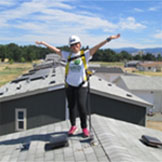 Your gift puts solar power and solar jobs where they are needed most.
Connect With GRID
Follow us on social media:
Our Impact
People
Solar saves families money, which they can use on food or clothing, or save for college tuition.
Planet
With solar, we help environmentally burdened communities see a brighter, cleaner future for generations to come.
Employment
We provide hands-on training that can help launch a new career in solar.
News From the Field
For Memorial Day, GRID Alternatives' Tribal Program and Ecological Action, a student-created nonprofit from Cherry Creek High School in Denver,...

GRID North Valley welcomed a Solar Spring Break team of veterans from Perry Technical Institute from Washington for a week of hands-on solar training...

Savings for you, clean power for your community. Introducing the Energy for All Program!

"My name is Raymundo de Jesus Villagra Garcia and I'm 63 years old. I was born in the same house where I currently live in the community of San...

Senator Kevin de León celebrates pairing of two state programs that are easing the energy burden for low-income households and providing local job...