Who We Are
GRID Alternatives envisions a rapid, equitable transition to a world powered by renewable energy that benefits everyone. Our mission is to build community-powered solutions to advance economic and environmental justice through renewable energy.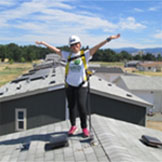 Your gift puts solar power and solar jobs where they are needed most.
Connect With GRID
Follow us on social media:
Our Impact
News
GRID Alternatives strongly condemns the violent assault that took place in our nation's capitol on January 6th. Our thoughts are with our Mid-...

With a historic election turnout, the win for President-elect Biden and Vice President-elect Harris gives us a fighting chance for environmental...

On the ballot this year: Climate action. Environmental justice. Clean energy. Racial justice. Economic equity. Solar jobs. This year, ongoing local,...

Greetings, relatives, It is more critical than ever to recognize and acknowledge the contributions of tribal communities to climate action and...

Following Breonna Taylor's Kentucky Grand Jury case decision, GRID Alternatives shared the following message internally with its staff. We want to...