Who We Are
GRID Alternatives' vision is a successful transition to clean, renewable energy that includes everyone. Our mission is to make renewable energy technology and job training accessible to underserved communities.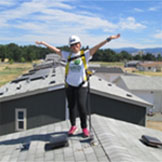 Your gift puts solar power and solar jobs where they are needed most.
Connect With GRID
Follow us on social media:
Our Impact
People
Solar saves families money, which they can use on food or clothing, or save for college tuition.
Planet
With solar, we help environmentally burdened communities see a brighter, cleaner future for generations to come.
Employment
We provide hands-on training that can help launch a new career in solar.
News From the Field
GRID Alternatives celebrated environmental and economic justice leaders at our fifth annual Interconnection event in San Francisco last night. The...

We're proud to have been honored by Energy Upgrade California as a leader for leadership in community outreach and education!

In September, eight IGS Energy employees traveled to La Misión, Mexico with GRID's International Program to install solar on Door of Faith Orphanage...

A successful conference like this one gave energy and inspiration to everyone who attended, no matter their role!

Cynthia Ibarra could hardly wait for her new gig as a SolarCorps Outreach Fellow for GRID Central Coast, so when she was handed a name tag on her...