Who We Are
GRID Alternatives' vision is a successful transition to clean, renewable energy that includes everyone. Our mission is to make renewable energy technology and job training accessible to underserved communities.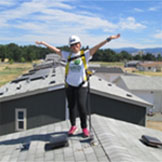 Your gift puts solar power and solar jobs where they are needed most.
Connect With GRID
Follow us on social media:
Our Impact
People
Solar saves families money, which they can use on food or clothing, or save for college tuition.
Planet
With solar, we help environmentally burdened communities see a brighter, cleaner future for generations to come.
Employment
We provide hands-on training that can help launch a new career in solar.
News From the Field
While hundreds of world leaders descended on San Francisco, GRID showcased California low-income solar policy in action with State Senator Kevin de...

The Global Climate Action Summit is coming to GRID's home turf, and we're excited to be a part of the conversation!

Our national Tribal Program has worked since 2010 to help tribes achieve their renewable energy goals with solar, and today we're thrilled to...

Following the 2015 Valley Fire, GRID Alternatives Bay Area/North Coast began looking for opportunities to pair rebuilt homes with solar and its...

It was a hot, summer day during monsoon season when GRID Alternatives' Tribal HQ team traveled down dirt-packed New Mexican roads to the tiny town of...