Who We Are
GRID Alternatives' vision is a successful transition to clean, renewable energy that includes everyone. Our mission is to make renewable energy technology and job training accessible to underserved communities.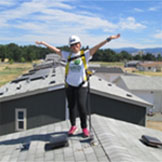 Your gift puts solar power and solar jobs where they are needed most.
Connect With GRID
Follow us on social media:
Our Impact
People
Solar saves families money, which they can use on food or clothing, or save for college tuition.
Planet
With solar, we help environmentally burdened communities see a brighter, cleaner future for generations to come.
Employment
We provide hands-on training that can help launch a new career in solar.
News From the Field
For three days in early December 2017, GRID Alternatives led a small group of Native American women through the process of refurbishing a Navajo...

There are certain meaningful experiences throughout life that compel you to turn inward and reflect. My trip to the rural community of El Pedregal,...

Veronica Johnson is a single mother of three and a resident of a Denver Housing Authority apartment building. Veronica was working in the kitchen at...

The Trump Administration's decision to impose tariffs on solar panels is a setback for clean energy and jobs in frontline communities.

We honored Dr. Martin Luther King Jr.'s birthday with a special project in partnership with the NAACP, installing solar on a transitional housing...