Who We Are
GRID Alternatives' vision is a successful transition to clean, renewable energy that includes everyone. Our mission is to make renewable energy technology and job training accessible to underserved communities.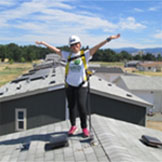 Your gift puts solar power and solar jobs where they are needed most.
Connect With GRID
Follow us on social media:
Our Impact
News From the Field
We are inspired this month by our Earth Heroes - our trainees, volunteers, clients, SolarCorps Fellows, staff are all commited to making our Earth a...

When it comes to making clean energy future that includes everyone, Ashley Gremel doesn't just walk the walk -- she picks up a paddle and starts...

Solar Spring Break kicked off earlier this month. We caught up with Rionna Octaviano, a student from University of Nevada, Reno who was headed off to...

In honor of AmeriCorps Week 2019 -- and in recognition of Women's History Month -- we would like to introduce you to six incredible SolarCorps...

This International Women's History month, GRID is raising money to install solar on the Miteri Birthing Center.