Who We Are
GRID Alternatives' vision is a successful transition to clean, renewable energy that includes everyone. Our mission is to make renewable energy technology and job training accessible to underserved communities.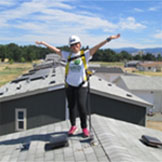 Your gift puts solar power and solar jobs where they are needed most.
Connect With GRID
Follow us on social media:
Our Impact
News From the Field
In honor of AmeriCorps Week 2019 -- and in recognition of Women's History Month -- we would like to introduce you to six incredible SolarCorps...

This International Women's History month, GRID is raising money to install solar on the Miteri Birthing Center.

Earlier this month, The Solar Foundation released the 2018 National Solar Jobs Census. Meet some folks who started their solar careers with GRID!

LaDios Muhammad is the Executive Assistant at GRID Alternatives Colorado, and a lifelong student of history. She sat down with us one afternoon to...

Clovis Honoré wears many hats: Minister, GRID Alternatives Outreach Coordinator, and now President of the NAACP San Diego. We sat down to talk with...