Over $1 Million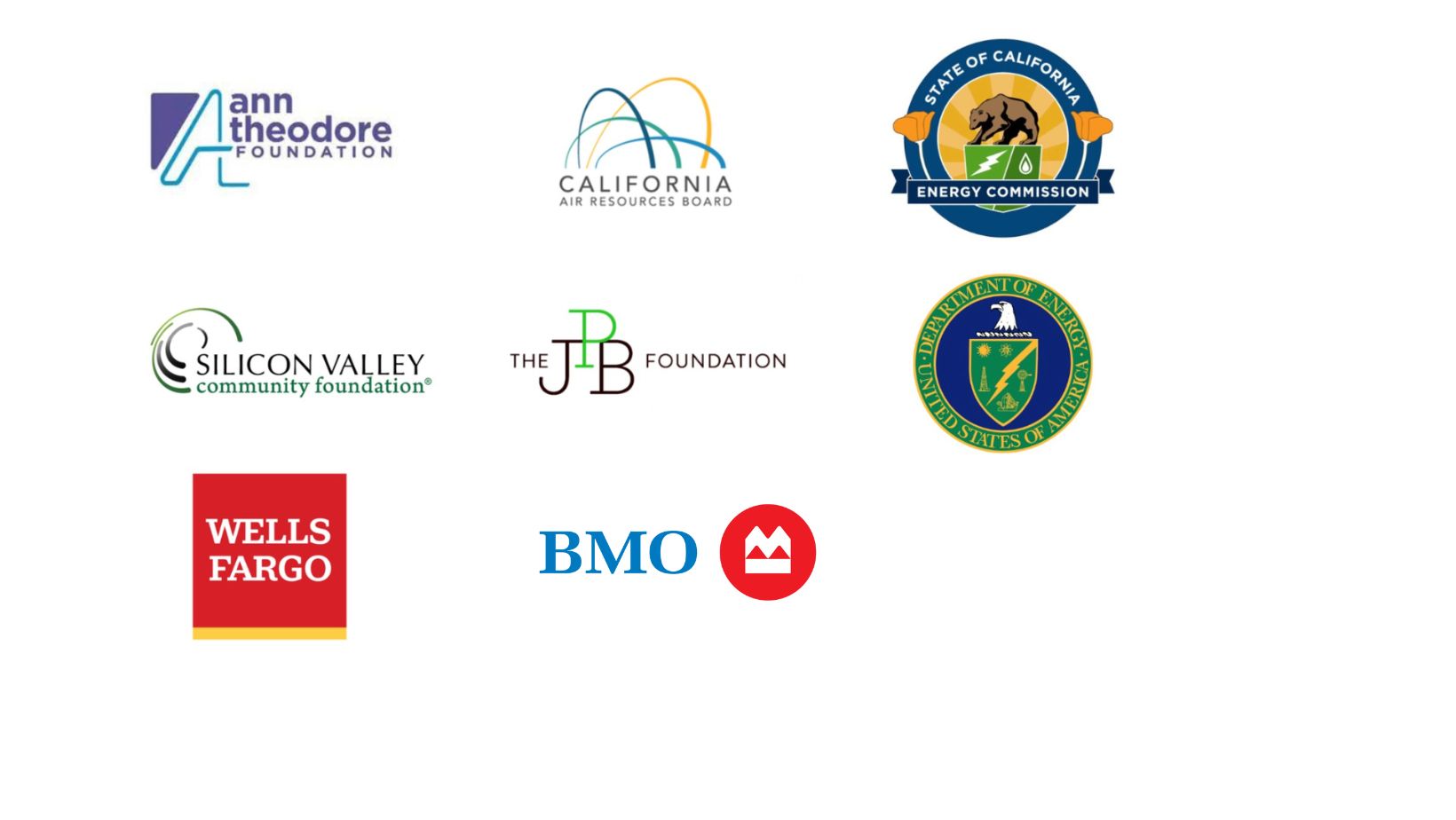 $250K-$1 million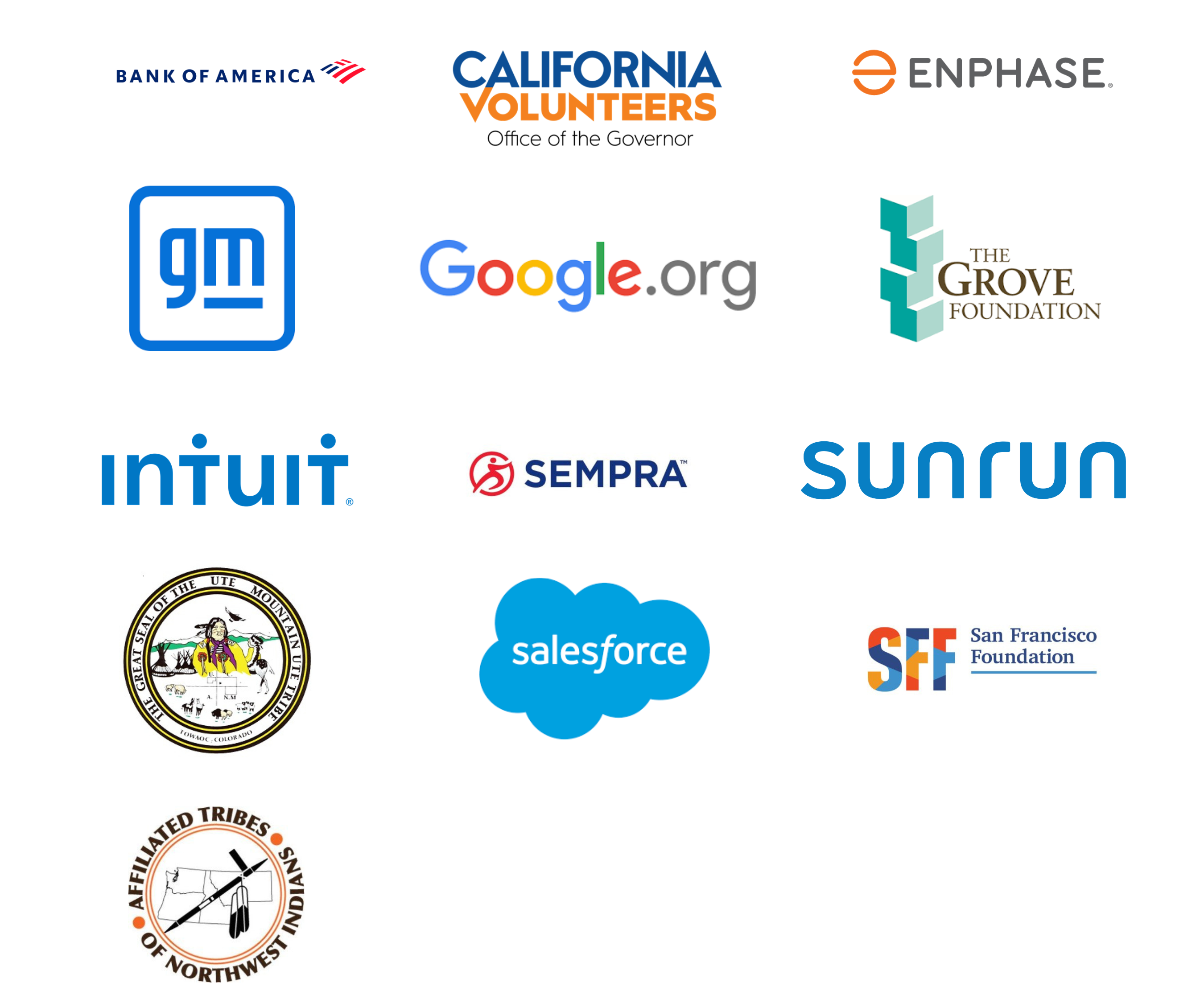 Adams County
American Honda Motor Co., Inc.
Ardsley Partners
Bank of the West
California Governor's Office of Business and Economic Development
County of San Diego
David and Julie Blaha
East Bay Community Energy
East Bay Community Foundation
Fornage Charitable Fund
Housing Authority of the City of Los Angeles
IGS Energy
Jean & Robert Graham
Meta
Mighty Arrow Family Foundation
NortonLifeLock Inc.
Okta
San Diego Foundation
Seven One Eight Fund
Workday Foundation
Accenture
Aurora Solar
Bank of the Sierra
Billica & Vickers Giving Fund
Bohemian Foundation
Calpine Energy Solutions in partnership with Clean Power Alliance
Chris & Julia Stenzel
Citizens Business Bank
City of San Diego
County of Sacramento
Dolby Laboratories
Dwight Stuart Youth Fund
Federal Home Loan Bank of San Francisco
Flex Foundation
Global Wildlife Conservation
Green Park Foundation
Helen V. Brach Foundation
Hill Blackett, III and Elaine Bayus
Hilton Effect Foundation
IGS Energy
Invenergy LLC
Jamboree Housing Corporation
KPMG
LinkedIn
Microsoft Corporation
Murray Jurich Family Fund
Organic Valley
Pacific Premier Bank
Pinterest
Raghu Belur and Champa Sreenivas
RBC Foundation USA
Salal Credit Union
Sally Mead Hands Foundation
Schneider Electric North America Foundation
SEED Consulting Group
SolarStrap
SunPower
TD Bank
The 11th Hour Project, A Program of The Schmidt Family Foundation
The Boeing Company
The Buck Foundation
The GRID Alternatives Climate Ride Team
The Hervey Family Fund at the San Diego Foundation
The Paul and June Rosetti Family Fund
The Wykle Rosenberg Family Fund
Tom and Chris Moldauer
Toshiba America Electronic Components, Inc.
United Airlines
UtilityAPI
Violet World Foundation
3RE
AES Corporation
Alicia Schwarz
Amp Energy
Andrew Stoltzfus
Anonymous donor advised fund of the Jewish Community Foundation
Axel Vesser
Borrego Solar Systems, Inc.
Cascade Solar & Electric
Catalyze
Change a Life Foundation
City National Bank
Clarios
Cleantech Communication
Clif Family Foundation
Colorado Housing and Finance Authority
CTBC Bank
Cypress Creek Renewables
Dr. Bronner's
Foley and Lardner LLP
Franklin Weinberg Fund
Fred & Jean Allegretti Foundation
Galehead Development
HanBaek Co. Ltd.
Hearthland Embers Foundation
John & Elaine French Family Foundation
Kaiser Permanente
KB Home
Kerr Family Foundation
Kettering Family Foundation
Kilroy Realty
Michael Spiegelmann
National Co+op Grocers
National Renewable Energy Laboratory
New Columbia Solar
Onpeak Capital
Planet Home Charitable Foundation
PLUS 1
Raley's
Rasmuson Foundation
Reid Tucker
Renaissance Charitable Foundation
Rodger Poore
SAE International
Sara Ross
Schlessman Family Foundation
Sherman Family Foundation
Shugar Magic Foundation
Sills Family Foundation
Solarplaza Foundation
Suncor
Tetra Tech
The Bydale Foundation
The Denver Foundation
The William J. Hopkins, JR Family Trust
Theodore and Linda Koeman
UHS Tribal Program Donor Circle
Umpqua Bank Charitable Foundation
WayMo
Individual Donors
Hundreds of individuals also donate in support of GRID Alternatives' programs. Thank you for supporting renewable energy for communities in need!
Learn more about ways to give.
Last updated: November 2022