Familiar with our original Team Leader Program? In Fall 2016 we launched an updated program. Previously-issued Team Leader Certificates will still be recognized. If you're a job training organization or former Team Leader interested in learning more about our new programs, email esymmonds@gridalternatives.org.
---
Benefits of Training with GRID
Invaluable hands-on training
Access to potential employment opportunities
Skill certificates awarded for demonstrating competence on real-world installations
Opportunities to gain leadership skills as part of our Team Leader Program
Priority participant slots on most installations
Access to trainee-only events and workshops
Experience that counts toward qualifying for the NABCEP PV Installer Exam (Team Leader only - contact your regional office to learn more)
---
Certificate Programs
GRID offers two progressive certificate programs - Installation Basics Training (IBT) and Team Leader Training. Trainees may specialize in electrical or array work, or both.
In line with GRID's mission to make training accessible to underserved communities, GRID's certificate programs will be available to a limited number of participants and students from job training organizations.
Interested in volunteering? Learn more.
---
Start Training with GRID
To become a GRID Trainee you must:
Sign up for an orientation (in person or online)
Participate in at least one full GRID Alternatives installation
Attend Installation Basics Training Orientation at your regional office
Demonstrate competency of IBT skills under the evaluation of GRID staff members to earn your skill certificates
Trainees who complete either all the electrical or all the array skills in the IBT program can then move on to the Team Leader program. Access to the program is based on training slot availability and individual assessment.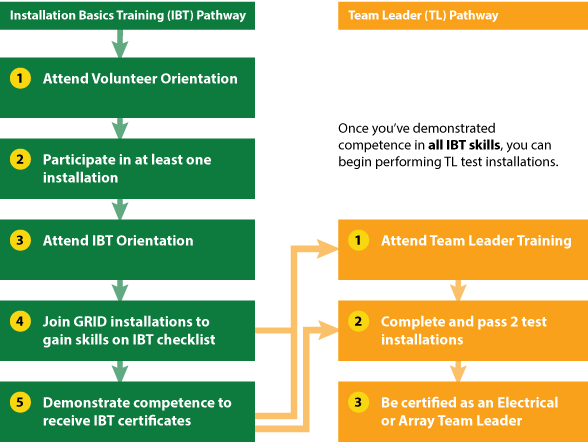 ---
Employment Opportunities for Trainees
Trainees have access to various potential paths to employment, including
on-site networking opportunities with other participants and corporate sponsors
referrals to companies who are hiring for installation and other positions in the solar industry
access to the GRID Alternatives Resume Bank
access to solar jobs guides compiled by GRID workforce development staff
access to the Solar Training Network, a platform that connects job seekers with solar employers through a web portal, job fairs and other resources
referrals through GRID's Sub-contractor Partnership Program (SPP) for paid short-term work as an SPP job trainee.
If you are interested in hiring GRID trainees or learning more about trainings for groups, please contact Erika Symmonds, Director of Workforce Development at esymmonds@gridalternatives.org.