What kind of solar system does GRID install?
GRID installs solar electric systems, also known as photovoltaic (PV) systems, which create electricity and help reduce the cost of electric bills.
How much money will I save if I go solar with GRID?
Solar electric systems installed by GRID Alternatives typically reduce homeowners' electric bills by 50-90% – and with GRID, these savings go directly to you. The savings on electricity provided by a solar system will vary depending on factors such as the solar system size, the space and position of your roof, and how much electricity you use. A solar energy system does not provide unlimited power – the less energy you use, the lower your bill will be.
How much will the solar system cost me?
Homeowners eligible for GRID's Energy for All Program do not have to pay to get a solar system installed on their home. GRID is able to offer this program to qualified families because we leverage multiple funding sources, including government incentives, manufacturer partnerships and more to bring the benefits of solar to eligible families.
How do I know if I am eligible?
GRID's Energy for All Program provides solar to families with low to moderate incomes in specific states and regions. Our organization uses state and other government funding to provide solar systems to homeowners who meet program specifications, so we need to verify your income level and home's location, as well as other factors, to determine your eligibility. Contact the GRID Client Care Team by phone at 866-921-4696, or start the process online.
How does GRID install solar systems at no cost?  
GRID is a community-based nonprofit organization that installs solar for low-income homeowners as part of our mission to make renewable energy technology and job training accessible to underserved communities. We connect families with government programs in order to bring the benefits of solar to you at no cost. And we partner with corporations, individual donors, and other funding sources to offset the cost of the solar systems we install. GRID works in many U.S. locations, including California, Colorado, Delaware, Maryland, Washington D.C. and Virginia. In California, GRID Alternatives is the program administrator for the Single-Family Affordable Solar Homes (SASH) and the Disadvantaged Communities - Single-family Affordable Solar Homes (DAC-SASH) programs. In Washington D.C., GRID Alternatives Mid-Atlantic implements the Solar Works DC program. Find out more about GRID's impact here.
Will I still get an electric bill?
Yes. The solar system will cover a portion of the electricity you use, but not all of it, and your home will still be connected to the electric grid. In other words, the solar system will lower your electricity bill, but it will not eliminate it. Your utility company will continue to tally up the electricity you use and will charge you for your usage over and above what your solar system has generated. This usually comes in the form of an annual true-up bill. Talk with your utility about billing options. With your utility bill, you will also continue to pay for other ongoing energy use such as gas.
How long does a solar system last?
GRID use the same solar system components as solar companies in the industry. Solar panels will produce energy for 20+ years and, because solar is a proven and reliable technology, solar system components enjoy generous warranties of between 10 and 25 years, depending on the manufacturer. GRID guarantees all of our installations for 10 years.
How does getting a solar system help the environment?
With solar, you can use clean energy created by the sun and delivered directly to your house. The excess is fed back into your utility's grid to power other homes and businesses. If you have a solar system installed, you are doing your part to help the environment for your family and your community.
How do I know how much energy my system is generating?
Each system has monitoring options – talk with your Outreach Coordinator about the type your system will have. Keep in mind that your system will produce energy, but if you use more than the system produces, you will owe your utility company for this energy. Your utility company will assess the difference between the energy used by your system and returned to the electricity grid and the additional energy your home draws from the grid. They will then produce a bill, called the annual true-up bill, and you will be charged for any excess energy used.
Will I still have electricity during a blackout?
Because the solar system has no battery storage, you will not have power during a blackout or power outage. Your house will remain connected to your utility's electricity grid.
What if my roof is old?
If GRID determines that a homeowner's roof is too old to safely install solar, we usually recommend that the homeowner contact us after getting a new roof. Because many people apply for our program, we cannot guarantee that you will be able to get solar with GRID if you contact us again after a new roof is installed. Your application will be reviewed at that later time. We serve our clients on a first come, first served basis.
I have quotes from other solar contractors. Will you match them?
GRID is a community-based, non-profit organization and does not match solar contractor quotes. If you are eligible for GRID's program, no solar company costs you less than GRID. That is because GRID administers government-funded programs and uses other resources to provide solar at no cost to eligible homeowners. We pay for the solar system!
How many solar panels will I get?
The size of the solar system and how many solar panels each eligible homeowner receives depends on historical electrical usage, the size and orientation of your roof, and funding rules. Energy efficiency and conservation are important strategies to reducing a household's energy consumption and an integral part of going solar or taking charge of your energy bills. Contact your local government and utility to inquire about programs to help you take advantage of free incentives or other programs for energy efficiency.
Do solar panels increase the value of my home?
A fully paid solar system like the ones installed by GRID is likely to increase your property value, although there are no clear standards in the real estate market as to how much. Research has found that most buyers are willing to pay more for a home that has solar on it, particularly if the solar is paid for.
What if I want to sell my home?
Because the solar system is paid for in full, it will not be a barrier to selling your home at any time. Some additional paperwork will be required as part of the selling process. If you move forward with the qualification process, your GRID Outreach Coordinator will explain in detail how to get the solar agreement transferred to the new owner. Unlike for-profit solar systems, there is no credit check and there are no eligibility requirements to transfer the solar agreement to a new homebuyer.
How does a solar system work?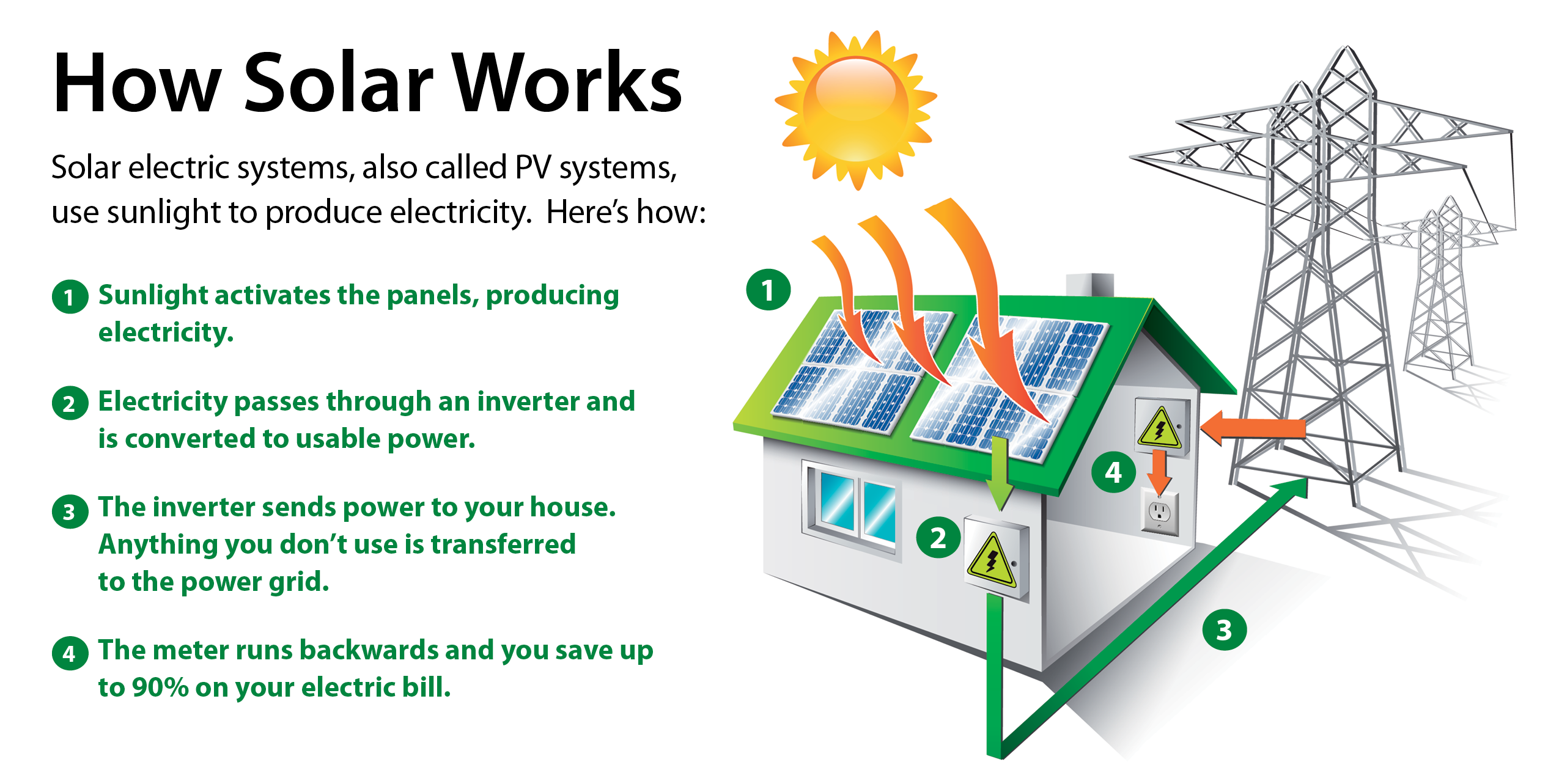 Click on the image to enlarge it.