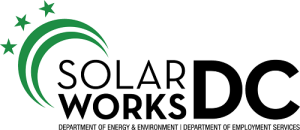 There's a place for you in the solar industry.
Solar is on pace to employ 400,000 people in America by 2030. Solar employment needs more than 900,000 workers by 2035 to reach the nation's 100% clean electricity goal.
Solar Works DC is your ticket to a stable, rewarding career! Not only that, working in solar helps make our planet and our communities healthier.
What is the program?
The Solar Works DC program prepares District residents aged 18 and over for careers in solar and beyond. As a trainee, you'll learn the basics of solar energy and photovoltaic (PV) systems from professionals at GRID Mid-Atlantic and around the industry. Then, you'll hone your skills by doing real installations for District homeowners. 
Along with hands-on training, the seven-week program will help you develop career skills (like interviewing and resume building) and earn CPR and OSHA certifications. You'll also be prepped for earning a NABCEP PV Associate Credential. This certification won't just show employers you're ready for a job in solar—it'll help you make more in the industry because you are more qualified.
Throughout the program, Solar Works DC will offer case management services to ensure your physical and mental needs are met. Finally, you'll earn $16/hour during your time in the program.
When is the program?
Solar Works DC offers training for District residents over 18 years old in the spring and fall. Spring and fall cohorts last seven weeks.
During the summer, a six-week session is offered to District residents aged 18-24 through the Marion Barry Summer Youth Employment Program (MBSYEP).
What happens after the program?
After the program, GRID Mid-Atlantic will continue to provide support for up to six months to help you find a career in solar or beyond. We'll help you hone your skills with boot camps and other events.
How do I apply?
It's easy! Start by submitting an application through Indeed. Go here to apply. (Solar Works DC is only open to current DC residents.)
After you submit your application, we'll make sure you meet the basic requirements to enter the program. If you do, we'll reach out to you to schedule an interview.
From there, we'll provide you more information with how to join the program.
Questions? Contact GRID Alternatives Mid-Atlantic at (202) 602-0191 or solarworksdc@gridalternatives.org.
Who is behind the program?
The Department of Energy & Environment (DOEE) and Department of Employment Services (DOES) oversee the Solar Works DC program. GRID Mid-Atlantic has implemented the program by providing training services and organizing solar installations since 2016.
Solar Works DC is part of DOEE's Solar for All program. Solar for All seeks to provide the benefits of solar energy to 100,000 low-income households and reduce their energy bills by 50% by 2032. The program, which was established by the Renewable Portfolio Standard (RPS) Expansion Amendment Act of 2016, is funded by the Renewable Energy Development Fund (REDF).
Interested in getting solar panels on your home?
Solar Works DC provides no-cost solar for families with limited or fixed incomes. And you can save 50% or more on your electricity bills! See if you qualify online or by contacting GRID Alternatives Mid-Atlantic at (202) 602-0191.
You can also refer friends and family to receive solar from GRID Mid-Atlantic—for each person you refer that gets solar from us, we'll pay you $200! Refer someone you know today.
Solar Works DC Program Details
Training is seven weeks long, Monday to Friday, up to 35 hours per week. (Summer cohorts are six weeks.)
The program is a hybrid model of classroom education and hands-on solar training, which includes:

Classroom instruction of GRID's Installation's Basics Training, mock install demonstrations, construction basics, outreach and marketing, energy efficiency, professional development workshops, and more. Classroom sessions begin at 9 am.
On-site live solar installations throughout all 8 wards in the District. Install days begin at 7:30 am.

Trainees are responsible for transportation to and from the DC Infrastructure Academy (DCIA), where classroom sessions take place. On installation days, Solar Works DC will provide transportation from DCIA to the installation site.

Metro to DCIA: ride to Anacostia (Green Line), walk 17 mins
Bus routes near DCIA: DC Circulator (Congress Heights-Union Station), WMATA (W8, W6, W2, W3, A33) 

Solar Works DC provides career development workshops and job placement support for trainees who successfully complete the program up to six months after graduation. The program also provides full-time case management for the duration of the program.
All applicants will be processed through the DC Infrastructure Academy and must take the Comprehensive Adult Student Assessment Systems (CASAS) test for basic math and reading. Applicants must also complete a PAID two (2) week work readiness prerequisite.
The DC Infrastructure Academy pays a $16 per hour flat training wage directly to all trainees.
Minimum Qualifications to Participate
Must be a District resident and show proof of residency.
Must be at least 18 years old and show proof of age.
Must have a high school diploma or GED equivalent.
Must be able to commit to a 7-week program, Monday to Friday (up to 35 hours per week).
Must be able to climb a ladder and get on a rooftop for installations.
Must be able to lift heavy equipment (rails, solar panels, etc.).
Must be able and willing to work in extreme temperatures.
Solar Works DC Testimonial
Lexi graduated from Solar Works DC in June 2023. Now with the skills gained from the program, she's interested in building a career in the solar industry. Here's what she had to say about her experience as a Solar Works DC trainee: