Inland Empire
Inland Empire
GRID Inland Empire positively transforms the lives of residents and communities by providing access to clean, renewable solar energy to low income families and hands-on job training to help workers enter the solar industry! Be a part of the clean energy transition- become a client, volunteer or make a donation today!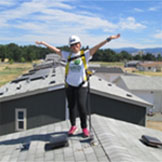 Your gift puts solar power and solar jobs where they are needed most.
Connect With GRID
Follow us on social media:
GRID Alternatives Inland Empire Office
1660 Chicago Ave, Suite M21
Riverside, CA 92507
News From the Field
ਅਲਹੁ ਗੈਬੁ ਸਗਲ ਘਟ ਭੀਤਰਿ ਹਿਰਦੈ ਲੇਹੁ ਬਿਚਾਰੀ ॥ ਆਸਾ (ਭ. ਕਬੀਰ) (੨੯) ੩:੧ - ਗੁਰੂ ਗ੍ਰੰਥ ਸਾਹਿਬ : ਅੰਗ ੪੮੩ ਪੰ. ੭ (Gurmukhi, the script in which the Punjabi...

My name is Chris Rosales and I am a fifth year finance major at California State Polytechnic University, Pomona. In my five years as a finance...

People often ask me, "What's the difference between sustainability studies and environmental science?" The simple answer is this: Sustainability is...

Blaine Boyer is an educator at Rancho Vista High School, a continuation school in Temecula, who has been an active partner of GRID Alternatives since...

Imagine, at age 18, receiving an opportunity that will guide you to your ideal career. Although the journey to finding your career is always a...