Inland Empire
Inland Empire
GRID Inland Empire positively transforms the lives of residents and communities by providing access to clean, renewable solar energy to low income families and hands-on job training to help workers enter the solar industry! Be a part of the clean energy transition- become a client, volunteer or make a donation today!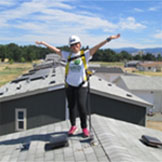 Your gift puts solar power and solar jobs where they are needed most.
Connect With GRID
Follow us on social media:
GRID Alternatives Inland Empire Office
Physical Address: 2100 Atlanta Ave. | Riverside, CA 92507

Mailing Address: P.O. Box 56070 | Riverside, CA 92517
News
Miriam and her family have been Ontario residents for 38 years and she is the matriarch of her large family.

GRID Alternatives Inland Empire (GRID IE), an affiliate of GRID Alternatives, officially opened its doors in April 2011 with a small skeleton crew of...

GRID Alternatives Inland Empire provides hands-on classroom education and curriculum, as well as invaluable on-the roof job training through its...

Providing solar installation training to individuals who want to enter the solar industry is a crucial component of GRID Alternatives Inland Empire's...

Joyce White has lived on the Bishop Paiute Tribal Reservation all her life.