Inland Empire
Inland Empire
GRID Inland Empire positively transforms the lives of residents and communities by providing access to clean, renewable solar energy to low income families and hands-on job training to help workers enter the solar industry! Be a part of the clean energy transition- become a client, volunteer or make a donation today!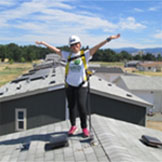 Your gift puts solar power and solar jobs where they are needed most.
Connect With GRID
Follow us on social media:
GRID Alternatives Inland Empire Office
Physical Address: 2100 Atlanta Ave. | Riverside, CA 92507

Mailing Address: P.O. Box 56070 | Riverside, CA 92517
News
Sandra Mancilla Romero's journey with GRID started in 2015.

Jeremiah always dreamed of landing a job in the solar industry. However, he didn't know that the pathway to his career would be through a free online...

The City of Riverside recently announced the launch of the Eastside Climate Collaborative, a four-year project that includes seven non-profit and...

Michael Elkins first learned about GRID through his fellowship with Mission Continues, a nonprofit that empowers veterans by helping them build...

GRID Alternatives Inland Empire recently announced the celebration of our 10 Year Anniversary and Open House in our previous newsletter.