Inland Empire
Inland Empire
GRID Inland Empire positively transforms the lives of residents and communities by providing access to clean, renewable solar energy to low income families and hands-on job training to help workers enter the solar industry! Be a part of the clean energy transition- become a client, volunteer or make a donation today!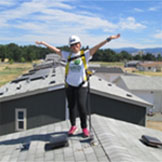 Your gift puts solar power and solar jobs where they are needed most.
Connect With GRID
Follow us on social media:
GRID Alternatives Inland Empire Office
1660 Chicago Ave, Suite M21
Riverside, CA 92507
News From the Field
GRID Alternatives is a place of great opportunity, and is a factor that has led to a fulfilling and successful future for many individuals.

When Isaiah Pak completed his eight years of service in the United States Marine Corps, he never imagined his service to his country would lead him...

As we glance back at 2018, there are many positive achievements that GRID can be thankful for here in the IE.

As a student from the University of California, Riverside, and as a Global Studies major, Wendy Juarez wanted to focus on the global environment and...

GRID Alternatives Inland Empire was recently honored by South Coast Air Quality Management District - SCAQMD with the Youth Leadership in Air Quality...