Inland Empire
Inland Empire
GRID Inland Empire positively transforms the lives of residents and communities by providing access to clean, renewable solar energy to low income families and hands-on job training to help workers enter the solar industry! Be a part of the clean energy transition- become a client, volunteer or make a donation today!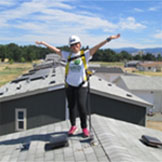 Your gift puts solar power and solar jobs where they are needed most.
Connect With GRID
Follow us on social media:
GRID Alternatives Inland Empire Office
1660 Chicago Ave, Suite M21
Riverside, CA 92507
News From the Field
The City of Rancho Cucamonga is nestled between Los Angeles and San Bernardino. Although centrally located between metropolitan, the San Bernardino...

At 92 years of age, Elizabeth Feygo is more vivacious, astute and full of life than most people half her age. Elizabeth lived in Buffalo, New York...

Once a year GRID Alternatives celebrates Earth Day through our activities and projects that help people make greener energy choices. As the nation's...

My name is Sawani Poornima Goonatilleke and I am a junior at the University of California, Riverside (UCR), pursuing a B.S. in Sustainability.

Tax season is coming to a close with April 15 quickly approaching.