Inland Empire
Inland Empire
GRID Inland Empire positively transforms the lives of residents and communities by providing access to clean, renewable solar energy to low income families and hands-on job training to help workers enter the solar industry! Be a part of the clean energy transition- become a client, volunteer or make a donation today!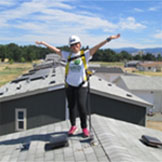 Your gift puts solar power and solar jobs where they are needed most.
Connect With GRID
Follow us on social media:
GRID Alternatives Inland Empire Office
1660 Chicago Ave, Suite M21
Riverside, CA 92507
News From the Field
My name is Caroline Magana, a fourth year Sustainability Studies major at the University of California, Riverside. As a Sustainability major, one of...

Longtime Perris School Board member Virniecia Green-Jordan has always seen the value of technology, both in the classroom and industry.

At 17 years old Michael Elkins, following his good friend, joined the world of military service.

My name is Jisela Herrera and I am a fourth-year student at the University of California, Riverside. Science has always been a passion of mine and...

Our armed forces hails brave men and women who not only serve our country, but also provides troops with training in various fields. GRID IE...