Inland Empire
Inland Empire
GRID Inland Empire positively transforms the lives of residents and communities by providing access to clean, renewable solar energy to low income families and hands-on job training to help workers enter the solar industry! Be a part of the clean energy transition- become a client, volunteer or make a donation today!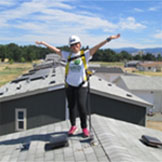 Your gift puts solar power and solar jobs where they are needed most.
Connect With GRID
Follow us on social media:
GRID Alternatives Inland Empire Office
1660 Chicago Ave, Suite M21
Riverside, CA 92507
News From the Field
At age 21, Chiena knew there was more she could do for the environment.

GRID Alternatives creates a pathway for those interested in pursuing a career in solar through hands-on job training.

Nestled in the heart of wine country in Temecula, California, Madera Vista Apartments is a 110-unit mixed-income project, which is the first multi-...

GRID Alternatives has a successful workforce model that includes a combination of fellowship and internship programs as well as volunteer and job...

As a single mother raising two sons on her own, Marbelys Torres moved to Desert Hot Springs to provide a better life for her family.