Develop the skills you need to start your solar career with Installation Basics Training 200 (IBT 200), a 200-hour, five-week training course.
IBT 200 prepares you for the job market– our instructors are industry experts and know what employers need. You will learn the latest solar technologies through interactive classroom instruction, hands-on lab activities, and real-world solar installation projects.
We will help you launch your solar career. You will graduate with advanced solar knowledge, hands-on installation experience, and valuable employer connections. You will be ready to work on day one! IBT 200 will also help you get and keep the job. We provide resume-building support, interpersonal skills training, and job search assistance.
Our Mission

We are dedicated to building a diverse, equitable, inclusive solar workforce that offers people of all backgrounds access to family-sustaining careers that bring wealth to their communities.

IBT 200 is accessible and practical: it provides hands-on training for anyone looking to enter the solar installation workforce.

Solar Installers are in High Demand

Employment in the solar industry has more than doubled over the last decade, with the most significant growth in installation and project development, according to the IREC National Solar Job Census.

Solar installers are in high demand, and growth is expected to continue. In the next decade, the industry is expected to grow more than 25%, compared to a 5% average growth for other occupations (U.S. Bureau of Labor Statistics). Not only will jobs be readily available for solar installers, but many additional solar career pathways will be open as well.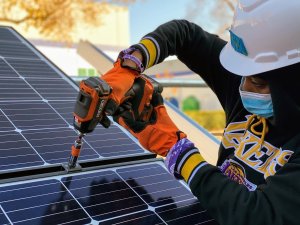 The IBT 200 Curriculum

IBT 200 provides the hands-on experience needed to become an entry-level solar installer over 200 hours (5 weeks minimum). The curriculum was designed based on the NABCEP PV Installer Specialist Job Task Analysis. This means that the skills learned during this course have been vetted by industry experts. Upon graduation, trainees will receive an IBT 200 certificate of completion, as well as a certificate for OSHA-10 and CPR/First Aid training.
What to Expect
A safe and participatory learning environment
Solar industry-relevant skill development
Active communication about schedule and skill progress
Support in seeking employment post-training
Learning Objectives

The curriculum includes extensive training in safety, construction basics, electricity basics, array installation, commissioning and O&M, and employment readiness. For a detailed description of each learning objective, please visit IBT 200 Learning Objectives.
IBT 200 Schedule

The following is a summary of the standard IBT 200 schedule, which may be adjusted due to weather, holidays and unforeseen circumstances. The program schedule may vary by region; for example, some regions may offer part-time training. GRID Alternatives staff will provide a detailed schedule once trainees have been enrolled in the program.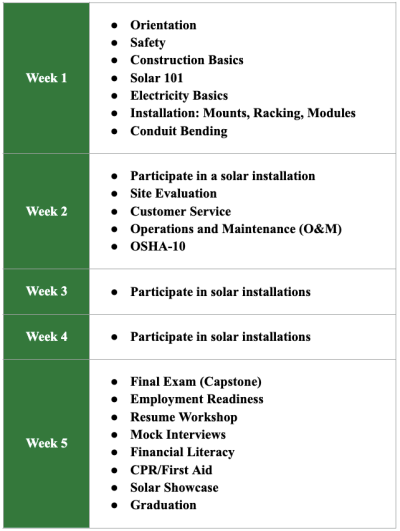 Program Cost & Eligibility

This course has no cost for eligible participants, and trainees may be paid to participate. Eligibility may vary by region but priority will be given to individuals from environmental justice communities and communities who have been historically excluded from the benefits of clean energy. We also prioritize recruitment from mission-aligned partners including community-based organizations, job training organizations, and educational institutions.
Minimum Requirements to Enroll
18 years of age or older
Basic comprehension of English, including the ability to follow basic oral instructions and understand safety guidelines. 
Authorization to work in the U.S.
Physical ability to perform activities related to solar installation work, including but not limited to: standing for long periods (sometimes on a sloped surface), bending, stooping, squatting, kneeling, twisting, working above the shoulders, working with manual and electric hand tools, repetitive motions, lifting and carrying up to 50lbs, working in direct sunlight, working with trip hazards, and working at heights*
Highly motivated to work in the solar industry
* Reasonable accommodations will be made for trainees with disabilities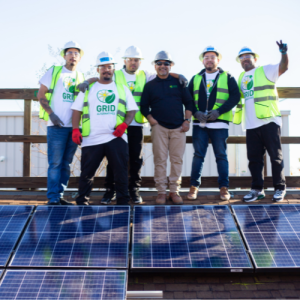 Ready to Learn With Us?

If you are interested in participating in the IBT 200 program or partnering with us, please fill out this form. 

Sign up today!

IBT 200 is currently offered through our Central Valley, CA, and Inland Empire, CA, regional affiliates. Learn more about local IBT programming in other regional affiliates at the following links:

North Valley CA | Colorado | Nicaragua