Grow skill sets the solar industry is looking for! 
GRID Alternatives trains and leads teams of job trainees and community volunteers installing solar electrical systems on homes belonging to low-income families. The Solar Installation Basics Training (IBT) 200 program is a certificate course designed to help trainees develop the skills solar industry employers are looking for. Participants gain vital hands-on experience installing solar in their communities, and access to potential employment opportunities.
GRID Alternatives' hands-on approach to photovoltaic installation training offers participants opportunity to gain skill sets which may lead to a successful transition to the solar industry. Through GRID's "classroom on the roof" model, trainees gain hands-on real-world experience, empowering participants to take initiative to enhance their quality of life. 

Earn Certificates & Showcase Your Skills
Solar Installation Basics Training (IBT) 200 Program certified job candidates have the following benefits:
Occupational Safety Health Administration - (OSHA) 10 hour certification
American Red Cross CPR / First Aid Certificate
Central Valley GRID Alternatives – Industry recognized Solar Installation Basics training certificates
Showcase your skills to employers looking for entry level installers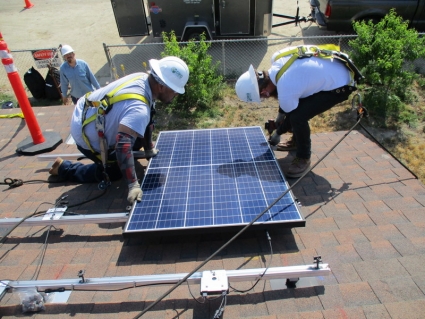 Program Details
GRID's Solar Installation Basic Training (IBT) 200 is a 5-week program consisting of formalized classroom settings coupled with hands-on training labs and a practical application of occupational skill sets in real-world scenarios.
Program length- 5-week dedication
Classes / Labs – Monday - Friday 8am – 5pm
Solar installation labs – 5:15am – 3pm
Total experience hours - 200
Individual Personal Protection Equipment (PPE) provided - Hard hat, Safety glasses and Gloves
Learn more about GRID's Employer Showcase and success stories