Through interactive classroom instruction, hands-on lab activities, and real-world installation of photovoltaic systems, IBT 200 program participants will learn advanced solar industry skills that set them apart.
The IBT 200 curriculum was designed based on the NABCEP PV Installer Specialist Job Task Analysis. Upon graduation, trainees will receive an IBT 200 certificate of completion, as well as a certificate for OSHA-10 and CPR/First Aid training.
Safety
Demonstrate adherence to site safety, fall protection, heat illness prevention and electrical safety plans
Set up and explain OSHA requirements of proper ladder use
Demonstrate proper harness inspection, fitting, and usage
Demonstrate proper rope grab management, safety knots, and carabiner usage
Construction
Basics Demonstrate proper hand & power tool use
Understand how to read construction plans
Identify studs and rafters
Perform basic roof repairs (e.g., patching)
Electricity Basics
Prepare and execute wire pull
Strip wire cleanly without "rings" or nicks
Properly crimp and splice wire
Wire junction box and breaker box
Wire and bond equipment grounding conductor at rails and boxes
Understand how to read a Single Line Drawing
Identify electrical hazards and how they can be removed or controlled
Test components with a multimeter
Terminate wire to appropriate torque
Understand causes of arc flash and how and when to wear PPE
Array Installation
Translate and mark array layout considering setbacks and shade
Locate rafter center and mark misses
Install flashings and mounts to manufacturer's specifications
Cut and splice rails to manufacturer's specifications
Install / align rails and bond racking according to manufacturer's specifications
Install MLPE to manufacturer's specifications
Install and align modules with safe handling
Manage module leads/wires through proper dressing and securing of cabling
Ensure end and mid-clamps are properly seated and torqued
Cut and ream conduit
Measure and bend conduit for 90-degree angle, offsets, kicks, and saddle bend
Install EMT to electrical components, including appropriate strapping and fittings
Commissioning and O&M
Conduct quality control checks
Verify system production
Prepare for inspection process
Employment Readiness
Demonstrate effective interpersonal communication fundamentals, such as active listening and understanding
Understand the importance of teamwork and collaboration
Implement strategies for effective time management
Use an iterative and collaborative approach to problem-solving
The IBT-200 course has several strict grading factors to ensure trainees are fully prepared for rewarding and demanding careers in the solar industry. Grading is a combination of a written final exam, an individual skills demonstration (capstone), attendance, and punctuality. Passing the course will require minimal scoring across all of these categories.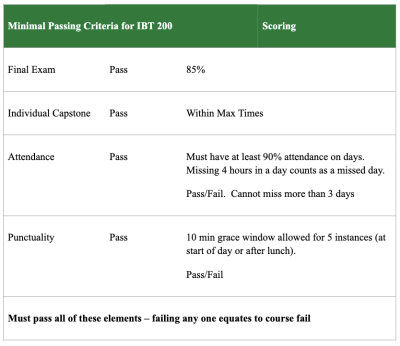 Confidentiality Clause:

GRID will use any personal information collected from program participants internally and share summarized data with partners and funders as part of our reporting requirements. Additionally, we may need to report job placement information for participants in federal or state job training programs.