Mid-Atlantic
Mid-Atlantic
GRID Alternatives Mid-Atlantic brings together community partners, volunteers and job trainees to implement solar power and energy efficiency for low-income families in Maryland, D.C., Virginia and Delaware, providing energy cost savings, valuable hands-on experience, and a source of clean, local energy that benefits us all.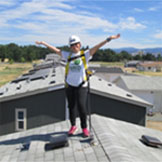 Your gift puts solar power and solar jobs where they are needed most.
Connect With GRID
Follow us on social media:
News From the Field
Champagne, gifts, flowers, and party favors - that's how most people picture a bridal shower. Instead, Leslie imagined hardhats, harnesses, ladders,...

After opening our doors in January 2015, GRID Alternatives Mid-Atlantic has come a long way! On December 20th 2016, we wrapped up the year by...

Meet Dominic and Keon, new GRID Alternatives Mid-Atlantic construction employees. Their very first introduction to solar was this summer, through a...

"There are endless possibilities with solar careers," said Andrea Luecke with the Solar Foundation, "sales, finance, permitting, policy, web...

"I am happy that I was selected for this," said Ms. Williams, beaming, "I'm elated!" Ms. Williams just received 14 solar panels on the roof of her...