Executive Director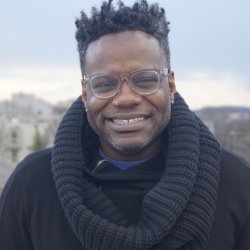 Elijah Perry, Executive Director
Elijah Perry is the Executive Director of the regional GRID Alternatives affiliate. Elijah directs the Workforce Development team and the implementation of Solar Works DC Training Program, as well as managing GRID Mid-Atlantic's communications, philanthropic and other fundraising, and various partnerships. Among other roles and responsibilities, Elijah provides strategic planning and direction; implements a variety of fundraising strategies; researches, identifies, builds, and tracks relationships and partnerships for funding and other goals; oversees program reporting and finances; and is the liaison for Equity, Inclusion, and Diversity (EID) efforts. He has over 30 years of experience in the civic, public interest, and social organization sectors, including federal government service and academia.


Prior to joining GRID Mid-Atlantic, Elijah was Corporate Development Manager at PFLAG National, and has also worked in other organizations in the nonprofit sector including Habitat for Humanity of the Chesapeake, National Children's Hospital Foundation, and Feeding America. Elijah has a natural talent for making connections and cultivating long standing relationships with people from all professions and backgrounds, which he has brought to bear in mentoring and assisting Solar Works DC participants through the challenges they face. He attended University of Maryland in College Park, MD, where he studied and earned his B.S. degree in Paralegal Studies. He also received his Masters in Classical Music Composition from Berklee College of Music.

Community Engagement and Advancement
Operations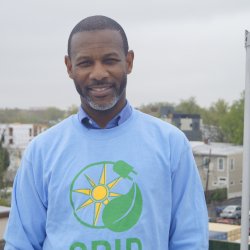 Sundiata Ramin, Logistics and Facilities Manager
A native of Washington, D.C.. Sundiata graduated from Duke Ellington School of the Arts in Washington, D.C. and the School of Visual Arts in New York City, where he received his Bachelor of Fine Arts degree in Advertising Design. He has over 15 years of experience in warehouse operations, including inventory management, procurement, shipping and receiving. In 1995, he started his career in warehouse and supply chain operations with Office Max at their Customer Fulfillment Center in Carlstadt, NJ. Later he furthered his career as a supply chain professional with AT&T, 3 Shape, Diversified Inc. and Wallenius Wilhemson. Prior to joining GRID Alternatives, he was a Supply Chain Coordinator for Saint-Gobain, a bio-medical company in Gaithersburg, MD. In his spare time, Sundiata loves to cook, entertain friends, play percussion, and attend live music concerts.
Communications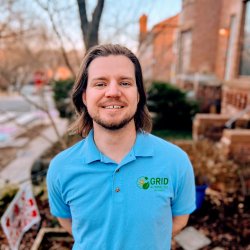 Daniel Jones, Communications Specialist
Daniel is a natural communicator who has connected with audiences over various platforms across the country. He studied journalism at the University of Missouri and worked at the Columbia Daily Tribune for four years as a sports reporter. At the Tribune, Daniel broke news, wrote feature stories, hosted and produced a weekly sports podcast, and frequently contributed to local TV and radio programs.

When Daniel moved to the District in 2019, he brought a deep love of storytelling and a hunger to help his community. He accepted an AmeriCorps VISTA fellowship with GRID Alternatives Mid-Atlantic. The fellowship introduced him to solar energy and amazing residents all around the District of Columbia. After years of writing about football and basketball, these days, Daniel is much more fulfilled telling stories that help advance social and environmental justice through renewable energy. He still enjoys watching and playing sports, plucking around on a guitar, and riding his bike.
Construction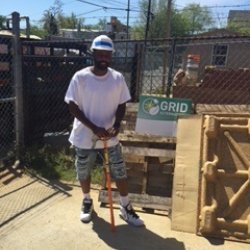 James Brown, Interim Construction Manager
James Brown is a Washington D.C. native. He joined the GRID Alternatives team after working in the roofing industry for twelve years. James attended the University of District of Columbia for Construction Core as well as HVAC. James attended the United Planning Organization and became experienced in plumbing. James came to GRID Alternatives as an intern through an organization called DCSEU DC Sustainable Energy (DCSEU). In his spare time, James likes to spend time with his family, and play Call of Duty and Fan Duel.