Tri-State
We make multifamily solar easy for affordable housing developers, owners and operators.

Learn More »

Partner with GRID New York Tri-State to help bring solar power and solar jobs to the people that need them most.

Learn More »

Serve your community while gaining hands-on solar experience and helping families in need.

Sign up today »
Tri-State
GRID Alternatives Tri-State leads teams of volunteers and job trainees to install solar electric systems for affordable multifamily housing developments in New York, New Jersey and Connecticut, providing families with needed savings, giving workers hands-on experience to help them find jobs in the green-tech economy, and creating a clean, local energy source that benefits us all. Be a part of the clean energy transition- become a client, volunteer or make a donation today!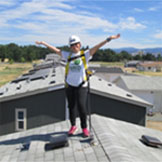 Your gift puts solar power and solar jobs where they are needed most.
Connect With GRID
Follow us on social media:
News From the Field
GRID Alternatives Tri-State and Association for Energy Affordability have joined forces to launch the new Energy Efficiency and Solar Partnership (...

NY1 - Bronx based company offers low-cost solar panel installation to help low-income residents save on their electric bills

On August 1st, students from Yonsei University in Seoul visited the GRID NY Tri-State office in the South Bronx. Yonsei University is one of the...

"The green economy is right now, and it's right here on this roof."

Passionate about cycling, raising awareness about climate change, and supporting GRID? Participate in one of this year's Climate Ride events!