Imperial Valley
Imperial Valley
GRID Alternatives Imperial Valley helps make solar savings a reality for everyone, specializing in solar energy installations for low and fixed-income families who couldn't otherwise afford it, we also help train the solar workforce of tomorrow. We operate in El Centro, Brawley, Westmorland and Calexico. Join us! Become a client, volunteer or make a donation today.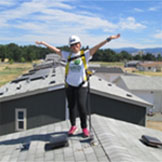 Your gift puts solar power and solar jobs where they are needed most.
Connect With GRID
Follow us on social media:
OFFICES
GRID Alternatives Imperial Valley
579 E Ross Ave, Suite A
El Centro, CA 92243
News
As the holidays are underway and people prepare to spend time with their families, the ongoing COVID-19 pandemic continues to put a damper on...

By Angela de Joseph It has been truly an honor to serve as the program manager for the GRID Alternatives San Diego Single Family Home Rehabilitation...

While 2020 certainly presented its struggles, it was also a tremendous opportunity to learn, grow and challenge ourselves. Here's what we learned:...

One year later, GRID is making our mission move with our Single-Family Home Rehab program.

CONGRATULATIONS!! On September 26 th , we celebrated the close of our 12 th CDBG trainee cohort. These trainees worked on around 15 installations...