Tri-State
Tri-State
GRID Alternatives Tri-State opened its doors in 2014 to make solar power and solar jobs accessible to underserved communities in New York, New Jersey and Connecticut. We kicked off the program in fall of 2013 with installations across the region in partnership with local job training and community-based organizations. In 2017, GRID Alternatives made the decision to wind down production operations in the region and instead refocus our resources as a board-driven organization advocating for strong low-income solar programs and equitable clean energy and climate policies throughout the Tri-State region.
We continue to offer no-cost solar technical assistance to multifamily affordable housing owners throughout the region, as well as community solar project development with mission-aligned partners. Learn more about our policy work, multifamily solar and community solar programs.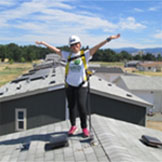 Your gift puts solar power and solar jobs where they are needed most.
Connect With GRID
Follow us on social media:
News
Last week, GRID Alternatives made the difficult decision to wind down production operations in the Tri-State region covering New York, Connecticut,...

Throughout the month of April, participants and job trainees came together to help us install solar on the Fair Street Apartments in Norwalk, CT,...

GRID Alternatives Tri-State and Association for Energy Affordability have joined forces to launch the new Energy Efficiency and Solar Partnership (...

NY1 - Bronx based company offers low-cost solar panel installation to help low-income residents save on their electric bills

On August 1st, students from Yonsei University in Seoul visited the GRID NY Tri-State office in the South Bronx. Yonsei University is one of the...