Words cannot express my gratitude after returning from my second volunteer experience in El Regadio, Nicaragua with GRID Alternatives' International Program.
Even though I had volunteered many times with GRID in Los Angeles, my first trip to Nicaragua in 2017 was deeply moving. I traveled with GRID to El Regadio, Nicaragua to install solar on the community's school. This community did not have electricity through the grid, so providing their school with solar electricity was a huge deal. Everyone working on the project stayed with families in the community – usually two or three volunteers per home. These families do not have the same amenities that we are used to, but did everything they could to make us feel comfortable sharing their homes. When I left El Regadio after the first project, I was moved to tears thinking of not only the impacts of the project, but also about the people of the community.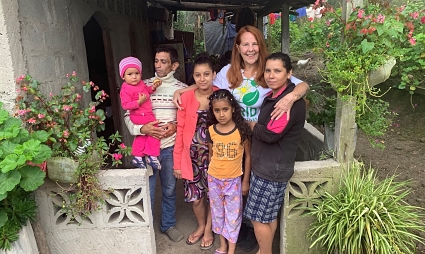 In November 2019, I went back to the same community for the installation of a solar-powered coffee roaster at the local women's coffee cooperative … AND I was able to stay with the same family! You have no idea how amazing it was to reconnect with my El Regadio family, meet new members of their family and listen to their stories at night after we came home from work. Every morning I would wake up to fresh hot coffee, breakfast and water that they had warmed for bathing and every night I would come home to smiling faces, a hot dinner and more delicious coffee. Best of all though were the wonderful discussions (in spite of my poor Spanish) about what they had been going through since the last time I was there and their hopes for their future – which made my work with GRID even more meaningful.
GRID's program in Nicaragua is well thought out and executed. I thought their program was good during my first visit, but they have definitely stepped it up a notch by providing us with information regarding the country as a whole, the community in which we were living and how it is all intertwined. This information led to some very thought-provoking and emotional discussions amongst ourselves and with the families with whom we were staying.
Nicaragua has a lot going on right now, but I saw growth in this community and it looks better than it did two years ago. Fortunately, they have a very well-organized women's cooperative that is leading the way with a clear plan for their future. With the support of GRID, I believe this lovely little community will continue to grow.
My fellow volunteers and the GRID staff volunteers were awesome - and the GRID Nicaragua team is incredible!! I look forward to my next adventure with GRID's International Program, maybe even back in El Regadio!