When you think about the places investing in innovative renewable technologies, a tiny rural town in Northern Colorado is probably not the first place that comes to mind. But, that's exactly what's happened in Walden, Colorado. Last month, GRID Colorado completed construction of Colorado's first floating solar array at the Town of Walden's drinking water treatment facility.

The town is located near Colorado's northern Rocky Mountains. Only about 600 people call Walden home, 20 percent of whom are living below the poverty line. The floating system, where modules are mounted on pontoons and float atop the facility's lagoon, was a great solution for the town to go solar because they didn't own enough land to host an array. The 75 kW project, constructed using Jinko solar modules, will provide clean power to treat drinking water for the town as well as the local school district and Jackson County offices.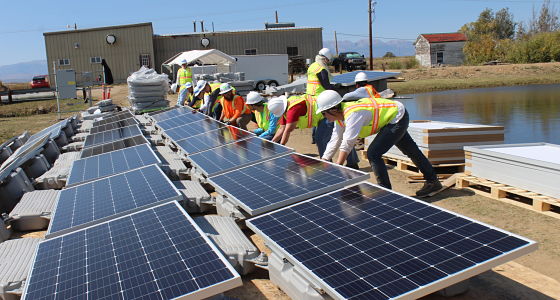 "There's not many times Walden gets to lead the rest to state at anything," Walden Mayor Jim Dustin told Denver's CBS4 at the solar array ribbon cutting event on October 19.
GRID installed the project as a subcontractor for Johnson Controls and the energy performance contract, supported by the Colorado Energy Office (CEO), guarantees the town 2,500,000 kWh in energy savings over the next twenty years. That's an electricity savings of about $10,000 a year. Additionally, a grant from Colorado Department of Local Affairs to promote sustainable community development and resilience in rural communities covered half the project's costs.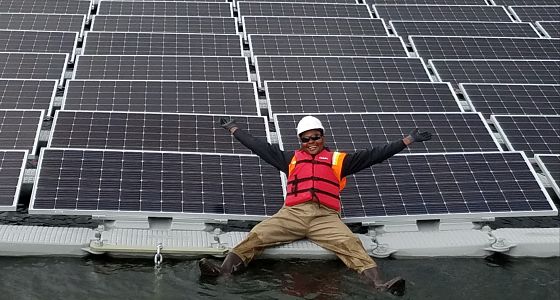 For GRID Colorado, the project offered another opportunity to bring the benefits of solar power to an energy burdened community and take on the task of designing and constructing a unique solar array.

"We were really excited to design and install Colorado's first floating solar array for the Town of Walden. Not only did our staff take on this innovative project, but we provided job training throughout construction so our trainees could gain the skills necessary for a career in Colorado's growing clean energy economy," said Adrienne Dorsey, executive director of GRID Colorado.