GRID Alternatives Inland Empire (GRID IE) is a proud partner with the City of Ontario in its implementation of the city's Transformative Climate Communities (TCC) program grant. The TCC grant is an innovative investment in community-scale climate action with broad implications. Launched in 2017 by the California State Legislature, TCC funds the implementation of neighborhood-level transformative plans that include multiple coordinated projects to reduce greenhouse gas emissions. The program is also designed to provide an array of local economic, environmental, and health benefits to disadvantaged communities while minimizing the risk of displacement. TCC empowers the communities most impacted by pollution to choose their own goals, strategies, and projects to enact transformational change.
GRID IE is proud to be directly involved as a partner to the City of Ontario by implementing two distinct projects, collectively referred to as Ontario SHINE (Solar Homes Initiative & Neighborhood Empowerment), to enhance the generation of local renewable energy by installing up to 700 kilowatts of DC-rated (kW-DC) solar PV panels on the roofs of residential buildings, all at no cost to property owners. A total of 360 kW-DC will be installed on single-family homes, and 340 kW-DC will be installed on multifamily affordable housing.
The TCC Solar Showcase is designed to highlight GRID IE's involvement in the local community and to engage, support, and educate the local residents about the opportunities available to them within the Ontario TCC area, including if they are eligible for no-cost solar under the Ontario SHINE program.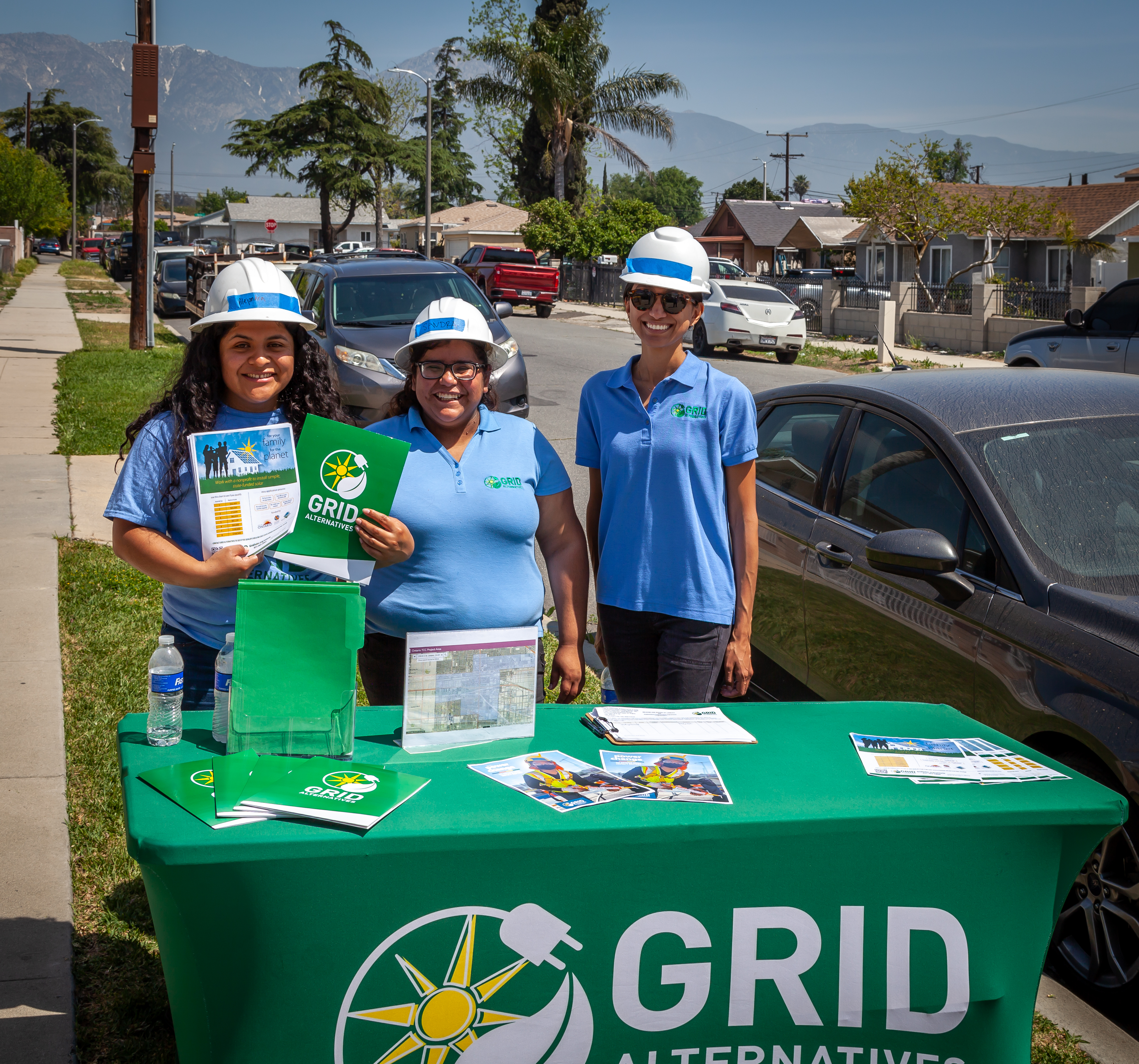 GRID IE staff: Alejandra Guillen-Garcia, Sandra Mancilla Romero, and Nicole Vences canvassing the local neighborhood.
On the morning of the Solar Showcase, GRID IE's staff were out in the local neighborhood knocking on doors and following up with local residents that had received an informational postcard the previous week inviting them to the Solar Showcase. GRID IE's team was able to answer questions for residents and also personally invite them to come and see the benefits of no-cost solar for themselves at the home of their neighbor Armandina Rodriguez, who had graciously offered her home as the Solar Showcase location during her solar system installation on April 27th, 2023.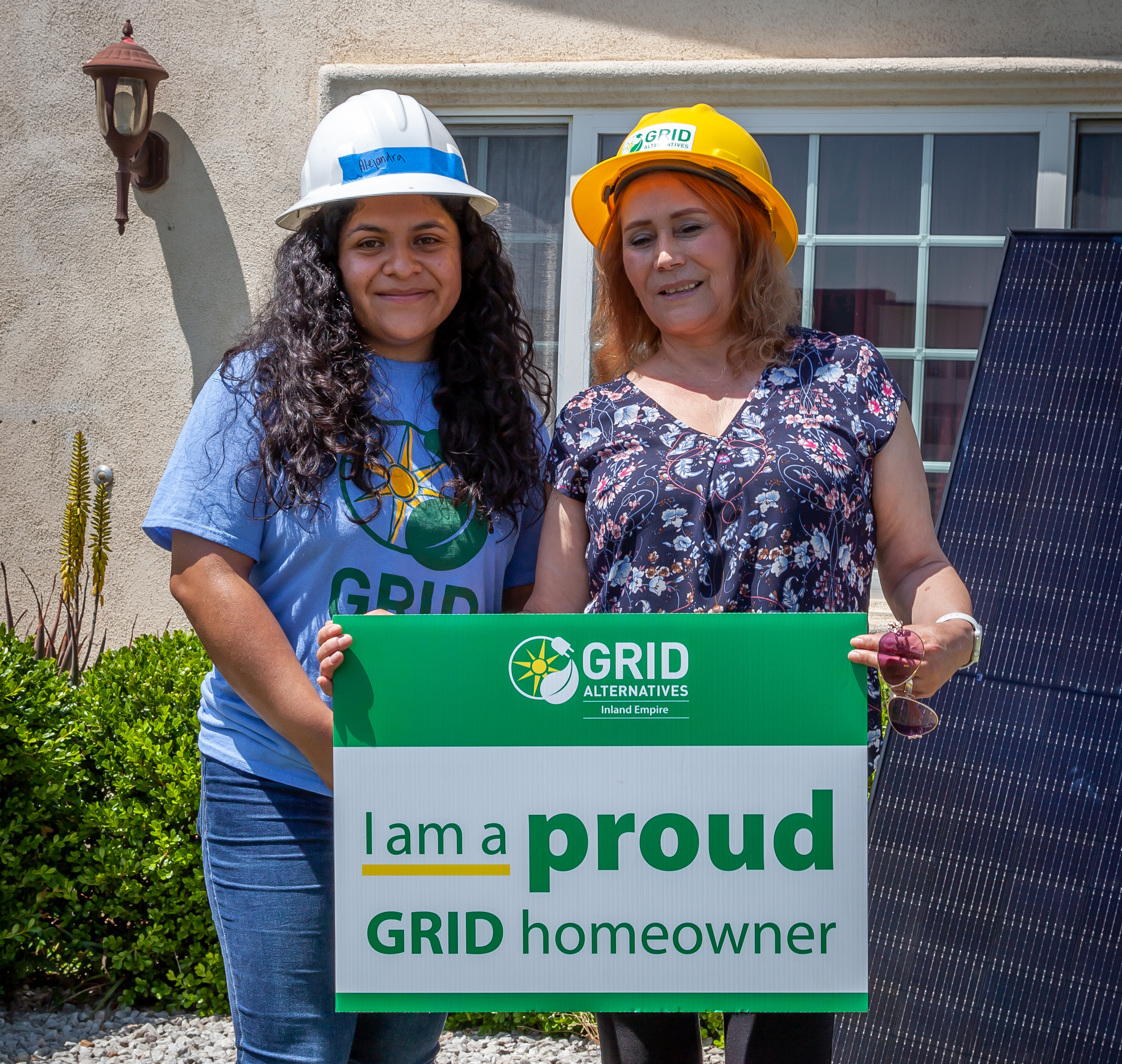 Armandina with her Outreach Coordinator, Alejandra
"Me pude comunicar con ustedes bien fácil" ("I could communicate with you all so easily"), said Armandina Rodriguez, who was pleasantly surprised that the majority of her solar project with GRID IE was carried out in Spanish, her preferred language. From her very first pre-screening phone call with GRID IE to the homeowner orientation and contract signing, Armandina was supported by GRID's bilingual Outreach Team every step of the way.
Armandina is the 45th recipient of GRID IE-installed, no-cost solar funded by TCC as part of Ontario Together, Ontario SHINE. "I heard about it through the monthly Ontario Living Magazine that the city sends out. My brother also let me know about it– he gave me a call and told me I should apply because I may qualify."
In her 20-year residency, Armandina is thankful to the City of Ontario and her neighbors. "The city helps with what I need. I didn't know about assistance programs before, but now that I do – they've been so helpful." Through GRID IE's partnership with the City of Ontario–the mission to transform lives by providing access to clean, renewable energy and hands-on job training in the community continues to strengthen.
"Projects like Armandina's really highlight the benefits of leveraging funding from state programs like TCC with philanthropic contributions like those from Invenergy, whose support helped cover the costs of the roof and electrical improvements needed to get this project complete, and that will help lower the Rodriguez family's energy bill for many years to come." commented Jaime Alonso, GRID IE's Executive Director.
In hopes of sharing the valuable program with others, Armandina invited her community to participate in her solar installation at the showcase, which was conducted in both English and Spanish.
Excited for lower energy bills as the months get warmer, Armandina exclaimed, "I am so happy to be getting solar panels! I would recommend this program so that other people can save on their electric bill, too."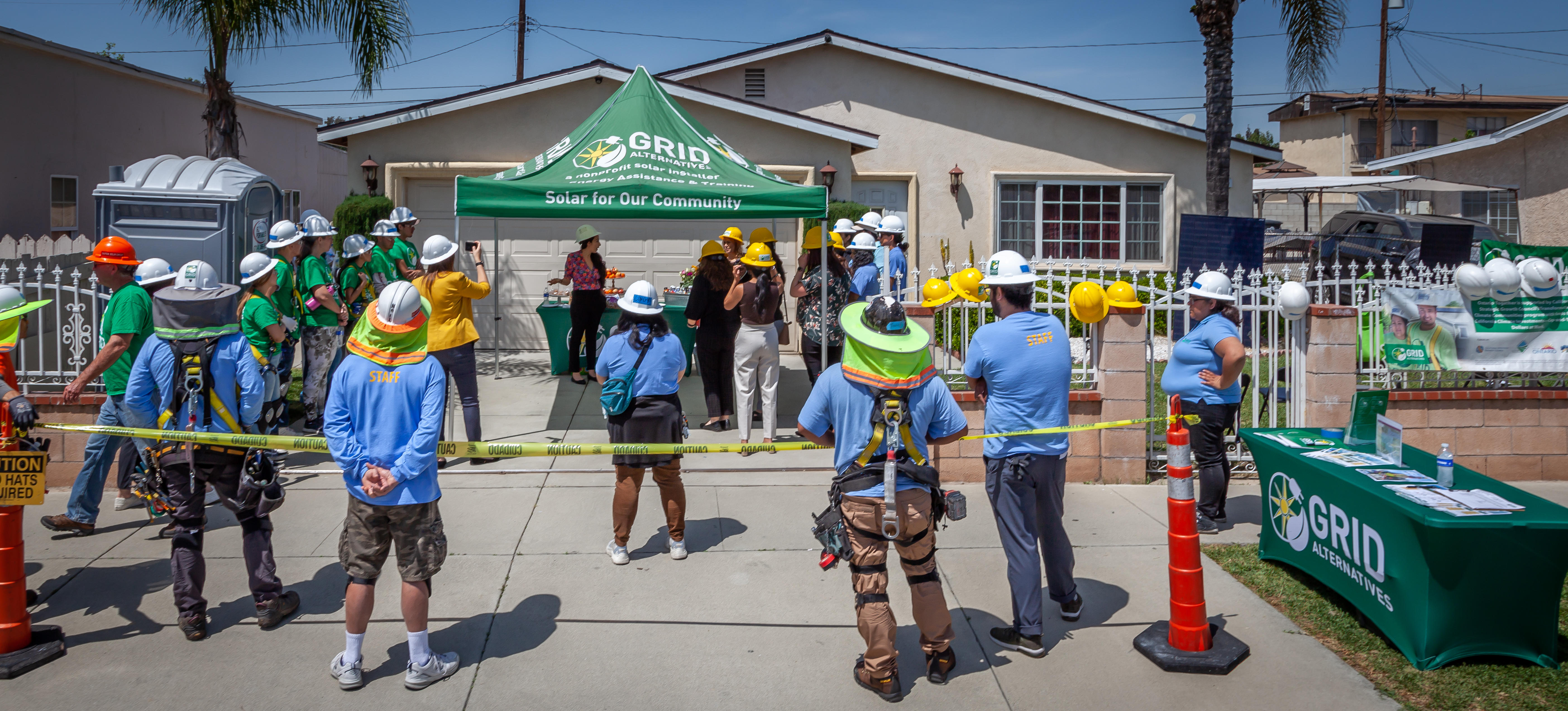 Solar Showcase attendees
GRID IE's Community Development Officer–Victoria Pacheco, was delighted with the turn out to the event, noting the presence of many VIP guests, including Julianne Sumiko Hines, District Director for Senator Susan Rubio; Nadya Bahena, Field Representative for Assemblymember Freddie Rodriguez; Nicole Cartwright, TCC Grant Manager with the California Department of Conservation; Jess Ison, TCC Program Associate with the California Strategic Growth Council; and Nadine Houde, City of Ontario TCC Program Administrator.
The VIPs were joined at the event by several members of the local community, neighbors of Armandina, many staff members from GRID IE, and students from Arroyo Valley CORE (Constructing Opportunities in Renewable Energy) Academy in San Bernardino who were undergoing hands-on training as part of GRID IE's Solar Futures program at Armandina's installation.
Victoria Pacheco address the attendees
GRID IE staff, led by Victoria Pacheco, Alejandra Guillen-Garcia–Outreach Coordinator, Nika Hogue–Development Manager, and Erik Rodriguez Cerda–Workforce Programs Coordinator, addressed the attendees of the event to thank them for their attendance and to reinforce the important mission of GRID IE in our local communities; and the importance of the TCC projects and their direct impact on the lives of residents.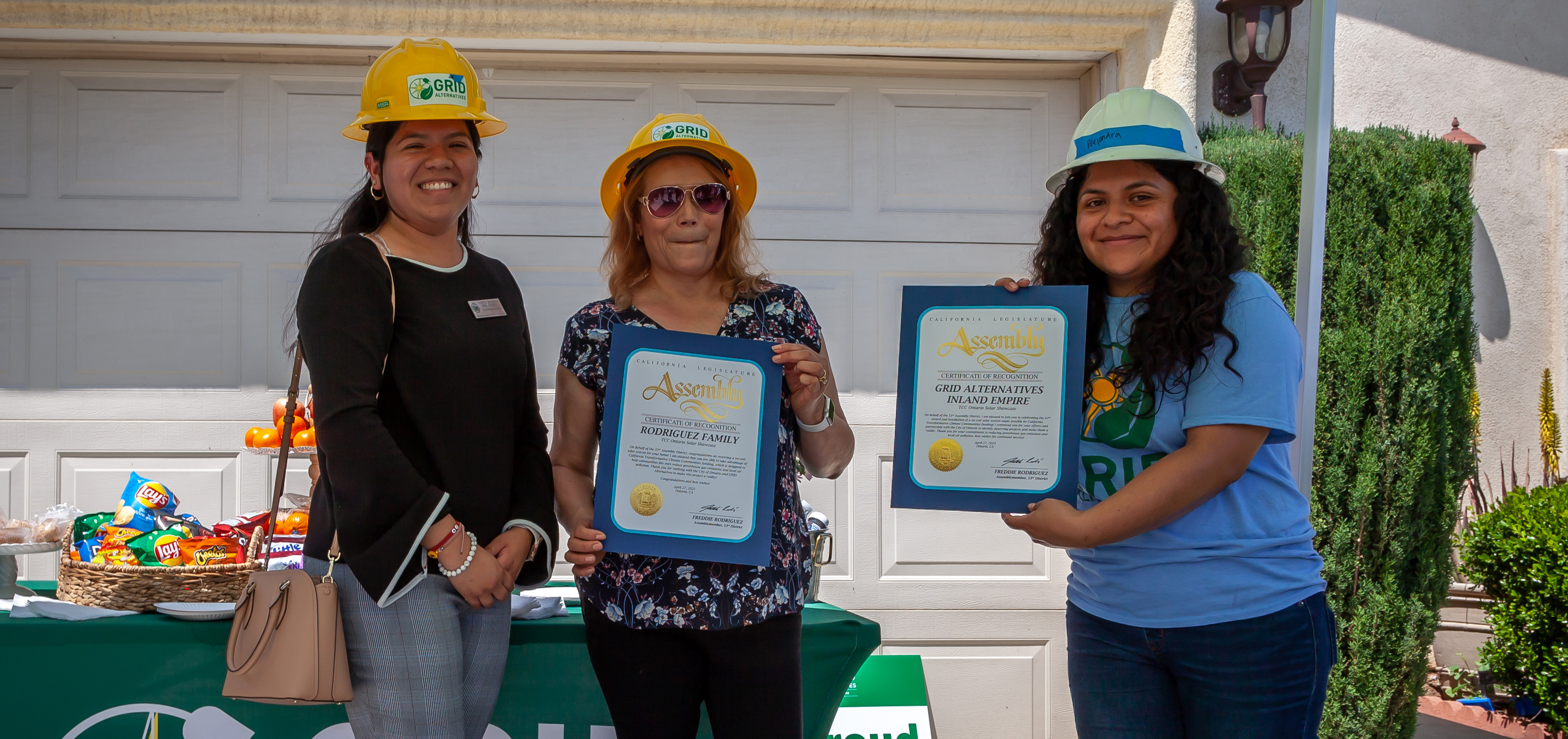 Nadya presents Amandina and Alejandra with certificates of recognition
Julianne presents Amandina and Alejandra with certificates of recognition
To express the importance of the event– and the people and programs being showcased–Nadya Bahena presented both Amandina and GRID IE with California Legislature Certificates of Recognition from Assemblymember Freddie Rodriguez, and Julianne Sumiko Hines presented both Armandina and GRID IE with State of California Senate Certificates of Recognition from Senator Susan Rubio.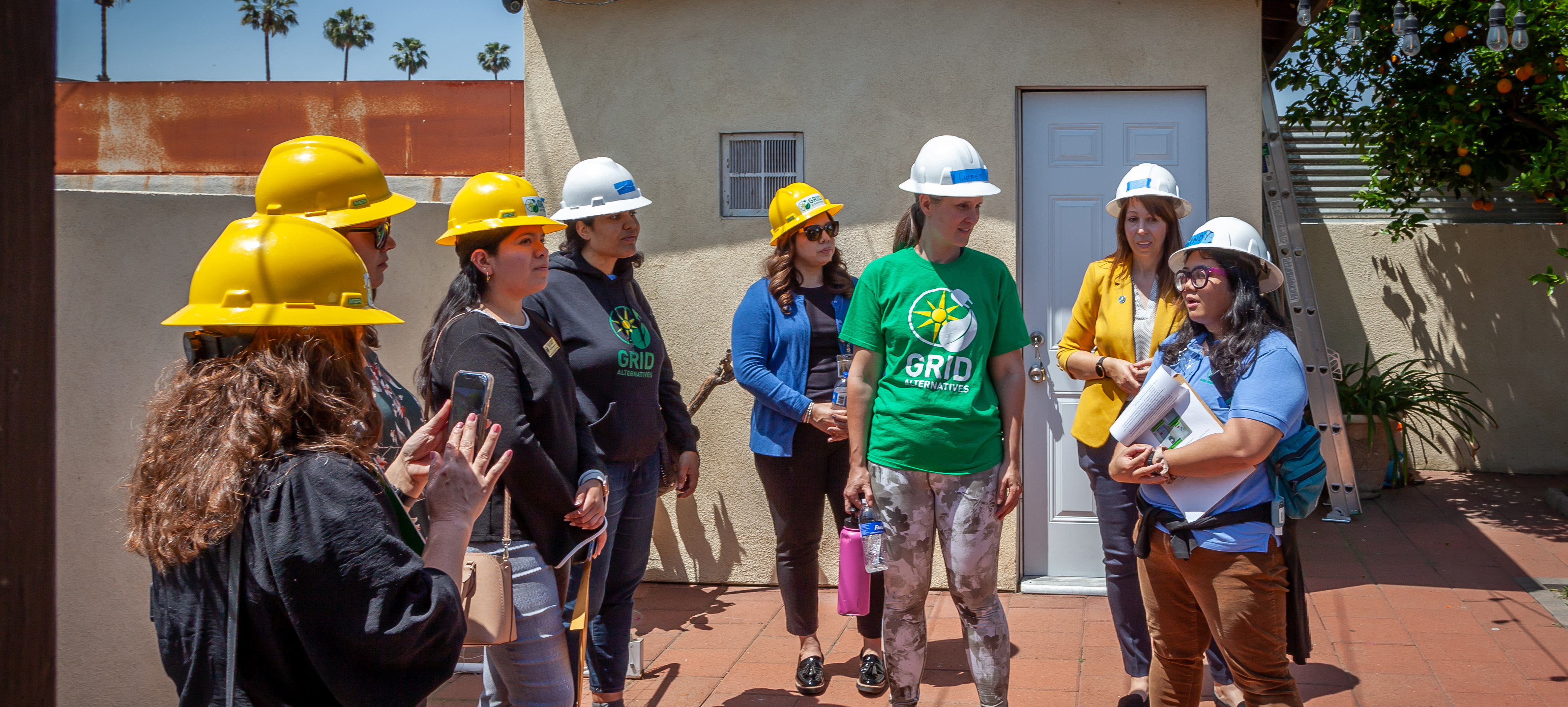 Cindy leading a site tour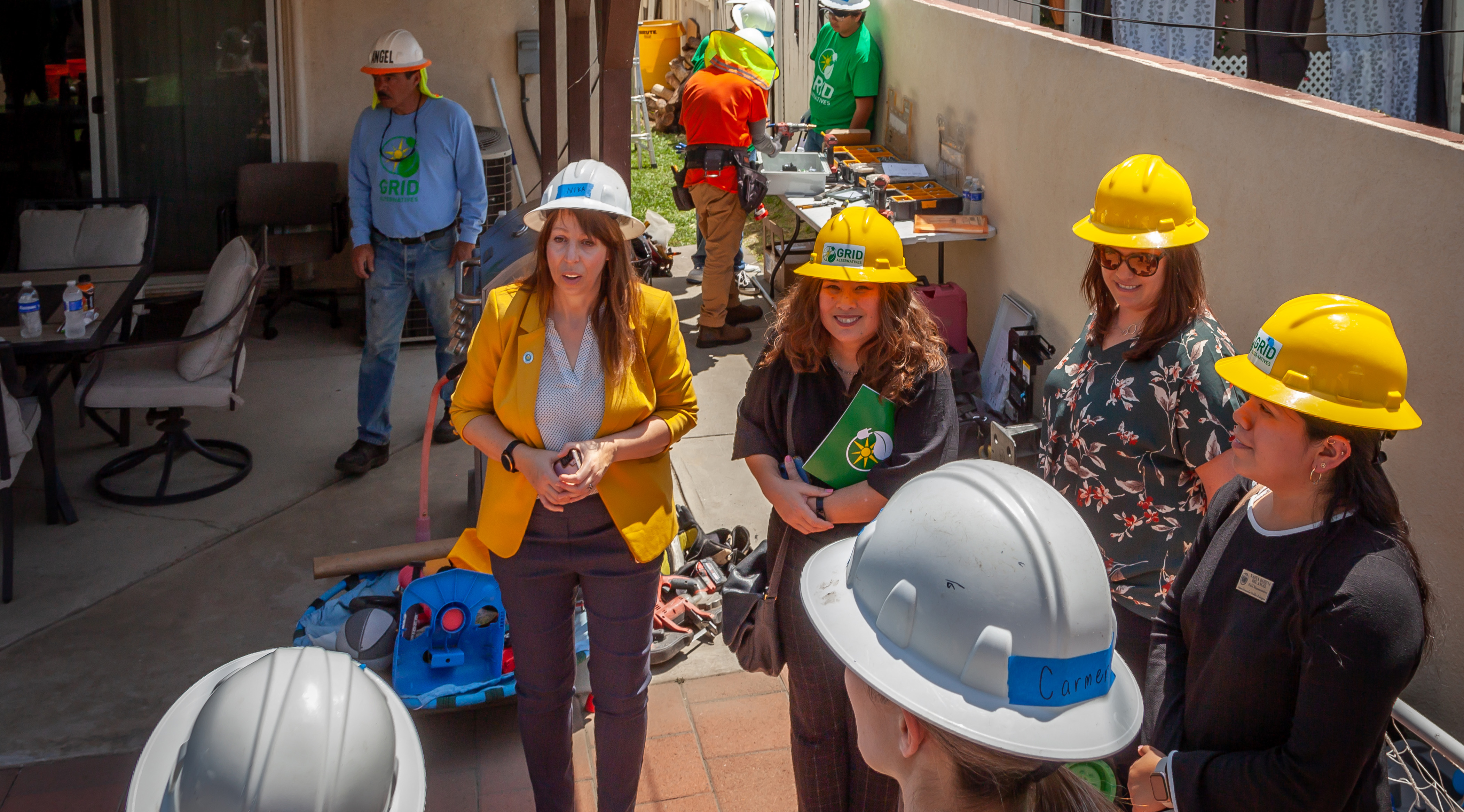 Nika leading a site tour
Throughout the Solar Showcase event and festivities, GRID IE's construction staff, led by Danny Montero–Solar Installation Supervisor, were working high above on the roof installing the no-cost solar system that Amendina and her family were receiving. Also on the roof and supervised by both Danny and GRID IE's newest and also returning staff member Neil Warren–Solar Installation Training Officer, were students from the Arroyo Valley CORE Academy. GRID IE's Cindy Corales–Workforce and Volunteer Manager, led tours of the site for all the guests. They were able to get a close-up look at this important work and see for themselves the results of the TCC grant program in action. In addition to working on-site alongside GRID IE's construction staff, students can now train at GRID IE's new Clean Tech Training Center (CTTC) located at GRID IE's facility in Riverside, which vastly expands hands-on and classroom training opportunities for clean energy technology in the Inland Empire.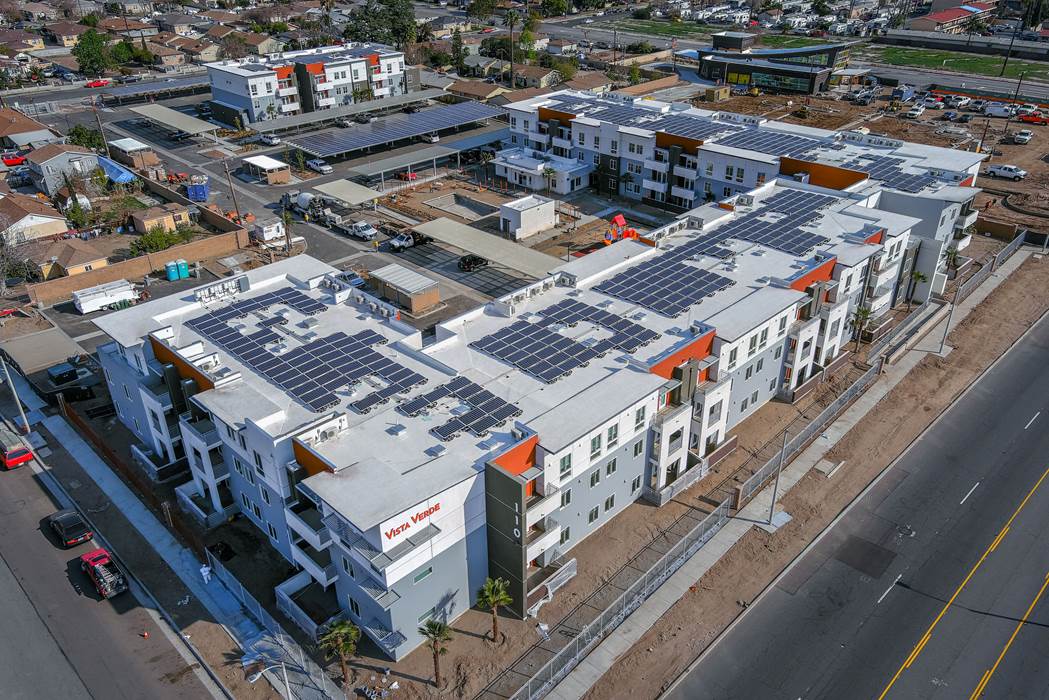 Vista Verde from the air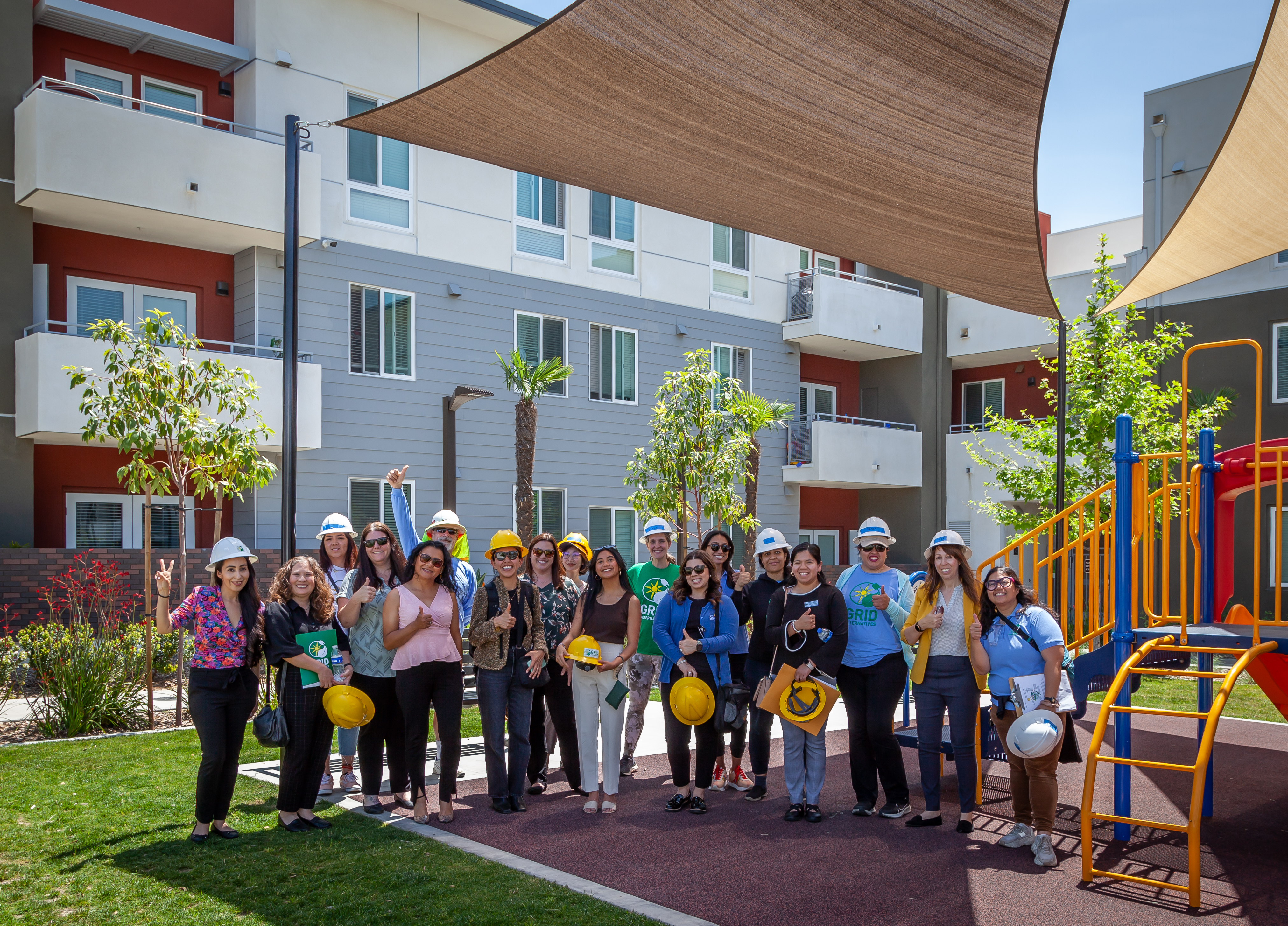 Solar Showcase attendees on a tour of Vista Verde
The Rodriquez family home was an ideal location for the TCC Ontario Solar Showcase for many reasons, but one reason stood large among the rest–directly across the street from Amendina's home stands the newly completed Vista Verde Apartments, a showcase project for the City of Ontario. Vista Verde is the first all-electric, zero net energy affordable housing community in Ontario, providing 101 high-quality apartments for families who earn between 30-60% of the Area Median Income (AMI). GRID IE staff, led by Neil Warren as Solar installation Supervision during his original time with GRID IE, and SolarCorps Fellows installed 380 kilowatts of solar, making the development both all-electric and zero net energy, meaning that it generates more energy than it uses. The rooftop and carport solar will save residents hundreds of thousands of dollars over the next 20 years.
Vista Verde, like the Rodriquez home, was funded by the Ontario SHINE program, a key element of the TCC Ontario grant. Becky Bolton–Community Manager at Vista Verde, led the attendees on a tour of this impressive property. In conjunction with GRID IE's Neil Warren, they demonstrated the importance of solar to the zero net energy building and the impact this has on the day-to-day lives of the residents.

The TCC Ontario Solar Showcase event successfully demonstrated the importance and impact that large state and city-level programs have on residents, both as homeowners and as renters in Multifamily homes.