In March 2023, the Bishop Paiute Tribal Environmental Management Office (EMO), in partnership with GRID Alternatives Inland Empire (GRID IE), announced they had met their goal of installing solar on over 200 out of a planned 400 homes for qualified Tribal members on the small reservation.  
The Bishop Paiute Tribe, located at the foot of the Eastern Sierra Nevada Mountains, is committed to its self-sufficiency and self-reliance as a sovereign nation. The Tribe has developed a strong partnership with GRID IE since 2015. The EMO has sought to promote environmental stewardship through proactive approaches such as providing public awareness and collaboration with programs such as the GRID IE solar program.   
GRID IE envisions a rapid, equitable transition to a world powered by renewable energy that benefits everyone. Our mission is to build community-powered solutions to advance economic and environmental justice through renewable energy. 
Since 2011, GRID IE has installed over 2,300 solar systems in the region for income-qualified homeowners with funding from the Disadvantaged Communities – Single-Family Solar Homes (DAC-SASH) program, a California program administered by GRID. In addition to the DAC-SASH funding for the 200 Tribal projects, the Bishop Paiute Tribe has also contributed funding. The Tribe has collaborated with GRID IE and raised additional grant funds to provide direct support for the solar installations from the Department of Energy Office of Indian Energy (DOE), private donors, corporate sponsors, and funding from the federal American Rescue Plan Act (ARPA).  
"The no-cost solar power installations make an incredible difference in the everyday lives of our community members. The savings from the installations are making a real impact, especially for tribal members in the greatest need. This is a large step towards becoming more self-sufficient. We now look forward to expanding our continued partnership with GRID IE by adding a new goal of serving essential tribal facilities with resilient PV renewables and battery storage by 2025."  – Mr. Brian Adkins, Tribal EMO Director.
The financial and environmental impact of the 200+solar systems estimated over the system's 20-year lifetime is expected to save Tribal homeowners nearly $3,000,000 in energy costs. The estimated reduction in greenhouse gas is 6,250 tons, equivalent to planting over 145,000 trees or taking 1,200 cars off the road for one year!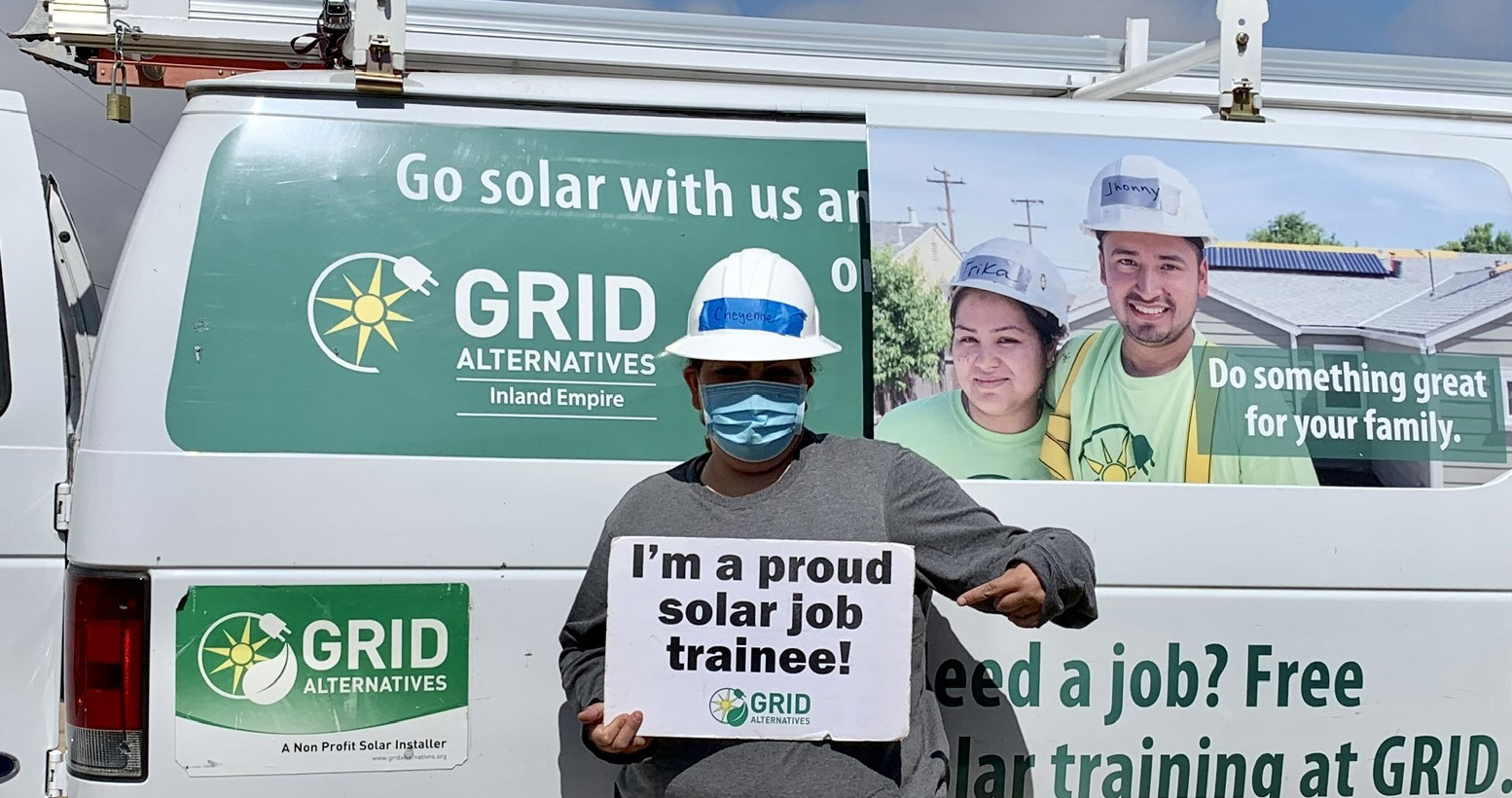 Beyond the environmental and direct financial savings, a crucial part of the GRID IE program is the economic benefits provided by on-the-job training for Tribal members. GRID IE works with the Bishop Paiute Tribal Employment Rights Ordinance (TERO) and offers hands-on solar installation training to local Tribal members. The training program has led to employment and high-paying careers in the growing solar industry. To date, the Bishop Paiute Tribe has had 68 trainees and 10 Tribal members who have been employed following training. 
This initiative is part of GRID Alternatives' National Tribal Program. A program that has worked since 2010 to help Tribal communities across the United States achieve their renewable energy goals. Using a community-centric approach, GRID partners with Tribes to identify, develop, finance, and implement solar power projects that meet community needs, including education, hands-on training, and energy cost reductions for Tribal members.