From left to Right: Jeffrey Brantley, Rio Garcia, Neil Warren Solar Installation Training Officer, Gabriel Mendez, Marco Morales, and Kevin Tohee.
By Cindy Corrales Workforce and Volunteer Manager
Many people know about GRID's work helping green our planet—reducing greenhouse gas emissions through the installation of solar energy and how GRID's solar projects are centered around serving families and communities in need—but one thing folks often forget about, or may not often see, is the workforce programming that is tied to many of the infrastructure projects our Outreach and Construction teams work so hard to make happen at the residential and commercial level.
Our solar build sites have value to career seekers in our community—and provide an opportunity to learn, grow, and build confidence to pursue careers in the solar industry.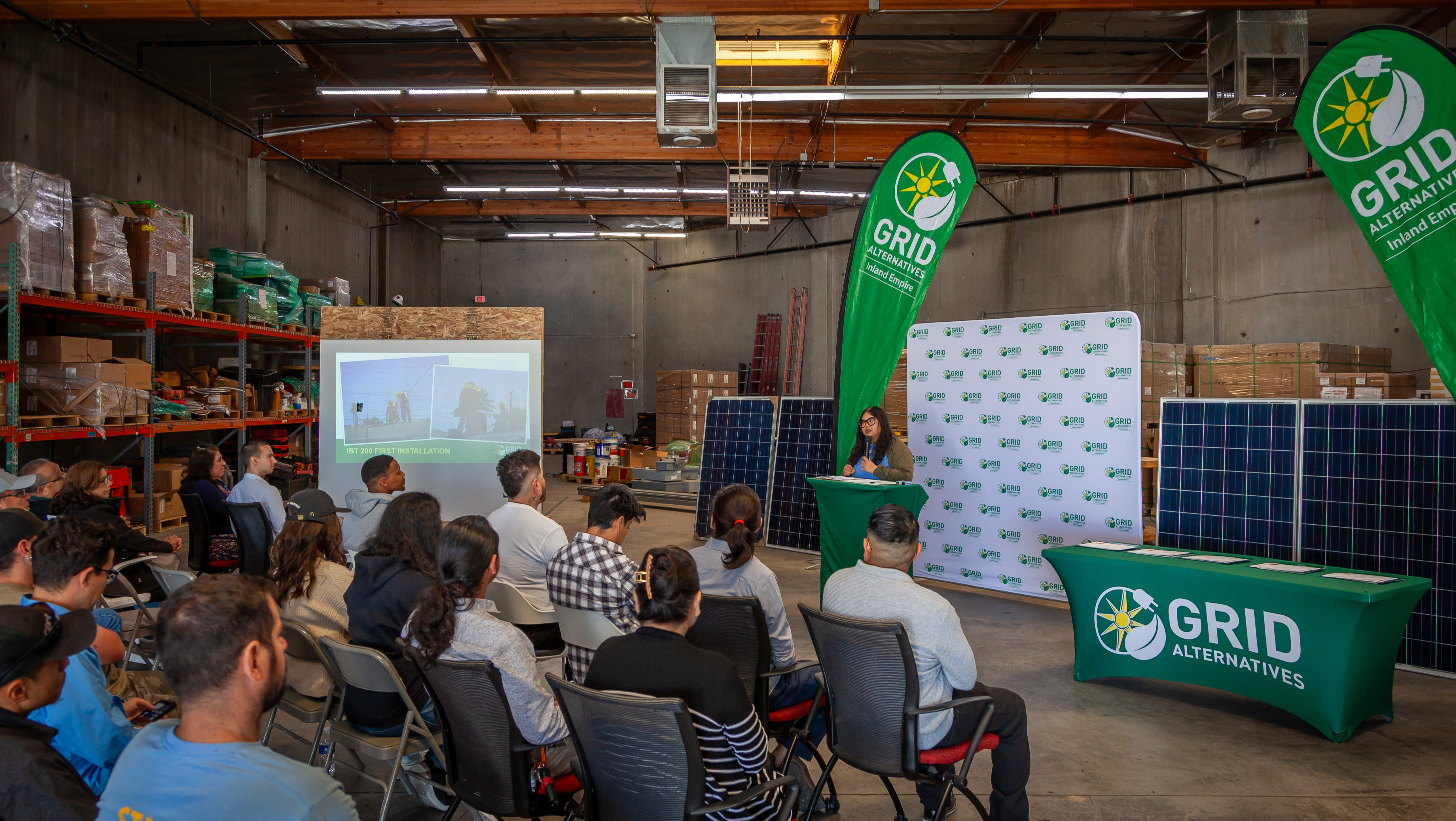 Cindy Corrales opens the graduation ceremony with a speech that is the basis of this story you are reading.
You may know that when GRID started over 20 years ago, the focus was to install solar electric systems for families in need at no cost, utilizing borrowed tools from a tool-lending library and a team of community volunteers.
The thriving volunteer program at GRID quickly became recognized by solar employers who sought out these experienced and trained volunteers to employ at their companies.
Out of that need and response from the industry, GRID grew its Workforce Programs over the past 10+ years.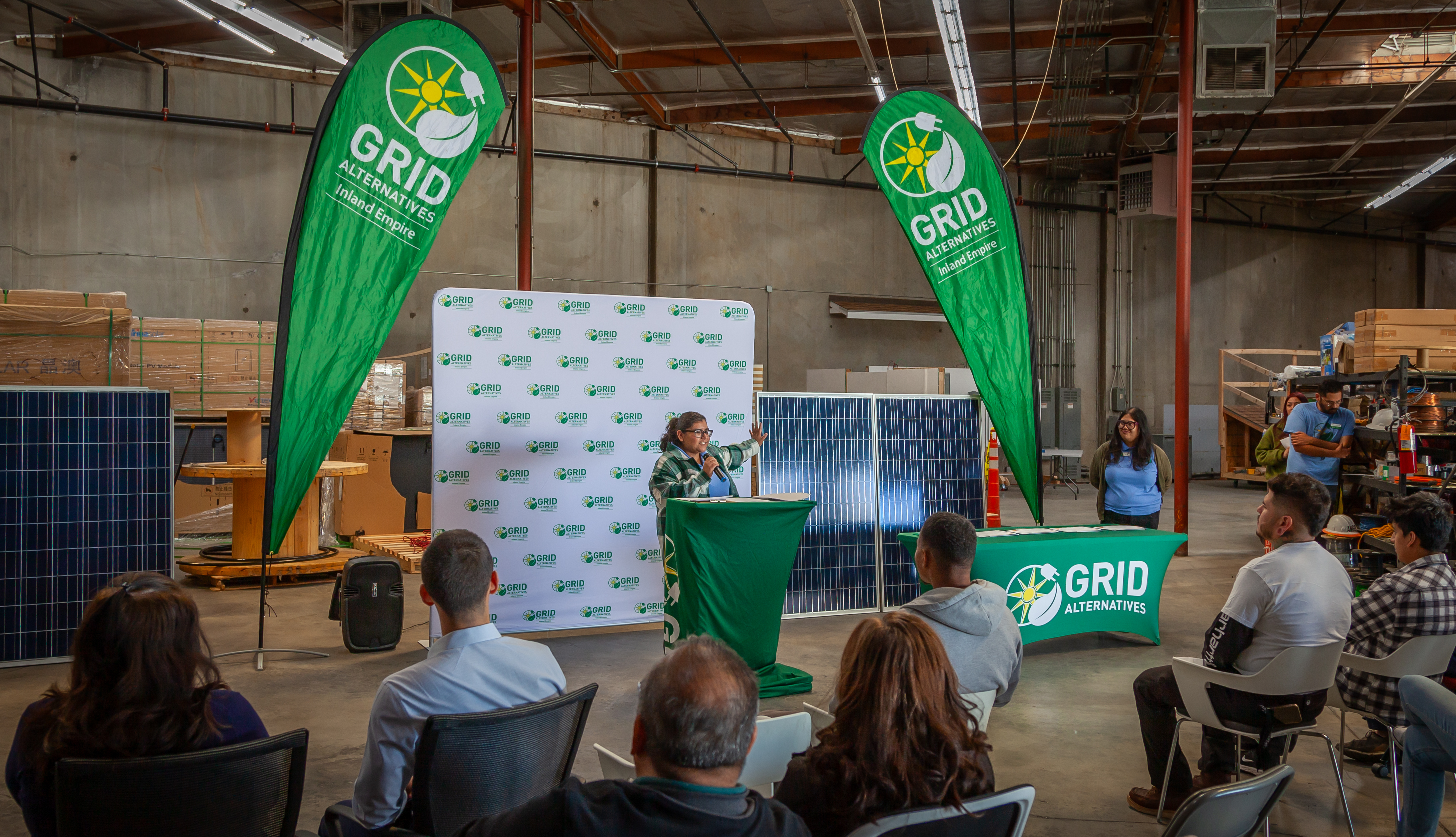 Sandra Romero, Workforce & Volunteer Program Specialist, addresses the crowd
GRID welcomes those seeking knowledge and the skills to enter the clean energy workforce—we welcome young people, women, tribal members, the justice-involved, the unemployed and underemployed, those with barriers to employment, veterans, and those looking for a new career.
We aim to engage a diverse community of learners with opportunities and careers in clean energy. We provide access to no-cost training and help connect people to solar and related clean energy careers with local employers.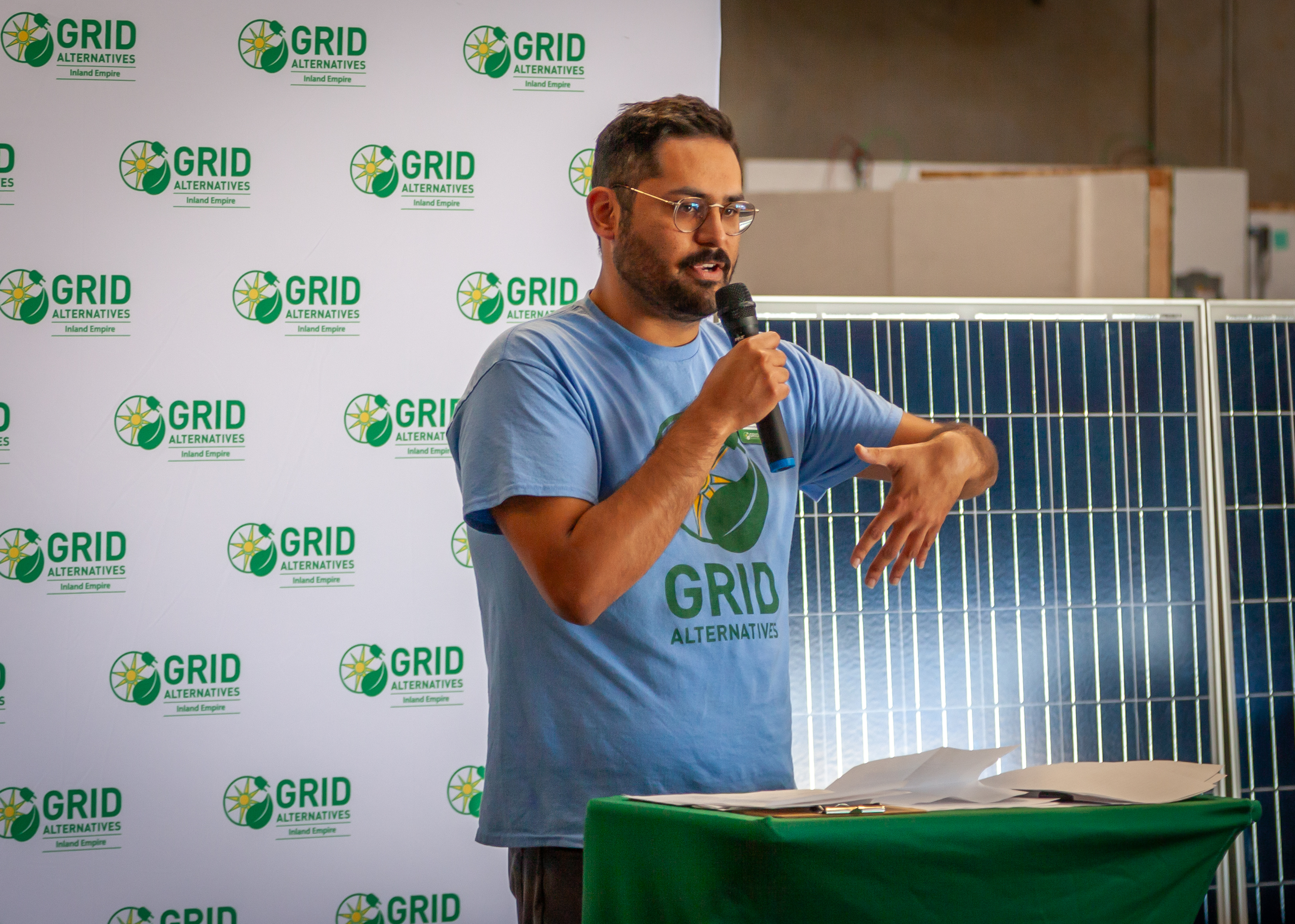 Erik Rodriguez Cerda, Workforce Programs Coordinator, providing information on local programing
Through GRID's solar workforce programming:
We advocate for our communities who are most impacted by economic and environmental injustice
We advocate for clean energy careers that include everyone
We advocate for clean energy careers that value safety
We advocate for clean energy careers that value people
We advocate for clean energy careers that are life and family sustaining
We advocate for clean energy careers that offer opportunities for professional growth and upward mobility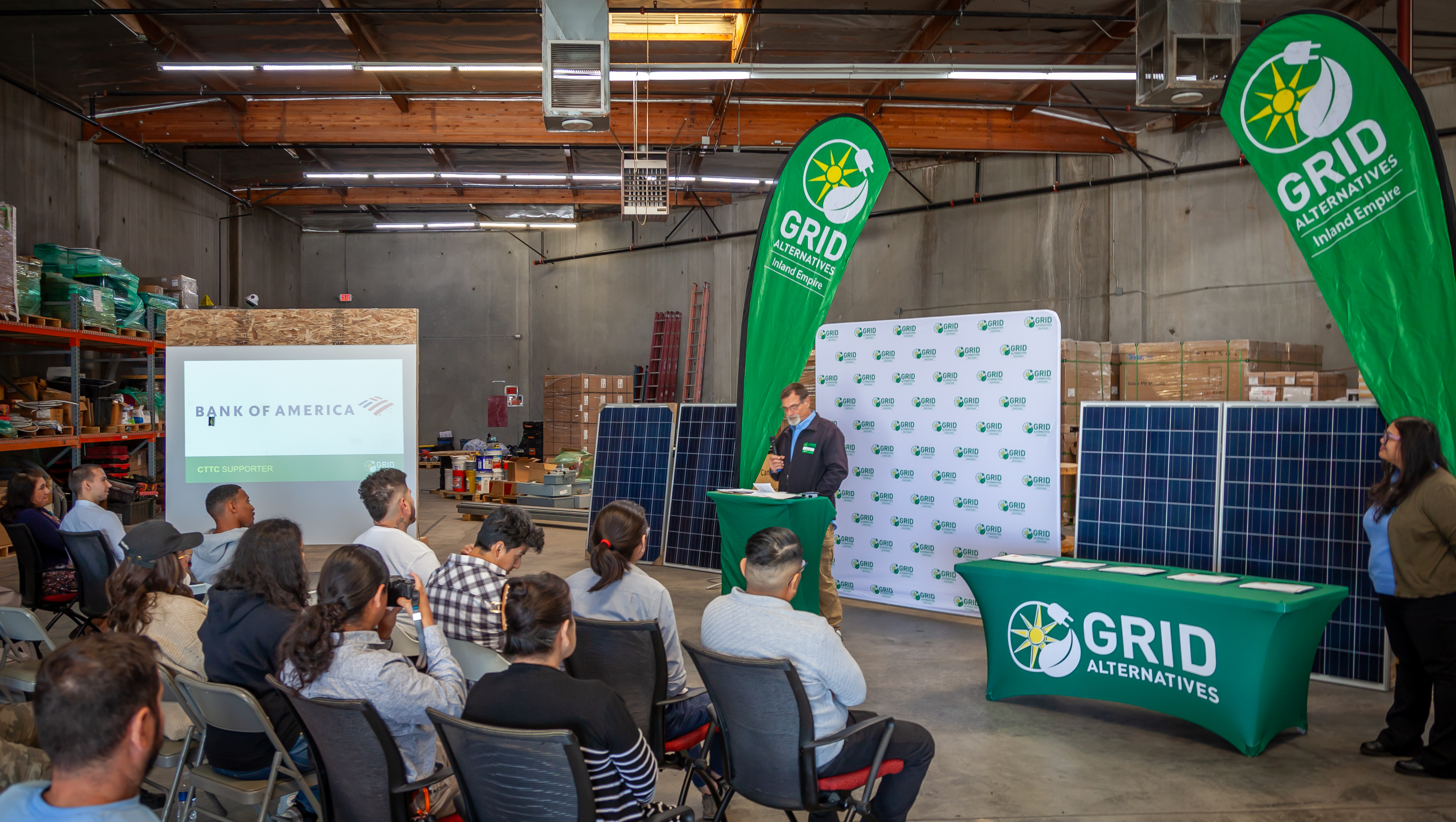 Neil Warren, Solar Installation Training Officer, describing the journey of the trainees
On October 30th, 2023, we celebrated five individuals who have dedicated their time to completing GRID's Installation Basics Training 200 program, or "IBT 200" for short. Jeffrey Brantley, Rio Garcia, Gabriel Mendez, Marco Morales, and Kevin Tohee.
IBT 200 is a 5-week, full-time, immersive training program with classroom instruction, warehouse lab activities, and real-world solar installations.
The five graduates spent 200 hours with our GRID Workforce and Construction staff learning about solar technology, climate change, tools and equipment, installation techniques, employment readiness skills (including building resumes, cover letters, mock interviews, interpersonal skills and communication, financial literacy basics, etc), OSHA 10, and CPR first aid.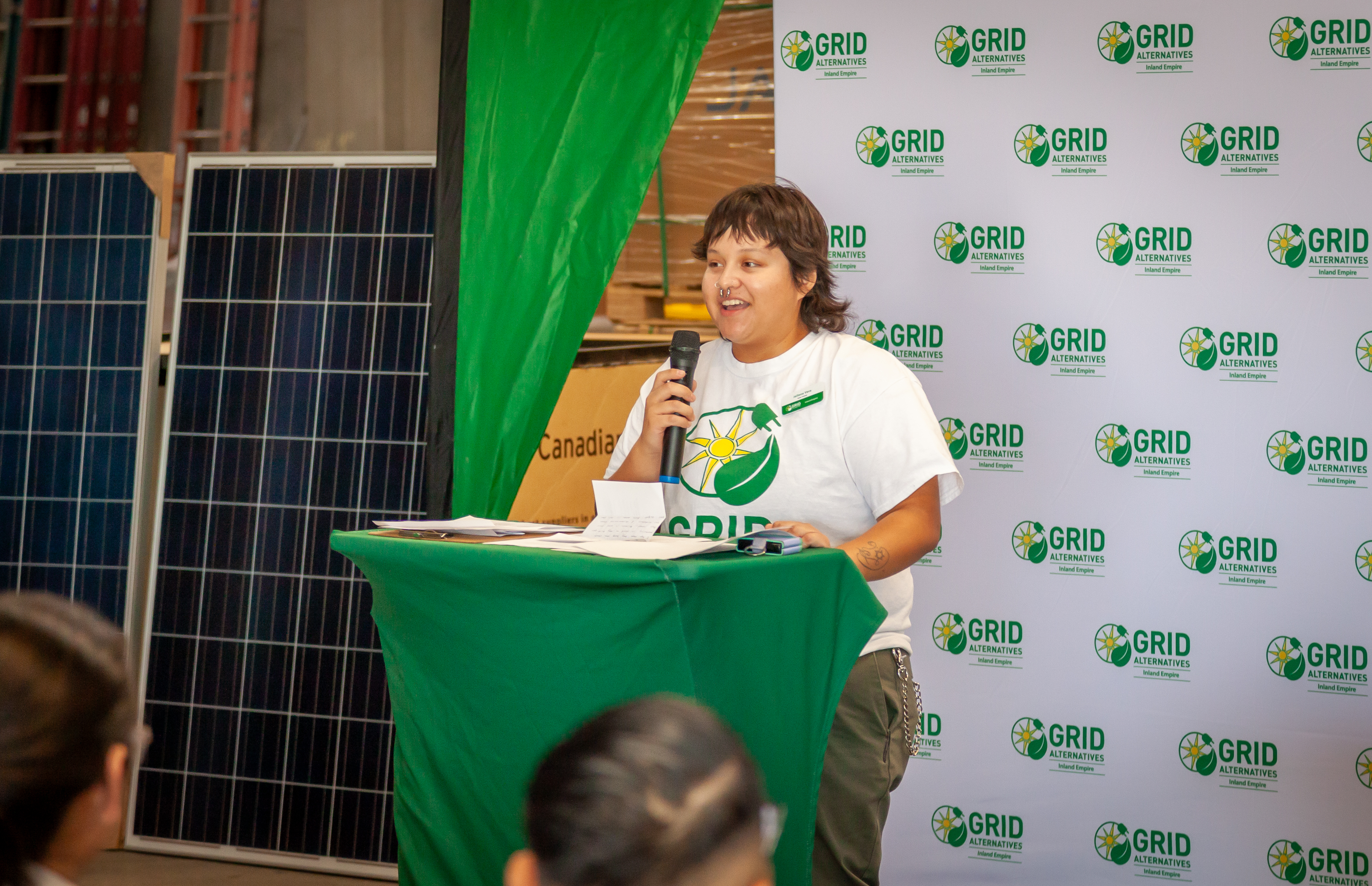 Jailene Vera, Workforce Solar Trainer, who was integral to the development of the trainees
These five individuals stuck with this training even when it got tough (because sitting in a classroom for 40 hours during the first week is not easy). Even when the roof got hot, and mistakes were made in the learning process out on the building site—these individuals showed up the next morning ready for another day on the build. Even when a new concept or technique was confusing or complicated, these individuals asked questions for clarification and kept working and learning.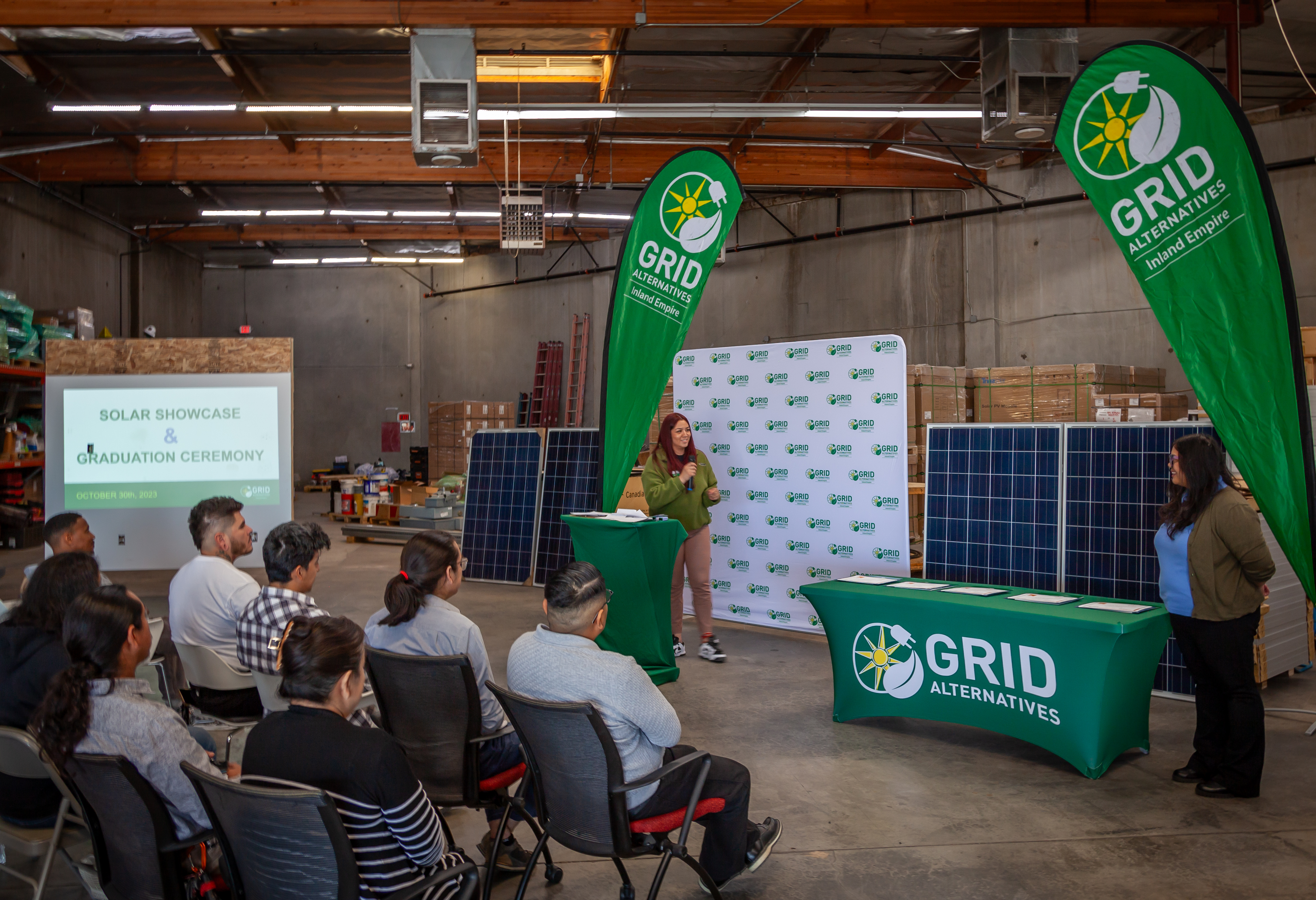 Paola Ramos, Workforce Coordinator, addresses the crowd
We celebrate our first IBT 200 Cohort graduating from our GRID IE Clean Tech Training Center (CTTC).
It takes a team of people to ensure our trainees make it to graduation day. So, we also celebrate every person who helped support their learning, engagement, and ability to attend our training center daily.
Those people include our workforce and construction staff who, over these past five weeks, have been providing hours of instruction, coaching, and guidance for learning in the classroom, lab, and out on our build sites; we celebrate the family members and support systems who helped get our graduates to the training center for class or encouraged them to keep going, and we also celebrate our workforce partner agencies and case managers who provide critical wrap-around support services to ensure our trainees have transportation and other essential needs like boots or someone to talk to and think through upcoming life choices.
We thank them all and everyone who helped to ensure that these five remarkable individuals could make it through training and to graduation successfully.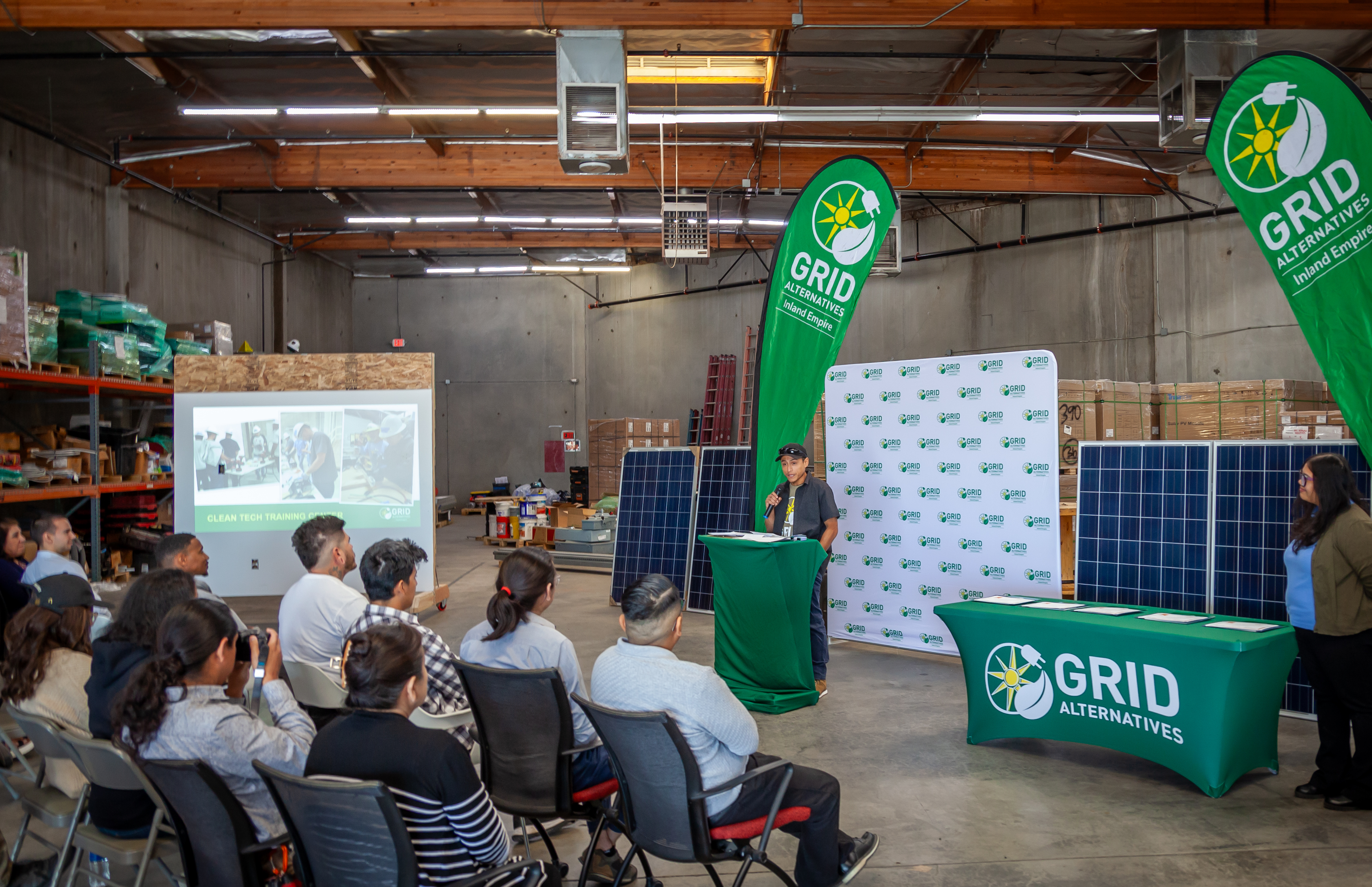 Daniel Montero, Solar Installation Supervisor, inspires the new graduates
GRID IE would also like to thank our funders who provided the critical seed money to build out our Clean Tech Training Center, increase staff capacity, and support the expenses to run our very first IBT 200 cohort. Thank you, U.S. Bank, Citizens Business Bank, Edison International, Kaiser Permanente, Bank of America, Pacific Premier Bank, Wells Fargo, the Honda USA Foundation, the James Irvine Foundation, and the Soboba Foundation.
We believe in providing meaningful solar training and access to jobs at no cost to our participants. Because of this support, we can do this work and make solar job training accessible to those who need and want it the most.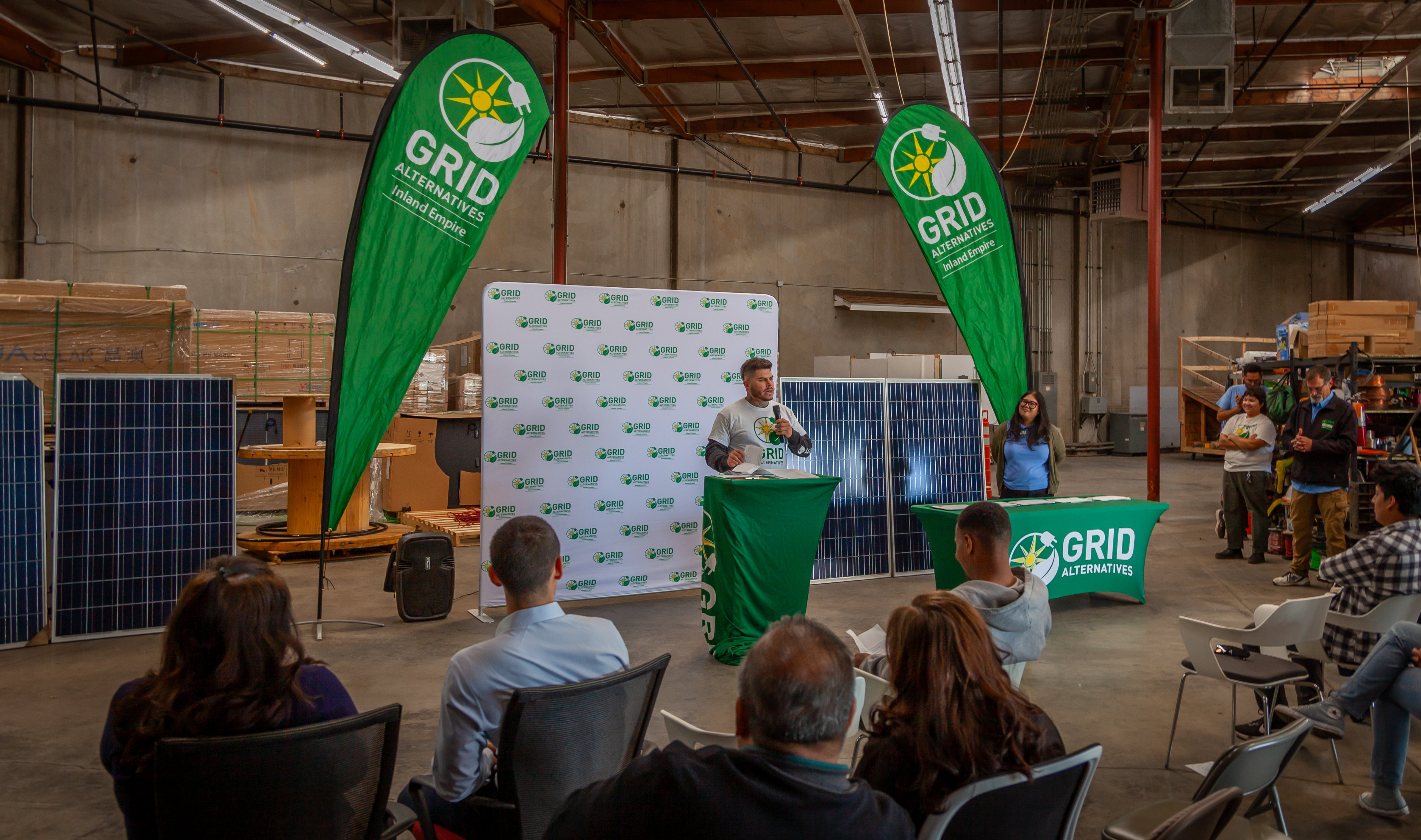 Rio Garcia, IBT 200 graduate, talking about his experience in the program
GRID does this because we believe in connecting good people in our communities to good career opportunities in an ever-growing industry and to fill the entry-level training gaps in our local clean energy economy. We thank all our local solar employers who came out and attended our Solar Showcase event to meet our trainees and see them in action.
Our solar training program cannot work without the industry's interest and involvement in wanting to hire our trainees. We are thankful for the local employers who attended looking to hire.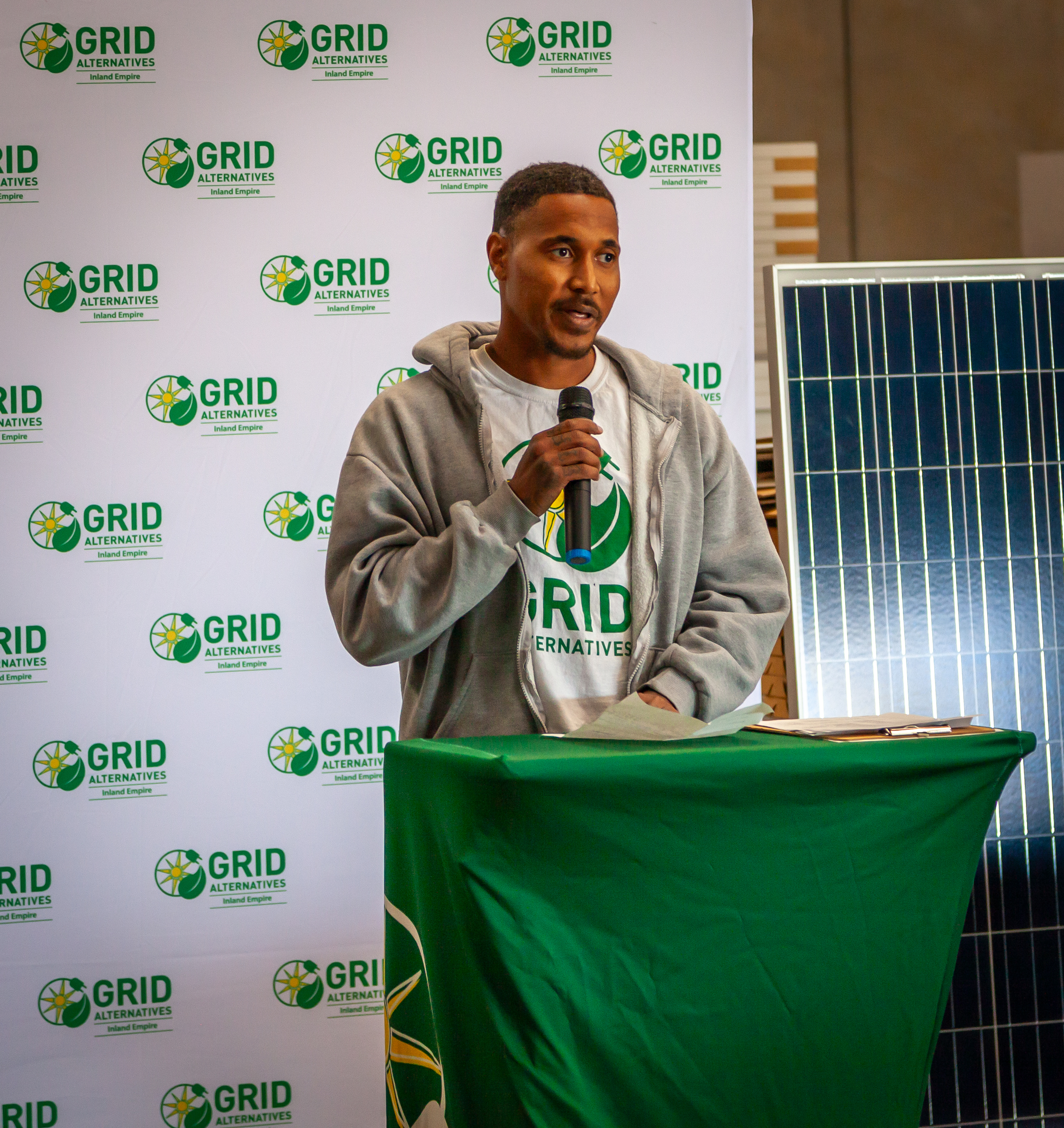 Jeffrey Brantley, IBT 200 graduate, describing his training journey
It took the combined efforts of everyone who came to the CTTC on graduation day and even more people who couldn't attend—to make this happen. Thank you, thank you, thank you!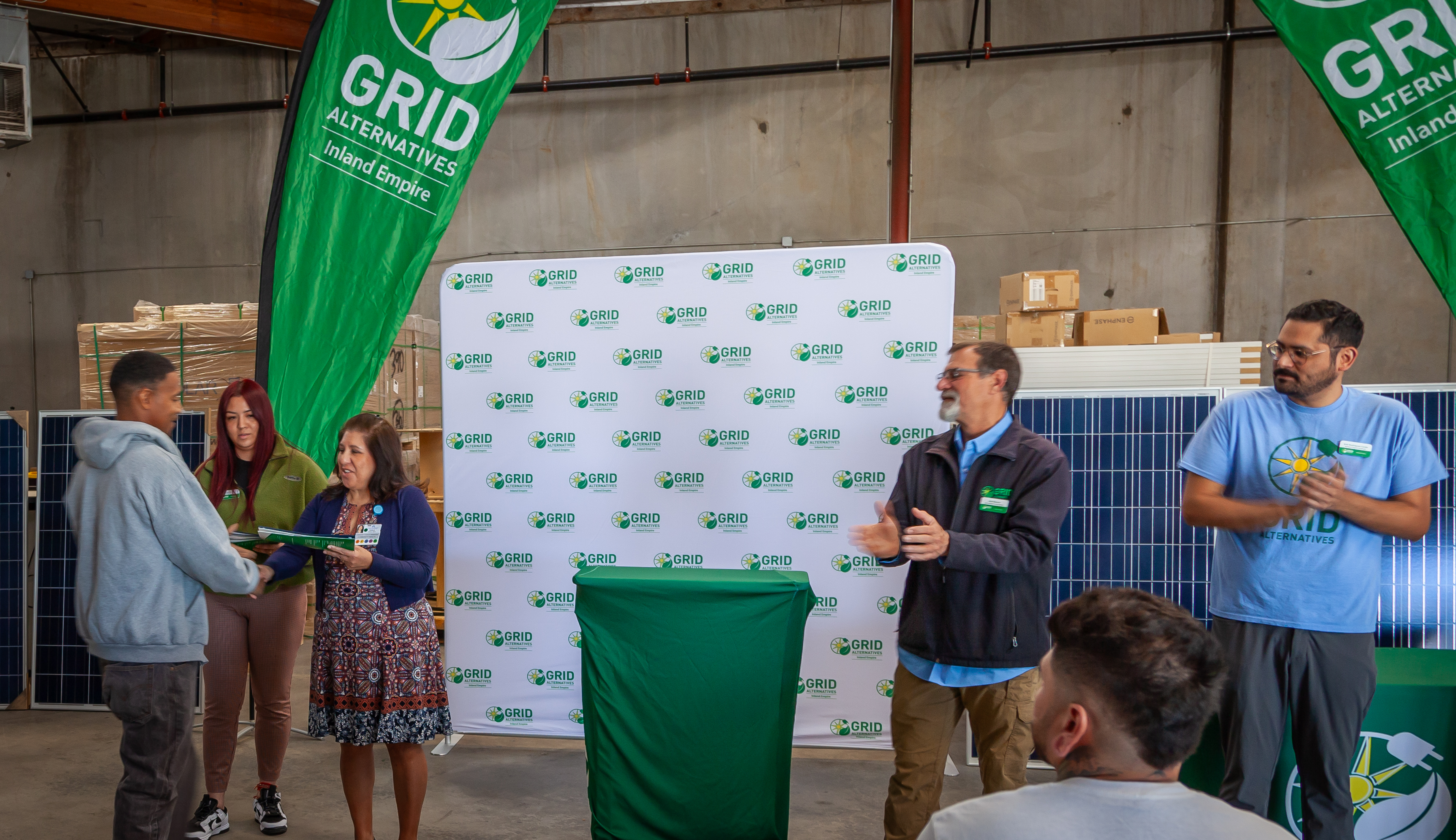 Cecilia Arias, Community Health Manager with Kaiser Permanente, presenting Jeffery with his awards!
Many thanks go to Cecilia Arias, Community Health Manager with Kaiser Permanente, for attending the graduation ceremony and presenting our graduates with their awards!
Each graduate received:

An IBT 200 certificate of completion
Their OSHA 10 card
Their CPR / first aid / AED certificate and card
A $2,300 completion stipend award
Congratulations, Jeffery, Rio, Gabriel, Marco, and Kevin! GRID IE's historic first IBT 200 graduation class!
More IBT 200 classes will be available in 2024 - sign up here.