While 2020 was one of the most challenging years in GRID CO's history, our solar job training programs gained more traction than ever before. GRID CO staff worked tirelessly to continue in-person training by adapting to the constant changes and adversities of our new collective reality. Now more than ever before, our communities need retraining and access to living wage opportunities in a flourishing industry.
In 2020, GRID CO installed 4 MW of solar benefitting low-income families, nonprofits, affordable housing providers, and schools. We also enrolled 24 individuals in our solar installation workforce development programs, despite only being able to provide programming for six months due to COVID restrictions. In the Denver-based 5-week Installation Basics Training (IBT), 80% of our graduates gained employment in the solar industry upon program completion.
Let's meet two of those IBT graduates!
James Reed
James Reed is a true testament to resiliency. Prior to enrolling in GRID CO's IBT Program, James was working in a warehouse, unsure what his future career would be. The day after his graduation, James excitedly texted GRID CO's Workforce team to say that he had landed a solar job! Six months later, James is still working as a Solar Installer with Blue Raven Solar. He says, "My experience with IBT was life changing!" James gained the skills necessary to propel him into a career that he loves at a great company!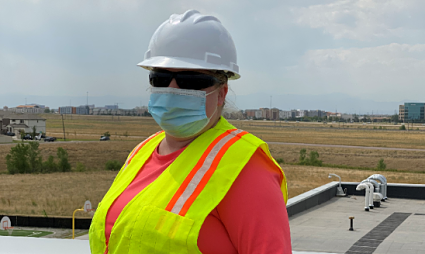 Nissa Anson
Before joining GRID CO's first IBT cohort in August 2020, Nissa Anson had spent several months looking for her next solar opportunity after her previous employer declared bankruptcy. It was a challenging time to look for a new position to say the least. Nissa brought a wealth of experience when she enrolled in the program, but solar construction was a whole new world! Within a week of graduating from the IBT Program, Nissa was offered a position as Operations Manager with ARE Solar. Nissa connected with ARE Solar during GRID CO's Solar Showcase, which provides local solar employers the opportunity to engage with GRID training program graduates. Now, Nissa is learning the ins and outs of running a construction company. With her previous skills and newly gained experience in onsite installation, Nissa is truly an asset to her new employer.
Are you also interested in beginning an exciting career in solar? Learn more about GRID CO's Installation Basics Training.