Joan Murphy, PVREA Low-income Community Solar Subscriber
Joan Murphy of Loveland, Colorado, is a born fighter. Originally from Massachusetts, Joan moved out to Colorado more than 50 years ago to compete in slalom skiing, and built a life for herself here. Then in 1995, Joan was in a serious car accident that left her with lasting injuries and a long road to recovery. Bills and paperwork were piling up, and she almost lost her home due to foreclosure. With a lot of hard work, she was able to keep her home and sheep ranch, but she still struggles with her bills. Earlier this year, when she heard about the chance to lower her energy costs with community solar, she was ecstatic.
"I raise Merino Sheep for their wool and I also have poultry. This time of year, I have to run heat lamps for baby lambs as well as run water heaters for Lily [the sheepdog], the coop, and three sheep pens. The electric bill can get pretty high."
A representative at Poudre Valley Rural Electric Cooperative (PVREA) told Joan about the 2 megawatt (MW) community solar project they were developing in Fort Collins through a partnership with nonprofit solar installer GRID Alternatives. The project was designed to reduce electricity bills for hundreds of low-income Coloradans like Joan, as well as provide clean, affordable electricity to nonprofit organizations and affordable housing providers in the region.
"Being on a limited income, I need all the assistance I can get," said Joan. In addition to the money she'll save, she's excited to do her part to leave the world a better place for her adult grandson and the school children in the district where she works.
Coyote Ridge 1.95 MW (DC) Community Solar Project
Poudre Valley Rural Electric Association (PVREA) partnered with GRID Alternatives Colorado (GRID) on the 1.95 MW DC Coyote Ridge community solar project which Joan is subscribed to, developed as part of the Colorado Energy Office Low-income Community Solar Demonstration. The project embodies the community spirit and accessibility of community solar, with 700 kW of the project's capacity dedicated to low-income subscribers, 500 kW dedicated to local nonprofits and affordable housing providers, and the remaining capacity available to all PVREA members and businesses. Participating low-income PVREA members save about 30% compared to retail rates. Through GRID's community participation and workforce development model, job trainees, volunteers from the community and employees from the utility came together to work alongside GRID staff in the construction of the PVREA project. The project leveraged financing from CoBank, structured with insights from the National Rural Electric Cooperative Association and Department of Energy (DOE) SUNDA initiative. The project is also competing in the DOE Solar in Your Community Challenge.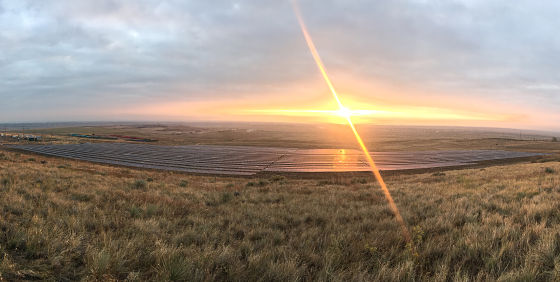 Click here to check out the report Insights from the Colorado Energy Office Low-Income Community Solar Demonstration Project.