Our 2MW Coyote Ridge Solar Farm in Fort Collins, Colorado is complete! This is the largest solar array built by GRID by a factor of ten, and it is now generating power. Over 300 volunteers worked alongside GRID staff to construct the system. It will serve hundreds of low-income Coloradans as well as provide clean, affordable electricity to a number of nonprofit organizations throughout its lifetime. This incredible project with Poudre Valley Rural Electric Association (PVREA) and Colorado Energy Office is a major win for solar access!
The Coyote Ridge Solar Farm brought together folks from throughout the Front Range to help install the system. The outpouring of support from volunteers made it possible to install the entire system in just a matter of weeks from August through September.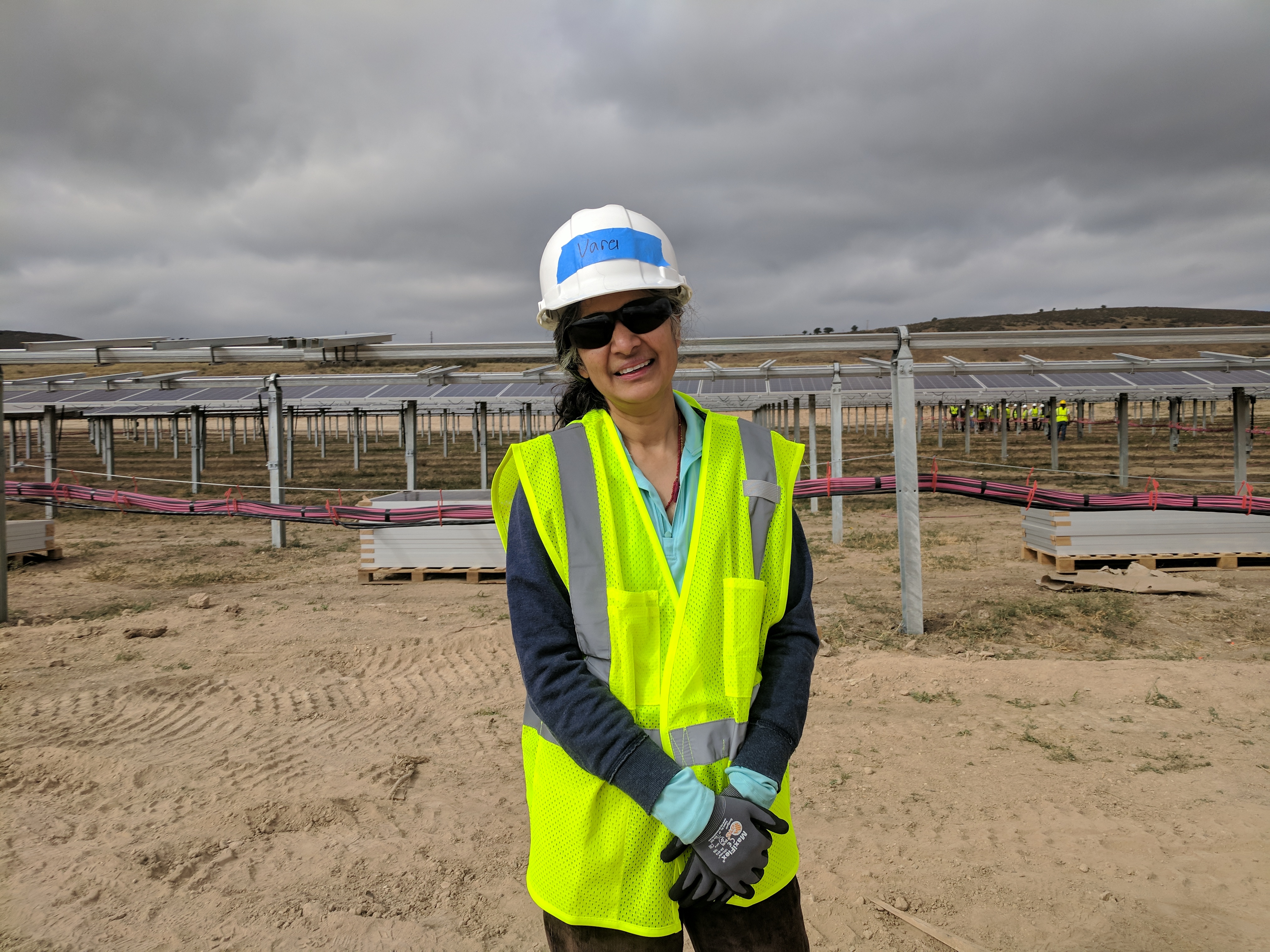 The volunteer with the shortest to travel was Vara Vissa, who lives less than a mile away from the site. Vara is a member of PVREA, the electric co-op that the project is benefitting. "I could see things being installed from my home, and I called to ask if the community could get involved, so here I am! It's really great to see something that's generating energy on a landfill. This is a lovely, positive image for me, something that my family and community can benefit from." Vara is a board member for the Air Quality Advisory Board of Fort Collins, and advocates for ways to mitigate emissions. She spent three days volunteering on the Coyote Ridge Solar Farm. "To see it being installed and being a part of it makes it all come together for me."
A group from Foothills Unitarian also participated over two weekends. "It was an opportunity to express our values," said Tom Rhodes, who organized the group. "We tend to do a lot of study groups and this was an opportunity to actually walk the talk."
Students from Colorado School of Mines came to witness a solar project's development in action. Mechanical engineering student Evan Wong remarked, "In the classroom we learn about quantum mechanics and circuitry, and spend hours and hours studying it. Seeing the tracking mechanism and all the tiny parts gave a great real world experience." Timothy Ohno, who is Mines' Energy Minor Program Director, shared, "My hope is that students will demand more PV being on campus in the future."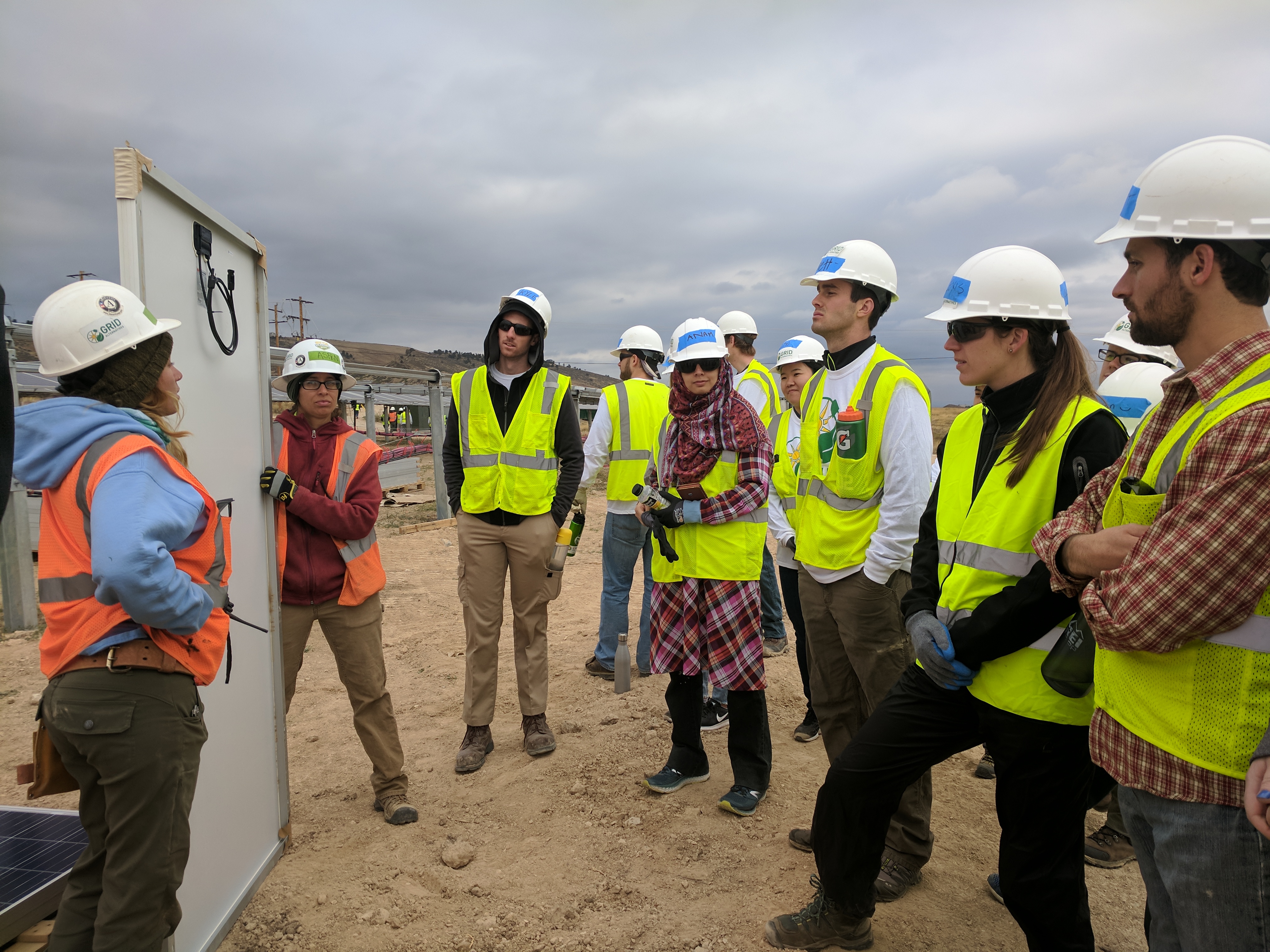 Poudre Valley REA encouraged their own staff to volunteer through a team-building workday. Over two days, PVREA staff contributed 140 hours of volunteering! "PVREA is proud to have another community solar farm energized that provides a renewable energy alternative to rooftop solar for all of our membership. The people in our community really pulled together to make this project happen. PVREA is excited to see 6,000 solar panels following the sun that is the result of the many hands who came together to build the Coyote Ridge Solar Farm for our local community," PVREA Vice President/Member Relations David White commented.
"We had many local partners who contributed sweat and finances to making this project a success." said Chuck Watkins, Executive Director of GRID Alternatives. "The Coyote Ridge Solar Array is an example of what can be accomplished when people work together for the shared goal of improving their community."