Michael Kadish, Executive Director since 2013, was part of a group of Californians who went on a trip to Baja California this past October and worked on installations as part of the GRID Alternatives International Program.
Borders have been in the news more than ever lately. Sometimes we can forget that most borders are creations of history and politics that were imposed on the land and on the people living there. Some people use borders to deepen the divide between people rather than promote connection. Here in California, no border looms larger than our shared border with Mexico. Millions of people travel across every year to connect with family, find work, trade goods and services, start a new life or simply enjoy themselves.
It was in the spirit of connection, that this October I was able to join a group of our Board Members and staff, along with a team from GRID's San Diego office, to support GRID's International Program in Baja California, Mexico. Of course, we knew California didn't always have this border between South and North, but it was through this trip that many of us learned about the Kumeyaay people, who have lived across the region since before there was a United States or Mexico. Unfortunately, today's border also bisects their community. But Kumeyaay people on the Mexican side of the divide have worked hard to hold their ancestral knowledge over the years, and the division of the land belies a language and culture that are very much alive.
We were only able to see this thanks to the work of the International Program's Gustavo Valdez and the efforts of Kumeyaay community leader Genoveva Cuero Adams. Together they have been working to bring solar power and battery storage to the Kumeyaay community of Juntas de Neji. Located just outside Tecate, it is the northernmost indigenous community in Baja California. It also has largely existed without electricity or running water.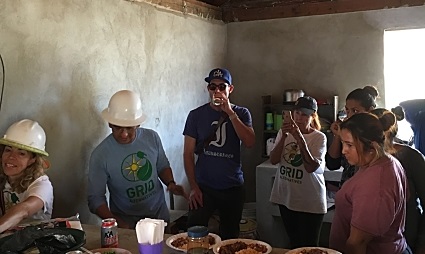 On our three day trip, San Diego Solar Installation Supervisor Edgar Rodriguez led us on five different solar installs on homes over the course of two days. When we arrived on Thursday afternoon we stayed up into the night assembling by flashlight five battery and inverter kits that were designed to reside inside toolboxes. On each home, we mounted one 265 watt panel on the roof and ran wires in PVC down into the home and then into the boxes we had prepared our first night. In several cases we also used the battery to wire up the first light bulbs to be on inside the homes. The families would now have control over their own power source and could decide to plug in a television, run a fan or charge a phone. It was a remarkable opportunity to be invited into people's homes, share their food and make the most of renewable energy technology.
Crossing back over the bridge that spans today's border between Tijuana and San Ysidro, I felt fortunate to have had this experience and even more so to have the privilege to cross at all. Weeks later, I am still energized by the idea that through GRID's work, we can continue to make renewable energy accessible to everyone, regardless of borders.
To learn more about how the trips managed by our International Program work, and to explore ways that you can be involved, see this page.