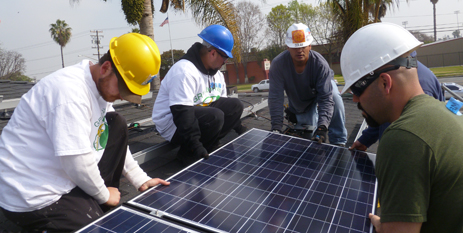 The GRID Alternatives Greater Los Angeles (GLA) office opened in 2007 and serves Los Angeles, Orange and Ventura Counties.  What we do is simple - using a volunteer model, we install solar electric systems for families in underserved communities at no-cost.  Our impact however, is tremendous. 
Through this simple act, we are able to provide families a long-term solution to high energy bills, and offer community members hands-on experience that can help them obtain employment in the rapidly growing solar industry, all while producing clean energy and reducing carbon emissions.
Here in Los Angeles we work with a wide variety of partners to accomplish our unique triple bottom line of people, planet, employment.  We partner with local municipalities, corporations and foundations to provide the systems; businesses and community and technical colleges to provide job training; and nonprofit organizations, affordable housing providers, and other community organizations to reach the families we serve. 
Since our opening, our friendly Greater Los Angeles team has installed more than 1,500 solar electric systems for low-income families with the assistance of volunteers and job trainees. These solar electric systems help families save on their electricity bills and become more financially stable, while increasing the use of renewable energy. We do all we can to bridge environmental and economic sustainability, while being a center for diverse communities and sectors to come together and do some good. There's a lot of work to be done and a lot of fun to be had - so join us!   
---
GRID's unique, people-first model is putting money back into families' pockets, increasing housing affordability and reducing the energy cost burden for affordable housing providers. Learn more.
---
Hands-on experience is central to our model, and we want to help turn that experience into meaningful employment opportunities for people in communities we serve. Our workforce development programs and initiatives include: