GRID Alternatives Greater Los Angeles (GRID GLA) would be a very different place without our dedicated, hard-working team that often feels like a family. One key player at GRID GLA who works tirelessly on the job, and continues to serve the community in his off time, is Commercial Project Manager Alvin Waters. Alvin credits his childhood and his hard working mother for influencing and shaping him into who he is today. His work ethic and resilience are evident not just in his work at GRID GLA, but in his many volunteer and community service roles as well. 
Alvin's commitment is evident to everyone he works with. "Alvin is a great guy", says Director of Construction and Operations Jonatan Escalante. "Ever since Alvin became a member of our commercial team, he has demonstrated dedication and professionalism in achieving success in every task that has been assigned to him. Every day, he works tirelessly to make sure that our team has all the resources we need to finish our projects. I am extremely grateful for having him as a part of our team. His hard work has been instrumental in helping us overcome multiple challenges."
Tell us a little about your childhood and how you became Alvin. Where did you grow up and go to school? What was your family life like?
I grew up in the San Fernando Valley and went from elementary school to graduating from California State University of Northridge with a degree in business. I grew up in a single-parent household where my mom raised me and my two older sisters on her own. She gave up her dreams to ensure we had a promising future. We were a very tight-knit family. We were all taught the value of hard work. We were always held accountable to focus on school and stay out of trouble. Our major holiday gatherings and outings were the most memorable. We traveled to many places together for many holidays. We are taught never to forget where we came from. What truly defined who I am was through many of the trials and tribulations I overcame in my journey to get here. I never give up no matter how many times I have been knocked down.
When do you remember first developing an interest in sustainability? 
When I was in middle school and first learned about the significance of climate change in my science classes. I knew in the end taking it seriously was the right thing to do.
How did your journey with GRID GLA begin?
I landed it by accident while I was in school at the West Valley Occupational Center and was introduced to the program by David Andrade. I was eager to get out and get hands-on training and not limit myself to classroom work. After attending multiple installs my passion started to grow for solar. GLA became like a family to me. I got my start at Sunpower through GRID's workforce development program. 3 years later I was recruited to return to GRID full-time as a Commercial Project Manager.
---
I like what I do. Waking up every morning knowing my position is making a difference is a beautiful thing.
---
As a Construction Project Manager role at GRID GLA, what exactly do you do?
Oversight projects including multifamily retrofits, new construction, carports, and ground mounts. I work closely with design during the interconnection process. Planning and road mapping of installation from execution to close out. Coordinate onsite logistics with clients. Work cross-functionally with design in permitting and interconnection. Work closely with project development for high-level updates and communication related to maintaining client relations
What are some projects you're proud of working on with GRID GLA?
LGBTQ Center, Pacific Landing, and Casa Bonita. The most rewarding part of all 3 projects was seeing the end result despite various obstacles. The most rewarding part was seeing the end result and how well the team has come together.
What are some of the biggest obstacles we face as we make the transition to renewable energy?
Supply chain issues are one of them. We are working in an unprecedented time where the pandemic has caused record delays. Strategic planning around unforeseen economical factors is key. NEM 2.0 discontinuing is another challenge because savings have declined for homeowners and property owners. However, energy storage will come into play to continue to make the transition, but competition will increase as a result. Manufacturing domestically will be a challenge and subject to our administration at the federal level. Code cycle changes along with technological changes.
---
I am not only working hard for myself but also working hard to pay it forward for the next generation.
---
You seemed to be involved in a lot of community work outside of GRID. Can you tell us a little bit about the groups, organizations, and projects you work on?
I currently serve on the Granada Hills North Neighborhood Council as a Financial Officer. The neighborhood councils serve as an advisory liaison between the City of Los Angeles and stakeholders including residents and businesses. In addition, I serve on the Planning and Land Use Committee where I work to vet developments within our area to ensure compliance with the code of ethics to ensure public trust between residents and government. In addition, I serve on the Neighborhood Council Sustainability Alliance where we work towards advocacy for legislation to promote environmental justice for the benefit of frontline communities. We are working closely on advocacy for LADWP's push for hydrogen power with the proposed recommissioning of the powerplant Scattergood by encouraging council members to ensure transparency to address safety concerns of front-line communities. In addition, we advocate for the decommissioning of existing oil drilling sites within the City of Los Angeles within Amortization.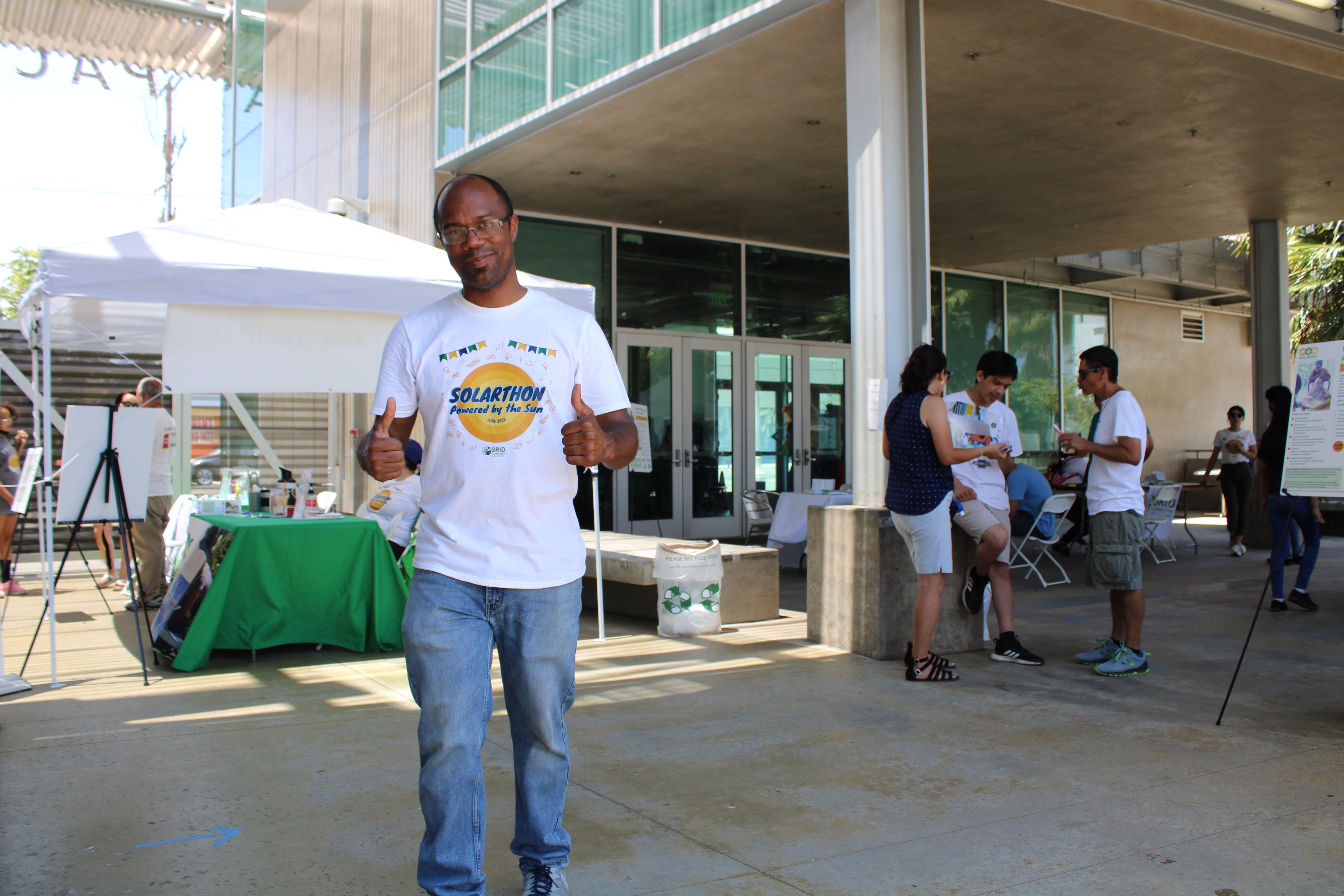 What motivates you to be passionate and a hard worker?
I like what I do. Waking up every morning knowing my position is making a difference is a beautiful thing. I went through many obstacles to get to this point. I inherited my work ethic from my mom who I watched go to work every day. I am not only working hard for myself but also working hard to pay it forward for the next generation.
What do you do for fun? 
Spending time with family. I am into outdoor activities including cycling, hiking, fishing, camping, surfing, water skiing, wakeboarding, kayaking, and sailing. I enjoy long walks with my dog. I like to cook outdoors with my smoker, bbq grill, and deep fryer. I am into attending sporting events and a big fan of the Rams, Dodgers, Lakers, and Kings. I also enjoy pro Wrestling.
What advice would you give people who are thinking about a career in solar? 
To ensure this is something you are passionate about. Understanding working in this industry is bigger than you. It's a social responsibility. Never stop learning. Do not be afraid to network. Make sure you are engaged in the process or you will lose interest. There will be setbacks in your journey, but do not forget who you are in your trials and tribulations. Always focus on your "why" every day you wake up. 
---
GRID Alternatives is a 501c3 nonprofit that offers 
Free solar panels to income qualified families
Free solar installation job training to anyone over 18 
Commercial solar installation for nonprofit buildings, resilience centers, government buildings, and affordable housing buildings
Contact us to learn more
Keep up with GRID GLA on a daily basis. Follow us on: 
Instagram
Facebook
Twitter 

Or donate today to support our mission