For more than a year, GRID Alternatives Greater Los Angeles has been doing big things at Potter's Lane. Operated by American Family Housing, the innovative housing development in Orange County provides services and support to more than a dozen veterans who had previously been homeless. We announced earlier in 2019 that our two organizations had teamed up with Wells Fargo to connect AFH and its residents with clean, affordable solar energy, and we started work on a newly-installed carport just this summer.
Each year, the 45 kilowatts of solar energy generated in the covered parking lot and benefitting the residences onsite will provide more than $20,000 worth of energy. For AFH, that's a significant savings that can be partially reallocated to core services like wraparound support for residents, or facilities maintenance. What's more, if the veterans living at Potter's Lane are ready to repower their own skills for the workforce, GRID has provided them with a great solution. It's GRID Workforce Development Programming, which gets veterans hands-on work experience via Troops to Solar installs and related training.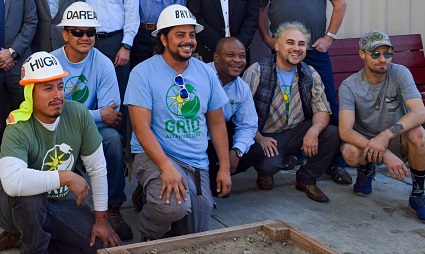 Last week Wells Fargo Vice President Marcia S. Choo (VP of Community Relations/West Region) made her first post-installation visit to Potter's Lane to commemorate the activation of AFH's new solar, installed in part by veterans who live here. Honoring Marcia's commitment to this project, Workforce Development Manager Adewale OgunBadejo noted, "She's an advocate and avid supporter of our mission, someone I'm proud to have as a partner." Adewale and other representatives for GRID also pointed out the importance of the present moment: Orange County solar companies are ready to hire for a local job force 10,000-strong, and trained veterans should absolutely be under consideration for these solar positions.
The day was made even more special with a Potter's Lane tour by Senator Tom Umberg, who represents the 34th district of California from Santa Ana up to Long Beach. Umberg, a decorated military veteran, described the collaboration to bring clean energy to Potter's Lane as one of his favorite in the entire district.