Flor Tolley, Philanthropy & Community Impact Specialist at Wells Fargo, shared:
"The reason we work with GRID is because they are so connected and involved with the local community."
Toward the end of 2022, Wells Fargo and GRID Inland Empire collaborated in two successful Team-Building Sponsored Volunteer Workdays. Through this corporate partner opportunity, which funded support to GRID IE's work, members from Wells Fargo experienced hands-on service by installing solar for families that would benefit most from savings in their energy bills.
Felix, an excited Wells Fargo volunteer at the Cahuilla tribal installation, shared
"It's really fun; I enjoy it. This is my second time volunteering!"
One month earlier, Felix got on the roof in Moreno Valley during the first Wells Fargo Team-Building Sponsored Volunteer Workday.
Lisa Castilone, the Community Development and Tribal Manager at GRID IE, shares the importance of supporting tribal projects:
"The funding provided by the Wells Fargo Foundation for GRID renewable energy projects is vital. Many tribes (in CA) are low income and do not have equal access to state funding and programs. Wells Fargo has created a pathway for GRID to installed solar on the homes of the most vulnerable; low income tribal elders. The funds provided by Wells Fargo were applied to the first single family solar energy project on the Cahuilla reservation. The financial savings , tribal job training opportunities and environmental impacts will have long lasting effects in the tribal nation."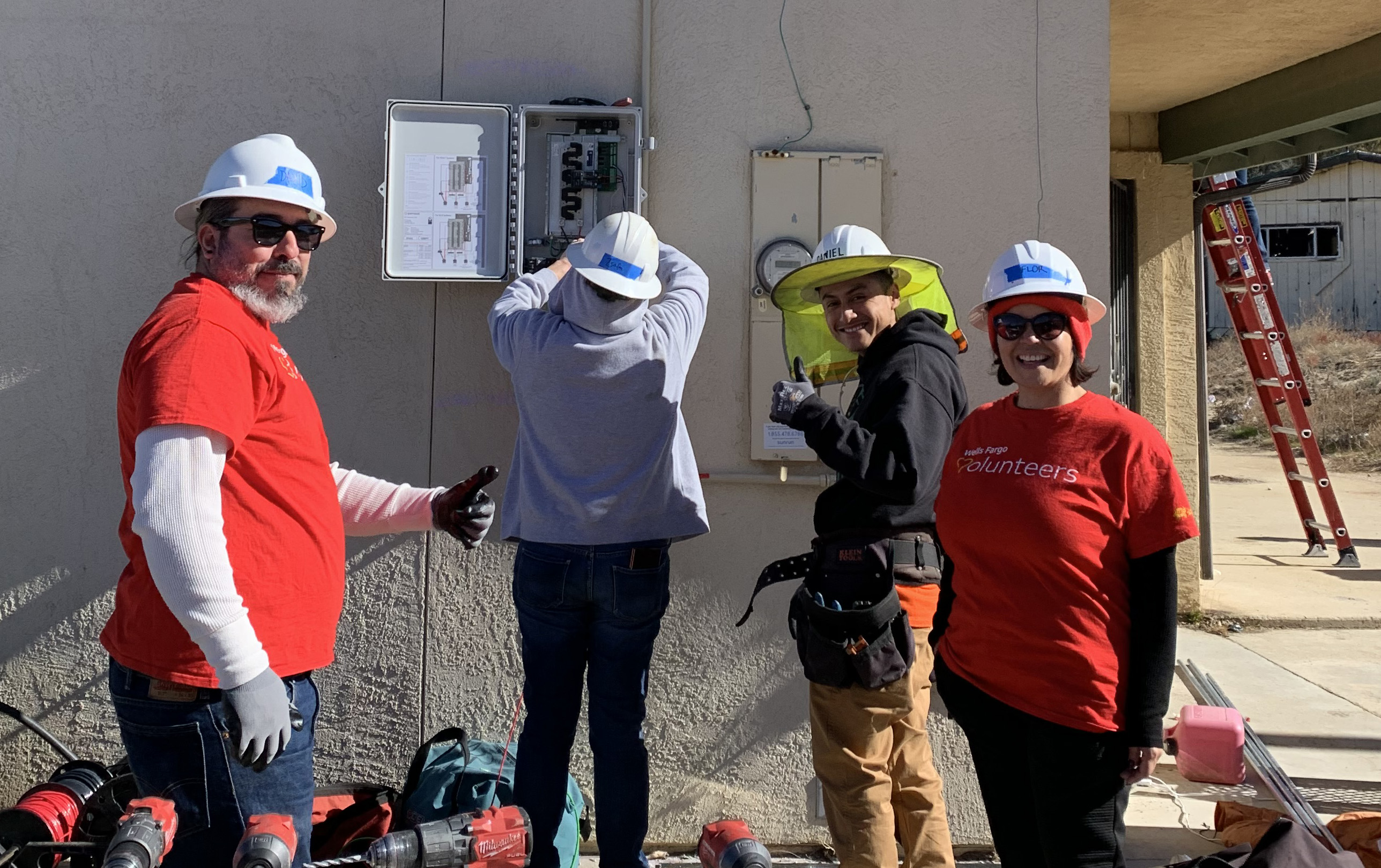 Thanks to the hard work and dedication of GRID IE and Wells Fargo volunteers, two more households in tribal and Inland Empire communities are enjoying the environmental and financial benefits of solar.
Nika Hogue, the Development Officer at GRID Inland Empire, added:
"Since our regional office opened in 2011, Wells Fargo has been a long-time partner in supporting low-income families throughout the Inland Empire and neighboring Tribal nations. They are also an inaugural partner of our newly launched Clean Tech Training Center for workforce development programs"
Chafic Rouhana, an 18-year employee at Wells Fargo and president of the local volunteer chapter, touches on the significance of volunteering with GRID:
It's really important to collaborate and bring employees from different business lines together. Not only that, GRID's program is a unique opportunity to make an impact on both affordable housing and sustainability – two main philanthropic priorities for us!
Zsofia, another Wells Fargo volunteer, expressed her thoughts while taking in the beautiful desert scenery:
"It's pretty exciting to give people the opportunity to have solar. I have solar panels and they're awesome. I want to do this again!"
Echoing Zsofia, Flor proudly shares:
We love what GRID does – from workforce development and sustainability work, to helping homeowners reduce climate impact and save money on energy bills. GRID Inland Empire gives us the opportunity to work with our own team members who want to volunteer and help give back to the community. GRID IE is the perfect partner, and we're really thrilled to be here and make a difference for this family!
With that, GRID Inland Empire thanks the Wells Fargo team for creating a positive impact in the communities we serve. We look forward to more in the future!