It's our duty to serve them!
They didn't hesitate, neither will we. This is an exceptional way to give back to our troops and their families. There is something for everyone to do. If you have time and/or money, you can do something real, that matters.
---
Goals
10 veteran or active duty military families recieve solar power for this year. We've installed 7 so far!

50 military volunteers particpating on solar installations. Are you a veteran and would like to volunteer? Click here and sign up or sign in and look for the opportunity on November 11, Veterans Day.

At leat 5 veterans receive a job training scholarship
---
Project update
Summer got off to a good start with solar power installed for a "Rosie the Riveter!" Do you remember that phrase and those women? Our "Rosie" is Ruth. Now 83, Ruth has, by her account, enjoyed an amazing life that included being one of the Rosie Riveters during WWI. (Rosie the Riveter is a cultural icon of the United States, representing the American women who worked in factories and shipyards during World War II, many of whom produced munitions and war supplies. These women sometimes took entirely new jobs replacing the male workers who were in the military).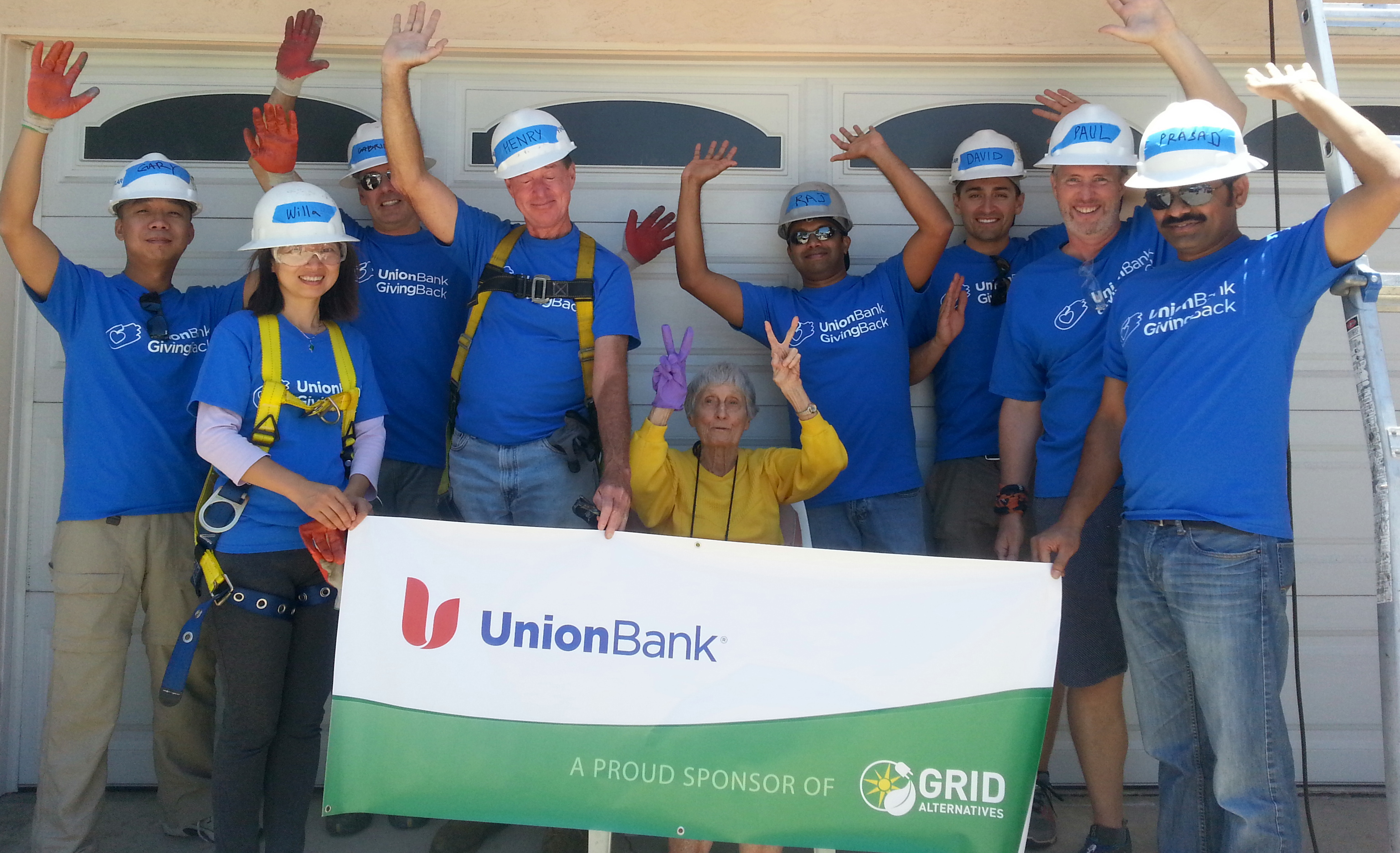 Ruth has always looked towards the future. During WWII, she joined the war effort as a reservist marine, building fighter planes. Afterwards, she worked for Howard Hughes as a technical writer. In the 60's, she was a part of several civil rights campaigns. She is someone who is constantly giving back to her community.
Joe, her son, has been volunteering to install solar on others homes for awhile now and on installation day at his childhood home he helped the volunteer crew from Union Bank bring solar power savings to his mom who was delighted to also know that her rooftop would now be of service to in our transition to clean, renewable energy.
---
Let's make this happen!
7 Veteran families who really need the savings are now generating their own electricity from a GRID Alternatives Solar Power System. Next up, on Veterans Day (November 11, 2015) we will be collaborating with Habitat for Humanity and one of their wounded veterans communities for a four home installation. We are going to need at least $5,000 for each installation. Please consider donating in any amount.
Other Ways to Give:

Please send checks to:
GRID Alternatives
930 Gateway Center Way
San Diego, CA 92102
---
---
Are you a company looking to create a volunteer team?
Please Contact:
Tom McSorley
619.610.1171
tmcsorley@gridalternatives.org
---
In partnership with: