Last year, more than a dozen job trainees got hands-on experience installing no-cost solar in San Diego as part of the NAACP's Solar Equity Initiative. Launched in 2018, the Solar Equity Initiative aims to connect low-income communities and communities of color with solar technology and skills training across the country.
In December, we teamed up with Sunrun, the San Diego branch of the NAACP, and the Alliance for African Assistance for a two-day solar installation and job training event. Trainees honed their solar skills while installing a 4.85 kilowatt solar system on the home of Othelma and Ora Love in southeast San Diego. The Alliance for African Assistance, founded in 1989 by Dr. Walter Lam, supports refugees resettling in the San Diego area, including through job training programs like GRID.
Anthony Crosson, one of the trainees, told KPBS San Diego that learning about solar installation is an important step for him to build a career and that, "This is something I never thought I'd be doing and I'm really proud of myself."
Bri Ruehl, regional field trainer with Sunrun, which sponsored the installation and job training event, said, "This partnership directly reflects our core set of values: helping people, providing opportunities for career paths, building job skills. Plus there's the environmental impact that goes with our motto of creating a planet run by the sun."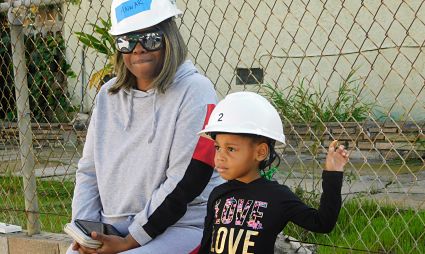 Under-resourced communities and communities of color disproportionately bear the burden of environmental injustice: pollution from fossil fuels, the impacts of climate change, and a lack of access to jobs in the clean energy industry. A new study from Tufts University and UC Berkeley found significant racial disparities in rooftop solar installation in the United States. When asked why efforts like this are important, Renita Paynto, secretary of the San Diego NAACP, told us, "Going green shouldn't be a luxury. Anyone should be able to have solar, better the planet, and lower their costs."
Thanks to the trainees who installed their new solar system, Mr. and Mrs. Love can expect to save nearly $2,000 on their electricity bill each year. Mr. and Mrs. Love first purchased their home in the 1950s and their granddaughter, Dr. LaTanya Runnells, is their advocate. As they get older, Dr. Runnells is concerned about her grandparents' health and quality of life, "I want them to be able to live and buy food!," she said. With these solar savings, she can worry a little less!
Special thanks to all the partners who support the NAACP's Solar Equity Initiative, including Sunrun, SEIA, United Methodist Women, and Vote Solar.

Editor's Note: This post was updated in February 2019 to include a recent study on racial disparity in solar installation published in Nature Sustainability.