As the morning fog cleared on Saturday June 1st, the sun shined out over 50 volunteers on the rooftops and homes at Atchison Village in Richmond as a part of GRID Bay Area's 14th Annual Solarthon event. Originally scheduled for May 18th and postponed by unseasonal rain, the 2019 Solarthon - GRID's annual solar installation block party and fundraiser -was a huge success! Community volunteers, leaders from the solar industry, solar clients, residents of Atchison Village, local job trainees and more all came together to successfully install for 18 families and take part in a celebration of Richmond's bright future!
Through this year's event, we installed more than 30 kilowatts of clean, solar energy, which will save these families over $228,000 over the systems' lifespans! The systems will also offset more than 430 tons of greenhouse gas emissions - the equivalent of planting nearly 10,000 trees.
In addition to these impacts, this event was filled with incredible people, from the volunteers and sponsors who spent their Saturday giving back in the community, to the City of Richmond staff and elected officials who helped make the event possible, to the families whose gratitude and excitement truly set the tone for an amazing day. "I'm so excited and grateful", Atchison Village resident and Solarthon client, Breana G., shared during the lunch program. "It means so much to be a part of the positive change we so need and don't always see in this world."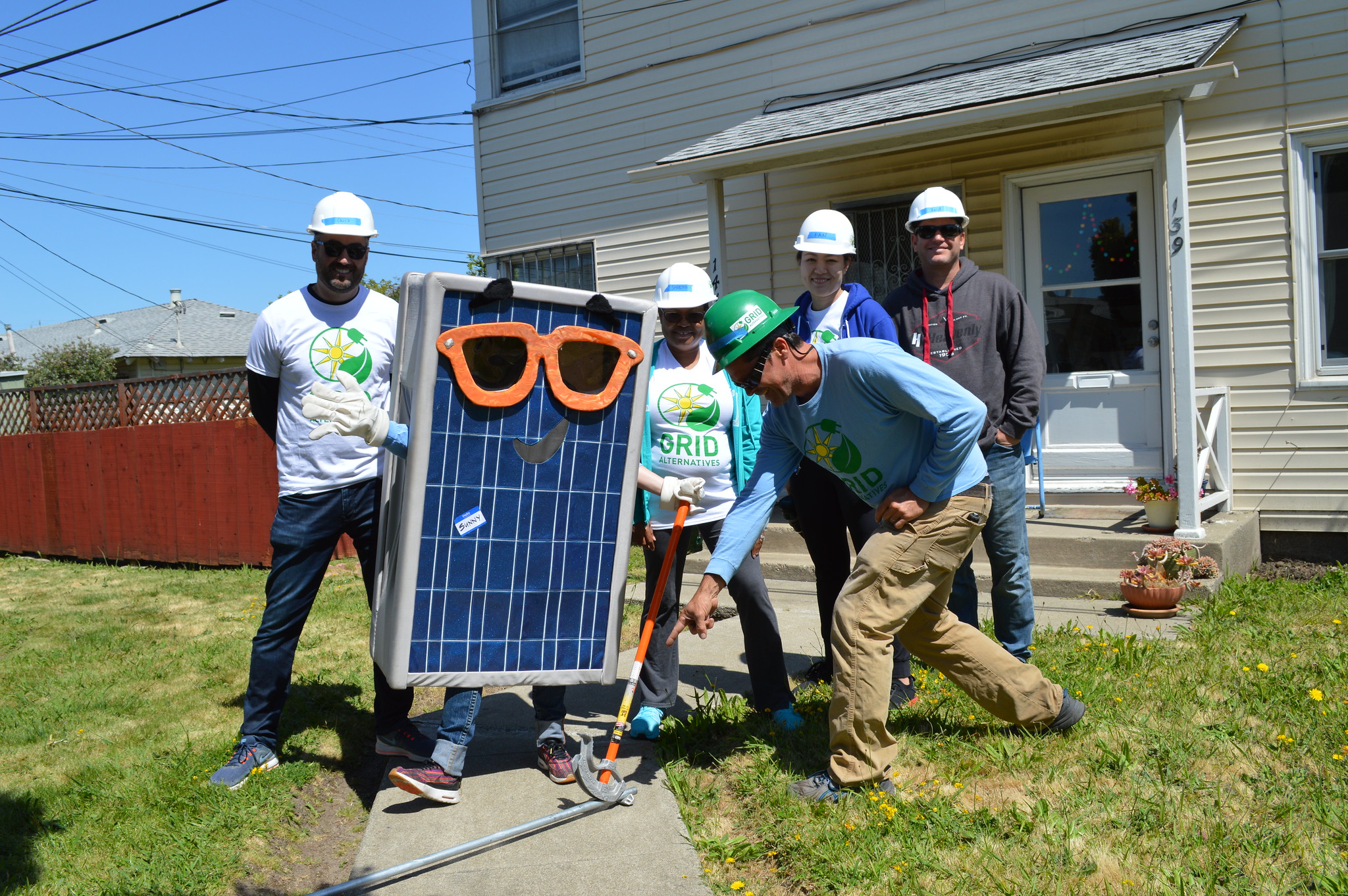 Additionally, thanks to our awesome sponsors and fundraisers, Solarthon helped raised over $72,000 to support GRID's work and mission! Solarthon sponsors included:Wells Fargo, SunPower, Enphase, Bank of America, IGS, Jinko Solar, Electrify America, Sunrun, KPMG, Google, Tesla, MCE, Burnham, Wexus, and New Belgium! Our hats are off to repeat Solar Champion Rosana Francesacto who completed her 10th GRID Solarthon, raising an incredible $8,302 this year alone and more than $65,000 for GRID to date!
Despite taking place on June 1st, Solarthon also officially capped off our Membership May campaign: as GRID Bay Area Executive Director shared, "Just for this event, we extended May one day!" And quite a cherry on top it was with 12 new members signing up during the Solarthon event - thank you all and welcome to the community! GRID's members provide ongoing support to power the transition to a clean energy future that includes everyone, and receive special perks throughout the year. May is officially over, but it's never too late to learn more and become a member today.
A huge thanks to everyone who made the event such a success! To see some of the awesome photos from around the event, visit our Flickr album here!