It was a good day for solar jobs here at GRID Bay Area! It started with an email from an employer partner saying they just hired one of our trainees. Then came the news from local job training partner,Rising Sun Energy Center (Rising Sun), that out of a group of 10 that had just days ago finished an advanced solar training course with GRID, 4 trainees had been hired into solar positions and even more already had interviews lined up. That gives us a lot to celebrate!
The two-week long comprehensive Solar Installation and Solar Career Training is a collaboration between GRID Bay Area and Rising Sun, providing over 260 hours of real-world solar installation experience which included both electrical and array hands-on training. The partnership with GRID and Rising Sun is one that exemplifies win-win: GRID provides green job seekers the experience and training they need to get jobs, and Rising Sun provides the needed case management and soft skills building to ensure they can have the best possibile opportunity for job placement.
In addition to five days in the field installing solar with GRID, Rising Sun provided the trainees with soft skills support, industry field trips and classroom trainings. They'll also offer case management support to all of the students for a year post-training. During the training, the students took part in GRID's first ever Berkeley based project, installing a solar PV system on BOSS's (Building Opportunities for Self Sufficiency) Sankofa House. The project will have an impact of $95,000+ worth of clean energy produced over the system's lifetime,energy savings BOSS plans direct to their program to support transitional housing and services for the formerly homeless.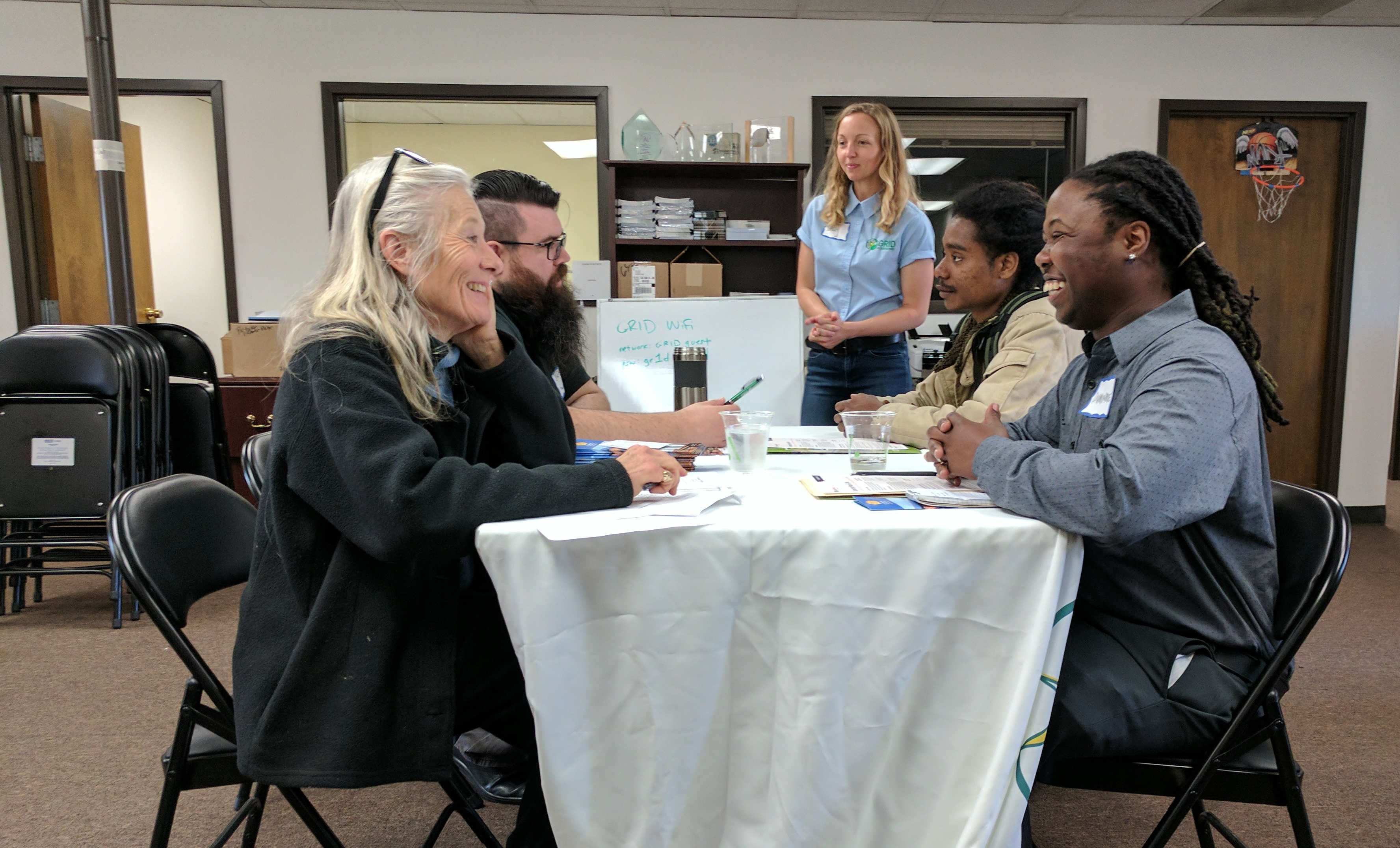 The final day of the training, GRID's office was booming with excitement as the 10 participants met with 9 industry employers for a Private Job Fair learning about opportunities and career pathways through one on one meetings with employers. As we wrapped up the job fair, a student stood to remark, "When we entered Rising Sun and started working with GRID, you said were there to help us and give us every opportunity to grow. But you said we'd get out what we put in. We got far more than that, more than we imagined, having the companies here today solidifies I made the right decision to be here. Thank you."
With the skills training, networking and hard work of this cohort, these job placements come as no surprise - but that won't keep us from celebrating! Congrats team!
This awesome program is one part of a grant supporting the Brighter Futures Berkeley program, funded through the Bloomberg Award for Partners for Places – a project of the Funders' Network for Smart Growth and Livable Communities – with match funding from a Donor Advised Fund of The San Francisco Foundation and from the East Bay Community Foundation. The Brigther Futures Berkeley program works to make solar technology and job training access more equitable in the City of Berkeley.
To see more photos from the training and installation, visit our Flickr album here.