"It feels so good to see you guys working on my roof!" said Ravi, a long-time resident of East Palo Alto. Work for Ravi's solar install kicked off on a crisp and sunny January morning, as a crew began to assemble in the front yard of his modest and well-cared for single-story home. The group, made up of volunteers from Elemental Excelerator, Sighten, and the GRID Bay Area team, was there to install 2.9 kilowatts DC of no-cost solar power for a local low-income family all while celebrating the partnership that was making this solar system possible. And there was a lot to celebrate: it was the first East Palo Alto solar installation powered by Elemental Excelerator's Just Innovation Prize, bringing together cleantech startups like Sighten to partner for community impact with organizations like GRID and the crew couldn't have been more excited.
The Just Innovation Prize has a big impact: Elemental Excelerator is providing funding that will allow 10 no-cost solar installations for income-qualified families to be installed by GRID and designed with Sighten's solar software platform, moving forward GRID projects that would not otherwise have been able to be installed due to funding shortages. The Just Innovation Prize also served a unique opportunity for GRID to pilot Sighten's innovative and streamlined solar design tool for GRID installation projects.
Over the ten projects, we expect the following positive impacts for families, communities, workforce, and the environment:
10 households receive no-cost solar energy

25 kilowatts of solar energy deployed

$250,000 in total energy cost savings generated

520 tons of harmful greenhouse gas emissions prevented

480 hours of hands-on training and community volunteerism for installation participants

5 classroom-style trainings for job seekers on solar design using Sighten's software

75 trainees instructed using Sighten's software, providing exposure for emerging technology in the industry and brand
No wonder spirits on the jobsite were soaring - together, the crew wasn't just building one solar system, but creating clean energy and technology access for low-income families and partnerships to last a lifetime!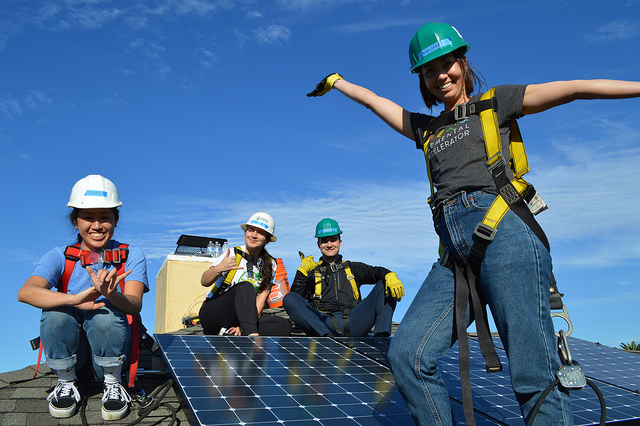 As the installation work continued in East Palo Alto, the team was watched with wide eyes and huge smiles from the window and doorway by Nicholas, the families' 2 year old grandson, along with Ravi and Prem, the homeowners, who also cooked a delicious traditional Indian meal for lunch. They were all-in on the excitement and on going solar. Ravi was beaming. "It is so nice of them to be out here and to do this."
A huge thank you to Elemental Excelerator and Sighten and to everyone who made this partnership and installation possible - together, we are making a brighter future!
Want more? Check out the great photos on Flickr!
Our friends at Elemental Excelerator are currently looking for diverse teams with world-changing solutions in energy, mobility, agriculture, water, circular economy, and beyond. The first round application takes only 5 minutes — apply by April 12! Apply now: https://elementalexcelerator.com/apply/