Most of us are born with the urge to change the world - and these world-changers understand that the first step is to find a team of like-minded individuals that are equally as impassioned and driven...and a great place to start is at a job fair!
Over 175 jobseekers and 14 solar industry employers attended our 5th Annual Solar Jobs Fair, presented by GRID Bay Area in partnership with the Solar Training Network. The fair included one-on-one resume training, workshops, and headshot photography and was attended by a diverse array of job seekers seeking assistance with finding employment within the solar industry. Attendees ranged from recent college graduates to seasoned sales professionals, and while their motives and passions differed, many attendees and employers alike had one goal in mind: to help instigate global change through the usage of renewable solar energy.
The room was bustling with positive energy as eager, exceptional job-seekers created professional connections with dynamic and impassioned solar employees, working together to create a stronger industry for solar workers. With a diverse range of companies in attendance, and numerous open job positions amongst them, it's safe to say that there was something there to capture the eye of any interested job seeker.
For Roxie Brown, Director of the Solar Training Network, the job fair was a welcome effort in their mission to connect solar employers with qualified applicants. "There's so many career fairs out there, but there's so few solar career fairs," said Brown.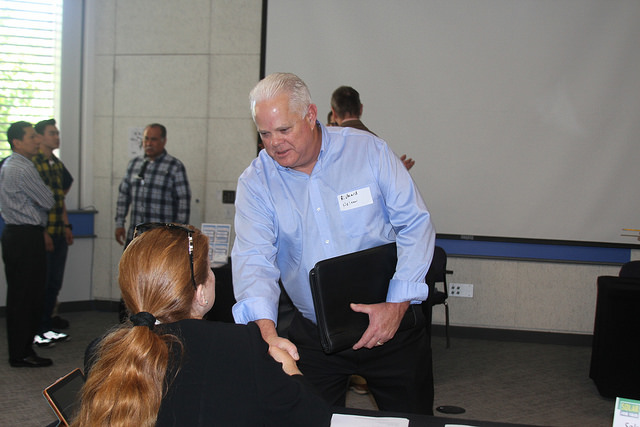 While the idea of working in solar seemed like an exciting challenge for many attendees, some felt as if they had a moral obligation to seek a career in solar. Fiona Pizzaro, a recent graduate from Cal Poly in San Luis Obispo, came into the job fair with the goal of completing a childhood dream. "When I moved here from Peru, I just saw the solar panels on the houses," she recalls, "My dad explained what it was, and how it helps the planet, and I decided that I wanted to do that."
We would like to thank all employers and job-seekers for joining us in our effort to provide professional assistance to all qualified job seekers looking to enter the solar industry. GRID would also like to extend our warmest gratitude to our sponsor, the Solar Training Network, and to PG&E for hosting the event. For more information about upcoming job fairs and events, please visit our event page here. See more pictures from the job fair here.