For those living with a serious illness, powering life-saving medical devices should be the last thing anyone needs to worry about. However, for too many families, it presents yet another difficult hurdle. That's why a foggy San Francisco morning looked so sunny to the Wade family, as GRID Alternatives set to work installing a brand new solar system on their roof.
Bob Wade settled down into San Francisco's Bayview community in 1982 and has been a pastor for most of his life, counseling community members and working to make the neighborhood a thriving place for all residents.
Yet when his wife, Carolyn, became ill with cancer, and despite his own physical ailments, he was forced to shift his focus. "Taking care of her became my ministry," he shared. And solar? "A blessing." Carolyn's condition requires that medical machines be run for long periods at home, causing the senior couple's electricity bills to skyrocket -- a huge burden on their already limited income.
In June 2017, the Wades welcomed a 14 panel, 4 kW solar system from GRID to their roof. These panels will power both their daily household energy usage, as well as Carolyn's medical equipment, providing an estimated annual savings of over $1,300, or over $37,000 worth of clean energy over it's lifetime.
Solar helps save lives. Your support provides solar to families in need. Give today.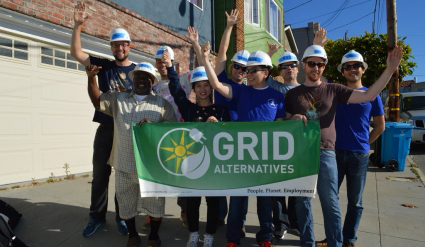 The installation of their new system was made possible with support and helping hands from Gliffy, a San Francisco based software company. A new GRID supporter, Gliffy jumped right in, bringing out a group of more than 15 employee volunteers to engage in a fun, impactful, and rewarding opportunity to give back in the communities where they live and work. Thanks to their support, two low-income families received solar installations all in one day: the Wades in San Francisco, and the Torres family in Richmond (click the links to see photos from the day!).
Sponsors help make GRID's work possible, and, with our Corporate Sponsored Workday Program, can have a great time doing it. Find out more here or email Ashley at amalyszka@gridalternatives.org.