We're showing more love to our hometown, and we've never been prouder! From the northern city limits, where urban Los Angeles begins in the San Fernando Valley, all the way down south to the ocean—we're set to do more big things in our home city during the rest of this year. 2020 has been a year of change, but we know that solar is an answer to many of the L.A. needs that persist around us.
Pacoima neighborhood office:
Starting in mid-autumn, we plan to expand select operations into a physical space in Pacoima, the heart of the East Valley. The coming move, which allows us to continue offering great GRID Alternatives services but with more localized staff presence, coincides with the ramp-up of more dedicated installation in Pacoima – a pillar of 2018's Transformative Climate Communities (TCC) grant from California's Strategic Growth Council. We're very ready as a staff for our largest single investment in this Northeast Valley region, its workers, and all people.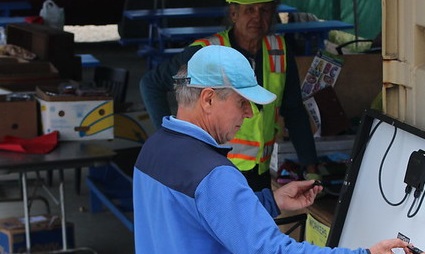 Years of experience installing systems for clients living on single-family properties near Pacoima and Sun Valley have prepared us for an amplified presence, making us deeply connected to our allies and partners on the ground. The home of one of our first Greater Los Angeles Solarthons, Pacoima is a neighborhood in Los Angeles where strong local leadership has organized transformative strategies that will benefit vulnerable communities threatened by climate change. Coordinating with our longtime partner, the grassroots environmental justice educator Pacoima Beautiful, we've set our sites on a functional neighborhood space operated by GRID staff and others just a few blocks from Pacoima City Hall.
Don't be surprised to see plenty of your friendly GRID installers parking their trucks and setting up safe sites at construction jobs in the Northeast Valley by the end of the year 2020.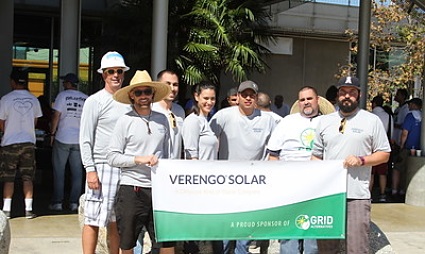 Down south, we're launching a marquee project with a local solar and storage installation at the City of Los Angeles' Wilmington Senior Citizen Center.
Greening of the Wilmington Senior Citizen Center campus: We plan to expand the impact of our Solar for Nonprofits program by kicking off work soon on a large photovoltaic system with battery backup in the Port of Los Angeles' home, Wilmington. This extensive set of work on an existing site, which includes new roofing to support solar panels, will benefit the Wilmington Senior Citizen Center operated by the Wilmington Jaycees Foundation and serving older adults throughout the South Bay.