It's the 30th anniversary of the Americans With Disabilities Act, a critical piece of legislation in the history of American labor that's gone far to empower those who live with a disability (or disabilities). Signed by President George Bush in July 1990, and amended to cover more individuals and conditions in 2008, the ADA has also been the launchpad for many of the conversations we take part in today about access, equity, and rethinking! As a nonprofit with model that's one-of-a-kind in Los Angeles – directly installing solar for hundreds of people a year, while also giving hundreds of others an opportunity to participate in skill-building on and off roofs, making them more employable – we honor the contribution of disability activists to shaping our values. And we pledge to continue un-working all practices based on discrimination that exist in our industry.
In our Worforce Development, it's common for us to refer to our hands-on training model as the GRID Alternatives "classroom on the roof." Like any classroom, it's important to create an environment intentionally free from discrimination. While everybody gets a different experience out of volunteering or training with GRID, we are proud that we're constantly improving in the ways we provide content, feedback, and instruction to accommodate those might not look like the "typical" solar trainee. In the era of quarantining, that also means being creative with our digital tools: delivering workshops online, engaging our community in remote conversations, and respecting different types of learners. Navigating all forms of injustice while opening access – to those of varied abilities, backgrounds, and experiences – is what made us unique.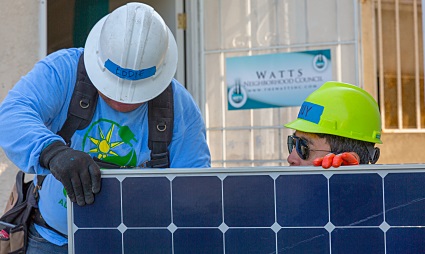 Free and low-cost solar also belongs to the communities of individuals with disabilities; we all deserve to thrive. In our most recent Multifamily installation, we were able to bring the economic benefits of clean energy to the homes of people living independently with disabilities. Hopefully, it's just one way that a society focused on dismantling oppressive systems will rethink inaccessible technology. With a diverse group of employees and a firm commitment, we intend to play an active part in creating better systems than those we inherited. The one in four Americans who live with some type of disability should have a solar industry that's on their side.
Thank you for supporting our work, and for joining us in the wider movement against discrimination! As a regional trainer, and as a GRID family, we're proud to keep standing against ableism. Read more about the places and ways that GRID Alternatives measures its impact here.