Fifty years ago on this day, Los Angeles was rocked – literally – by a devastating natural disaster! The 1971 San Fernando earthquake, felt most strongly near L.A.'s Sylmar neighborhood and the foothills around it, caused wide damage to buildings and highways, while a dam was left on the verge of collapse. More than fifty people died, mostly in hospital settings. Los Angeles Times reporting from the day after the quake cites how 40,000 Angelenos were forced to flee the area for their safety, with thirty-nine more people missing.
Though we've built back and then some in half a century since the Sylmar quake, the risks posed by a magnitude-6.5 event like the one in 1971 are real. In fact, it stands to reason that there could be even bigger earthquakes—or tremors that strike closer to the heart of the city someday. We don't know where or when. While there are only a few tools at our disposal to find major quakes and catastrophes like them, their devastation in Los Angeles communities is far from inevitable.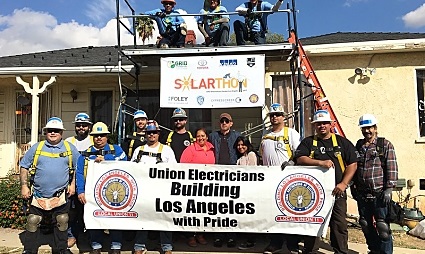 In fact, the more our team at GRID Alternatives explores new ways to pioneer battery storage and similar technologies for the populations we serve, the more we are doing important work of preparing for challenging surprise events that might affect us in years to come. Getting storage capacity online for more of the population that depends on solar energy, and scaling up successful programs so that the part of the population least likely to be able to afford the help gets it, ensurers fewer Angelenos will have their lives ruined by disaster. This is a story we have the opportunity to tell new partners all the time, including in San Fernando Valley where the events of '71 had their tragic death toll (and where more resiliency planning is happening for prioritized communities this year).
The pairing of local solar generation and battery backup is more powerful than we've ever seen it before. In a situation where vulnerable residents in an earthquake-prone area lost power in the aftermath of a major shakeup, having fully-charged batteries to kick in with electrical power might mean the difference between having cellular phone contact or being cut off from the world. Likewise, medical equipment and small, necessary survival appliances are more usable and trustworthy to electricity-users who know they can continue operations for hours at a time were the grid to go down. Civic leaders, environmentalists, and first responders all agree: this sort of resilience-focused installation work can save lives.
If you keep following our blog over the upcoming months, you'll see more featured projects where battery installation is key to the vision of a solar project – likely because there are risks faced by the community, and the ability to rely on the sun for short-term emergencies mitigates them. We all deserve access to the technology that makes our lives better! If you're moved to support this type of work, consider making a donation to GRID Alternatives that invests in preparedness and safety: