Last December, GRID Staff attended Zero Emissions Ride and Drive, an event hosted by the Harbor Trucking Association and the Port of Long Beach. CALSTART, a partner in the event, is also GRID Alternative's Greater Los Angeles (GRID GLA) partner on the Electric Truck Research and Utilization Center (eTRUC) project we began work on this past spring. 
The Ride and Drive event offered test drives of fuel cell and battery electric trucks from top manufacturers including Kenworth, Peterbilt, Nikola, Hyundai, and Hyzon. Experts were on site to provide insight on financing, insurance, hydrogen fuel, electric charging, and mobile maintenance and repair services.
GRID GLA is a proud participant in the eTRUC project, which seeks to accelerate the commercial adoption of high-power, megawatt-level technologies in medium - and heavy-duty drayage trucks. Funded by the California Energy Commission (CEC), eTRUC is led by CALSTART and EPRI, a leading, independent energy R&D non-profit. The two organizations will direct this first-of-its-kind collaboration to launch the country's first zero-emission (ZE), freight-charging corridor network.
The project will commence with a community-first engagement framework to ensure that pollution-impacted communities, low-income communities, and tribal communities are involved in creating and guiding the initiative. GRID GLA is tasked with convening and facilitating two advisory committees for the project, the Community-First Technology Advisory Committee (CTAC) and the Workforce Development Advisory Committee (WDAC). Both committees were launched in 2022, and meet quarterly to inform the project, engage diverse and representative stakeholder and community groups, disseminate and solicit input on project activities, and use input to promote equity and workforce development opportunities in priority communities.



The project's "Community First" approach will engage stakeholders, advance technology, and create ZE freight corridors in an equitable manner across communities that have been historically impacted by the surrounding freight corridors. 
One of the goals of the eTRUC project is to strategically deploy high-power charging systems along priority freight corridors that extend the range and increase the operational flexibility of ZE trucks. Our work with the project will create a California research hub to facilitate and accelerate electrification of the heavy-duty vehicle market in key areas.
The project will focus on the 710 Interstate Freeway with the goal of using this approach as a blueprint for building out high-power charging corridors both state - and nationwide. This chosen location is particularly significant because of how communities surrounding the I-710 have been historically impacted. According to the U.S. Environmental Protection Agency, the I-710 freeway passes through areas with over one million residents – about 70% of which are minority and disproportionately low income populations. The area is dense with truck traffic, industrial facilities, residences, schools, daycares, and senior centers, and communities closest to the I-710 freeway are severely impacted by pollution.
We invited stakeholders and partners we have engaged to this event as it could serve as an introduction for many to medium-and heavy-duty ZE trucks and charging stations for community members and key stakeholders.

The Ride and Drive event provided attendees with an opportunity to see, interact with, and learn about the new technologies. With this firsthand experience, attendees will become stronger advocates for ZE transportation and charging infrastructure in their communities and be able to provide us with feedback as it relates to the project.
GRID GLA enjoyed our participation in the Ride and Drive event and look forward to our continued work in California's transition to ZE commercial vehicles."For questions regarding our work with eTRUC and/or if you would like to participate in any of the quarterly Community-First Technology Advisory Committee (CTAC) or Workforce Development Advisory Committee meetings (WDAC), please contact our Clean Mobility Program Manager, Giovany Hernandez, at gihernandez@gridalternatives.org, or our Senior Programs & Partnerships Manager, Stella Ursua, at sursua@gridalternatives.org.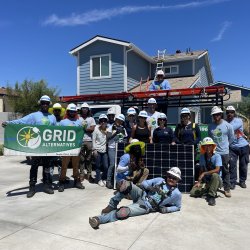 Consider donating to support GRID GLA
Help us continue to empower LA with innovative green resources that also provide economic opportunities to our communities.