As we close out LGBT History Month we are honored to share the story of a labor of love, a project we are proud to have completed and launched this month. This week we gathered with our friends and partners at the LGBTQ Center Long Beach as they powered-on their 54-panel, 17.280 kW Solar System, which will provide $240,000 in lifetime savings to the center. The money saved can empower The Center to invest in other lifesaving programs and services to the local LGBTQIA+ Community.
This project represents the full circle, triple bottom line of People, Planet, Employment that drives our work here at GRID GLA. We worked with a mission aligned organization, connected them to funding programs, installed solar panels while also training our students in solar installation, and now the Long Beach community will benefit from having clean, green energy poured into its grid, and from the reinvestments of funds saved on electric bills. We love to see this kind of win-win-win scenario benefitting our communities! 
Stella Ursua is our Senior Programs and Partnership Manager here at GRID Alternatives. She's also a proud member of the LGBTQIA+ Community, has been visiting The Center for several decades, and she serves as the recent Board President of the LGBTQ Center. Stella speaks on her history with The Center. "I visited The Center in the early 90's looking for a safe place to meet people, see what types of programs and services were available, etc. Instead, they put me to work right away!" Stella laughs. "They asked if I could help organize a support group. I started a group for Latinx Lesbians as a result...I think it was the first one. I joined the Board in 2016, and took over as Chair/President in 2020." 
Needless to say, this project has been near and dear to Stella's heart. "When I started as President/Board Chair for The LGBTQ Center Long Beach back in 2020, I knew that adding a solar energy system would help The Center reduce their typically high monthly energy bills to a rate that would allow us to reinvest these dollars in vital programs and services for our community."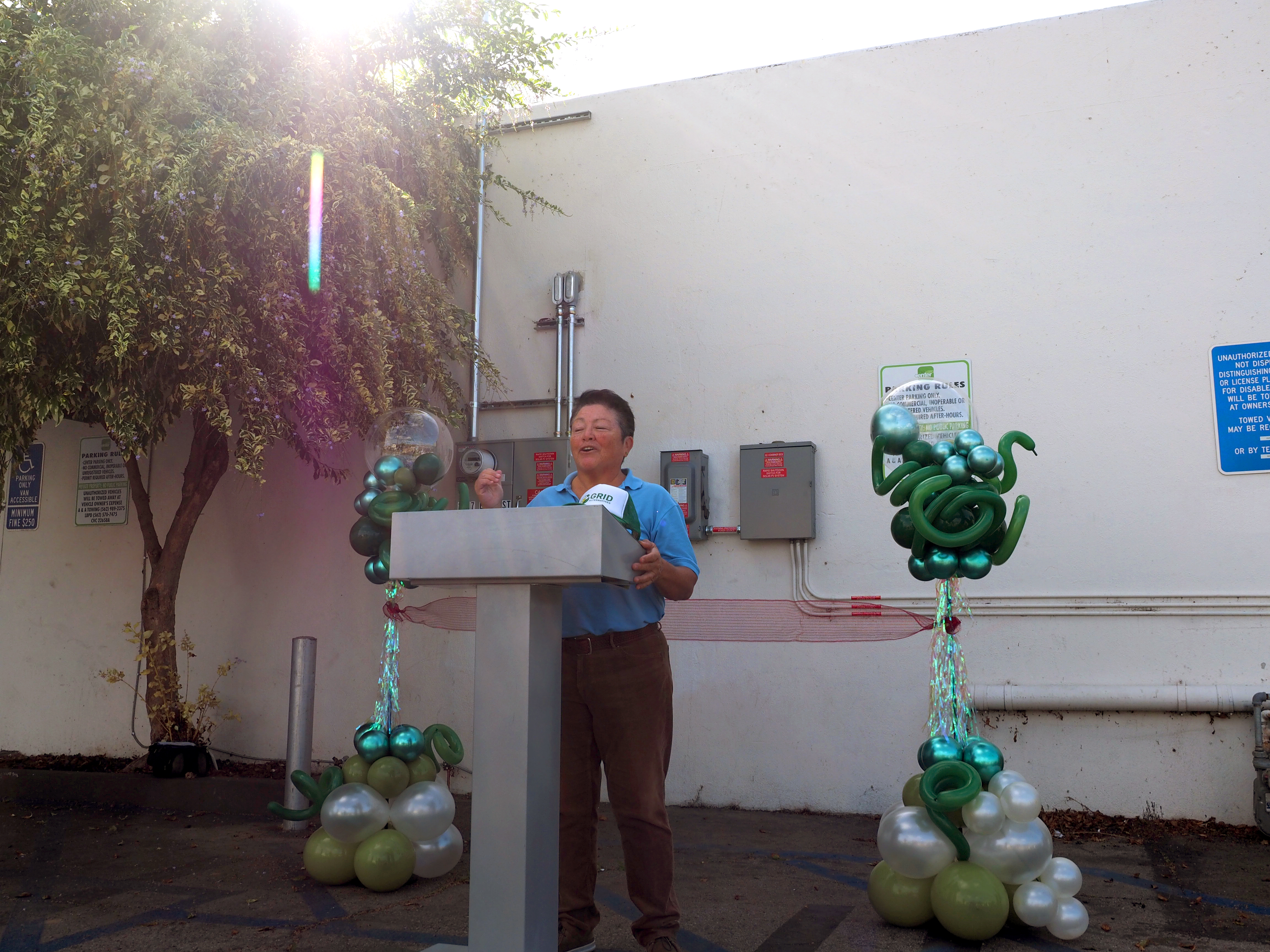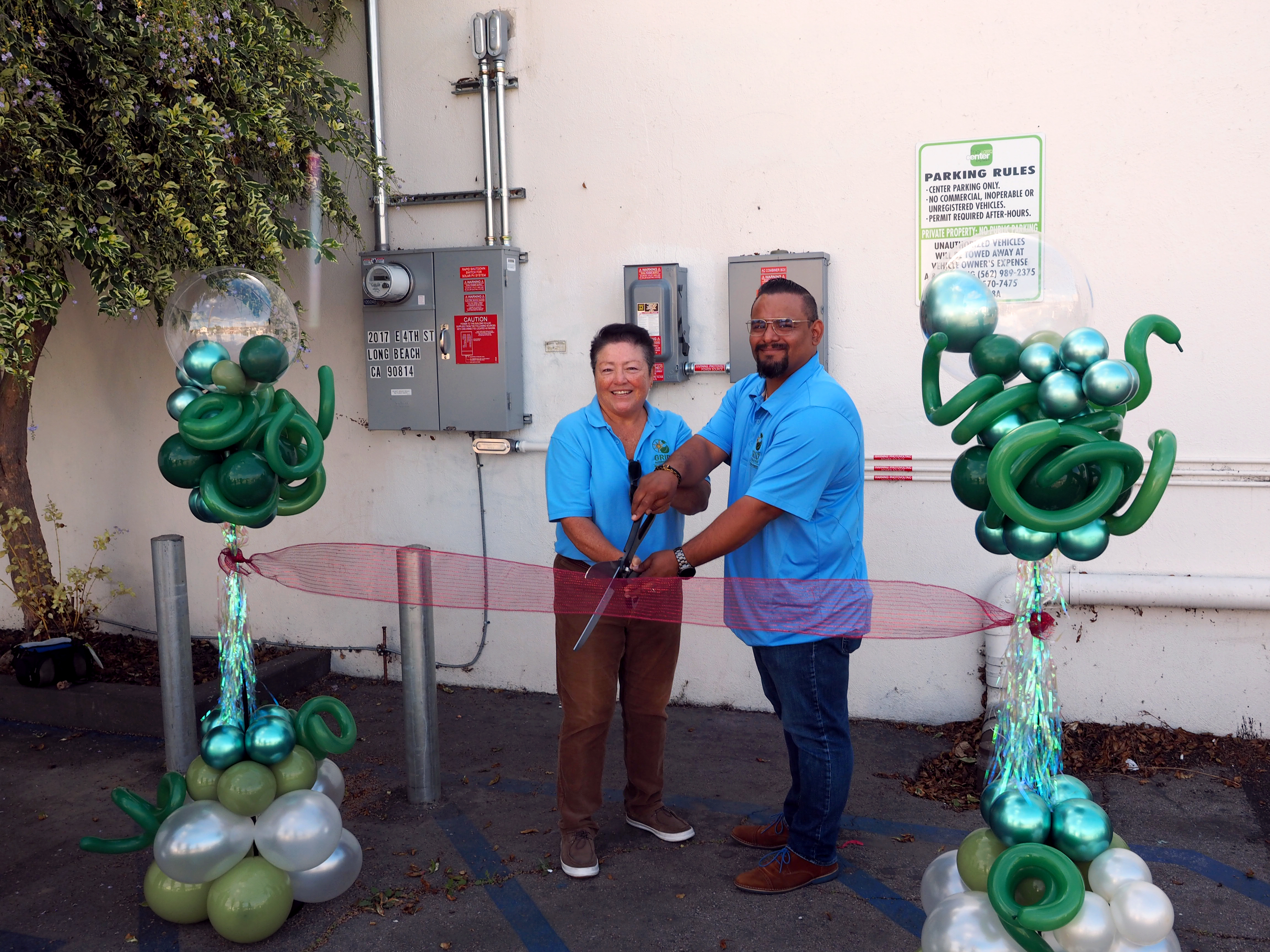 While the vision was always clear, this project was not without its setbacks. But obstacles were no match for Stella and the team at GRID GLA's passion and determination. "Because of the COVID-19 pandemic and other extenuating circumstances, it took us over two years to finally bring clean energy to The Center." says Stella. "I am thrilled we were finally able to bring our two organizations together on this effort!"
GRID GLA Director of Construction and Operations Jonatan Escalante and his construction team were also a huge part of this project. Our dedicated crew is composed of certified construction professionals as well as students receiving no-cost, hands-on instruction through our solar installation training programs. Together, construction crew and trainees tackled this challenge. "Since the first visit to The Center, we knew that this project wouldn't be easy," says Jonatan. "The type of roof structure, voltage configuration, and electrical service location showed us all the challenges we would be face. In addition, the pandemic caused multiple delays in permits and materials." Jonatan is happy to see the results of his team's hard work. "Now, I can proudly say, We did it! After seeing the energy production from one single day, I can tell that all the challenges were worth it. Thank you to The Center for the trust, and allowing us to be part of this great project." 
GRID GLA began working on installing solar on the LGBT Center Long Beach in 2019. The pandemic was one of the key factors slowing down the project. The center also needed extensive roof repairs, and eventually a new roof needed to be installed. Luckily, we were able to find funding for all phases of the project through Hammond Climate Solutions Foundation's Solar Moonshot Program, and through funding provided by The Ahmanson Foundation.
Finally, we are here, in LGBT History Month in 2022 - celebrating the powering-on of this historic solar system. We gathered our two organizations together on Wednesday morning, along with some members of the press, our funders, invited guests and public attendees, to celebrate this launch with a ribbon cutting ceremony. 
Carlos Torres, Executive Director of The LGBTQ Center Long Beach, who spoke at the event, says, "The impact of climate change is real and here. California is experiencing a drastic drought. By going green The Center is supporting our environment, and the economy of the future.  We want to be a responsible neighbor and contribute to the solutions." He adds that The Center will benefit financially from having gone solar. "We plan to reinvest the savings from the solar panels into additional support for programs and activities at The Center."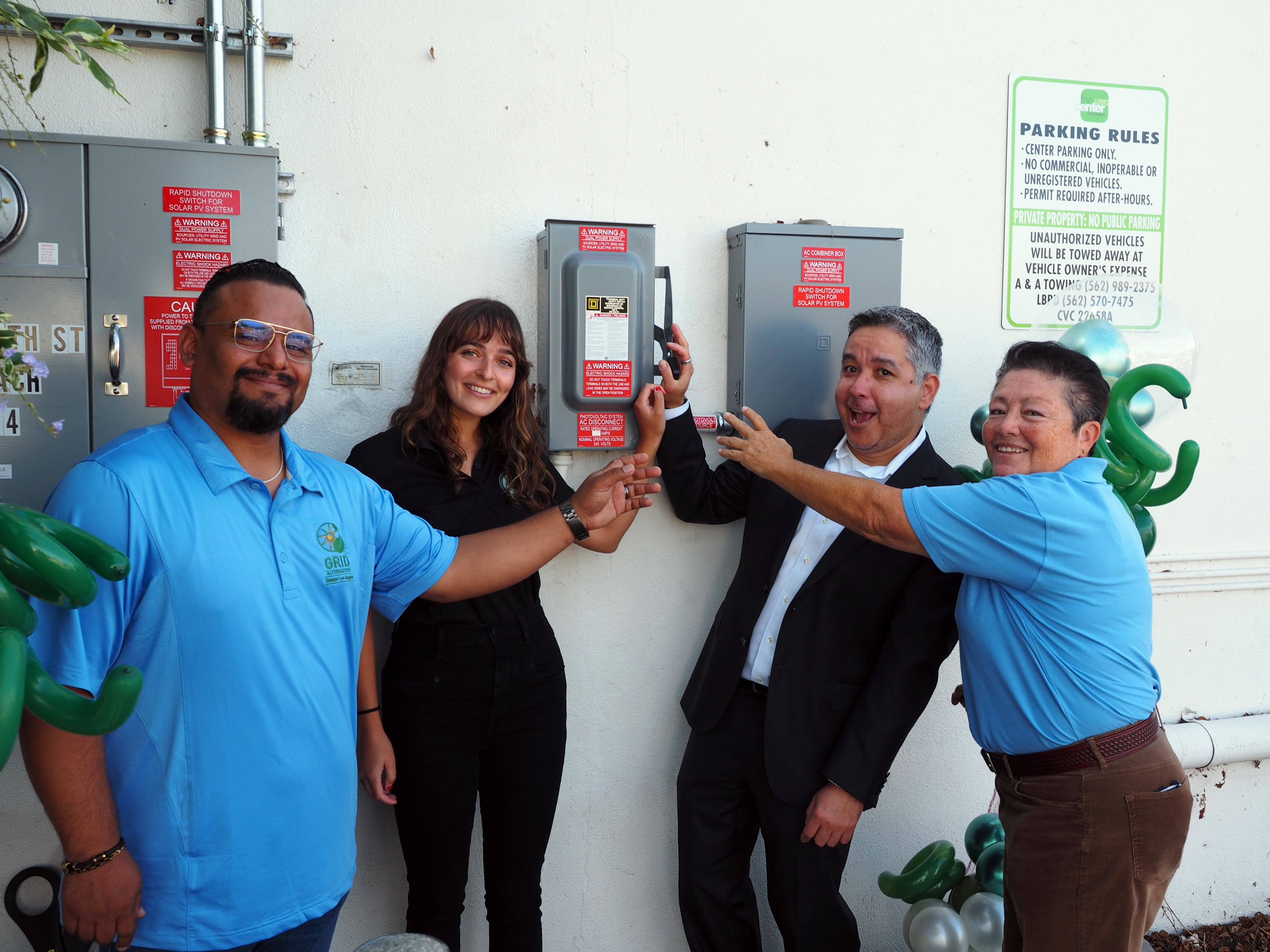 With electric bills ranging from $1800-$2000 a month being a thing of the past, The Center can focus their efforts on expanding to a new location, and creating relief for continued upcoming climate events. The hot topic at the moment for The Center is creating a resilience center, which will be somewhat of a cooling center / community center. "It's so necessary right now," says Stella. "If you think of the 3 weeks in August when temperatures were 100+, with over 60% humidity. Think about seniors and people who don't have any place to go. We're trying to get The LGBTQ Center situated so people know they have a place to go." Carlos is also discussing with GRID GLA the potential for battery storage at the next LGBTQ Center, which will maximize their solar system's impact.
Going solar is just one step in the LGBTQ Centers journey towards going green, but the future is wide open. One thing is for certain, with Stella on board, and with The Center's commitment to sustainability, the LGBTQ Center Long Beach will continue to be a leader in renewable energy initiatives and solutions, and GRID GLA will proudly support them along the way.