The fall Solarthon took place on Thursday, October 24 and Friday, October 25, bringing our whole team out for an all-hands-on-deck effort in the City of South Gate! Each year, Solarthon's a special install and fundraising event that brings an entire community together to celebrate solar access with our staff. Plus, we install some systems! We knew South Gate would be perfect for a multi-day celebration, and that homeowners would be excited to host these installations across a two-day period with a festive lunch. And our impact ended up being huge: $35,000 in savings unlocked for low-income families in the heart of the city, plus volunteering experiences for over four dozen people.
Solarthon 2019 was our fiftieth project in the South Gate city limits, and our largest. Its success was made possible by local employees at Wells Fargo, thanks to a generous willingness to sponsor six single-family homes going solar. For each of these families, a no-cost solar system will be a gateway to much-needed savings (money for food, healthcare, transportation, or anything else they need). "I hope that everyone knows about this [eventually], and I love that it's free," South Gate homeowner Ruby Loera Sanchez told our Wells Fargo guests during the first day.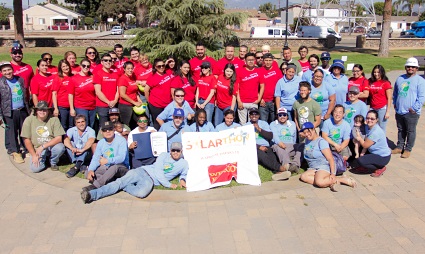 Councilman Al Rios, Mayor Maria Belen Bernal, and members of city administrative leadership were on-hand as Wells Fargo teams of up to a dozen loaded up into a South Gate shuttle. Our workdays were hot (nearly 100°!), but by the time we broke for our tacos and aguas frescas, it was clear everyone was having a good time. Partnerships Manager Stella Ursua put it perfectly: GRID is proud to have installed fifty systems here, and we think of Solarthon as the kickoff for installing fifty more! We're thankful for our partnerships with South Gate, and we give thanks to Wells Fargo for making it possible to celebrate a milestone here (and for volunteering time during an awesome Solarthon!).
---
If you're interested in sponsoring future Solarthon work, find more information on our website.