On a brisk March morning in Compton, CA, Keisha Daniels bounces from door to door in her neon yellow Sisters of Watts shirt, trying to get her neighbors to sign up for free solar from GRID Alternatives Greater Los Angeles (GRID GLA). This is how dedicated to the community Keisha is. "If something is good for people, I want them to know all about it!" says Keisha. 
Keisha is helping GRID GLA overcome one of our biggest barriers - establishing trust with communities in order to connect families with truly free solar, installed for free by our certified construction crew, sometimes accompanied by free roof repair. With so many solar scams out there, and so many financial institutions practicing years of predatory lending, distrust in a product that sounds "too good to be true" is expected. It's one of the reasons we are happy to partner with individuals and organizations like Keisha and Sisters of Watts to get our message out.
Keisha is one of the founders of Sisters of Watts - a nonprofit that supports families with services like free backpacks, toys, food, and haircuts, and with events like youth clean up days and a peace march for youth. Keisha's sister Robin Daniels, also a co-founder of Sisters of Watts, had solar installed by GRID GLA on her home in November of last year. The install earlier this month for Keisha represented GRID GLA's passion for supporting the community in our work. 
---
"If something is good for people, I want them to know all about it!"
- Keisha Daniels, Sisters of Watts 
---
Keisha was bubbly on install day. "I'm so excited with all these high bills that are coming up, I can't wait to see my savings!" said Keisha. She talked about how easy the process was to go solar with GRID GLA.  "Ms. O [Senior Outreach Coordinator Orlanda Cunningham] is such a wonderful person, she walked me through the whole process. I didn't even have to go down to the city… the only thing I had to do was invest my time in filling out the application, and they took everything from there!"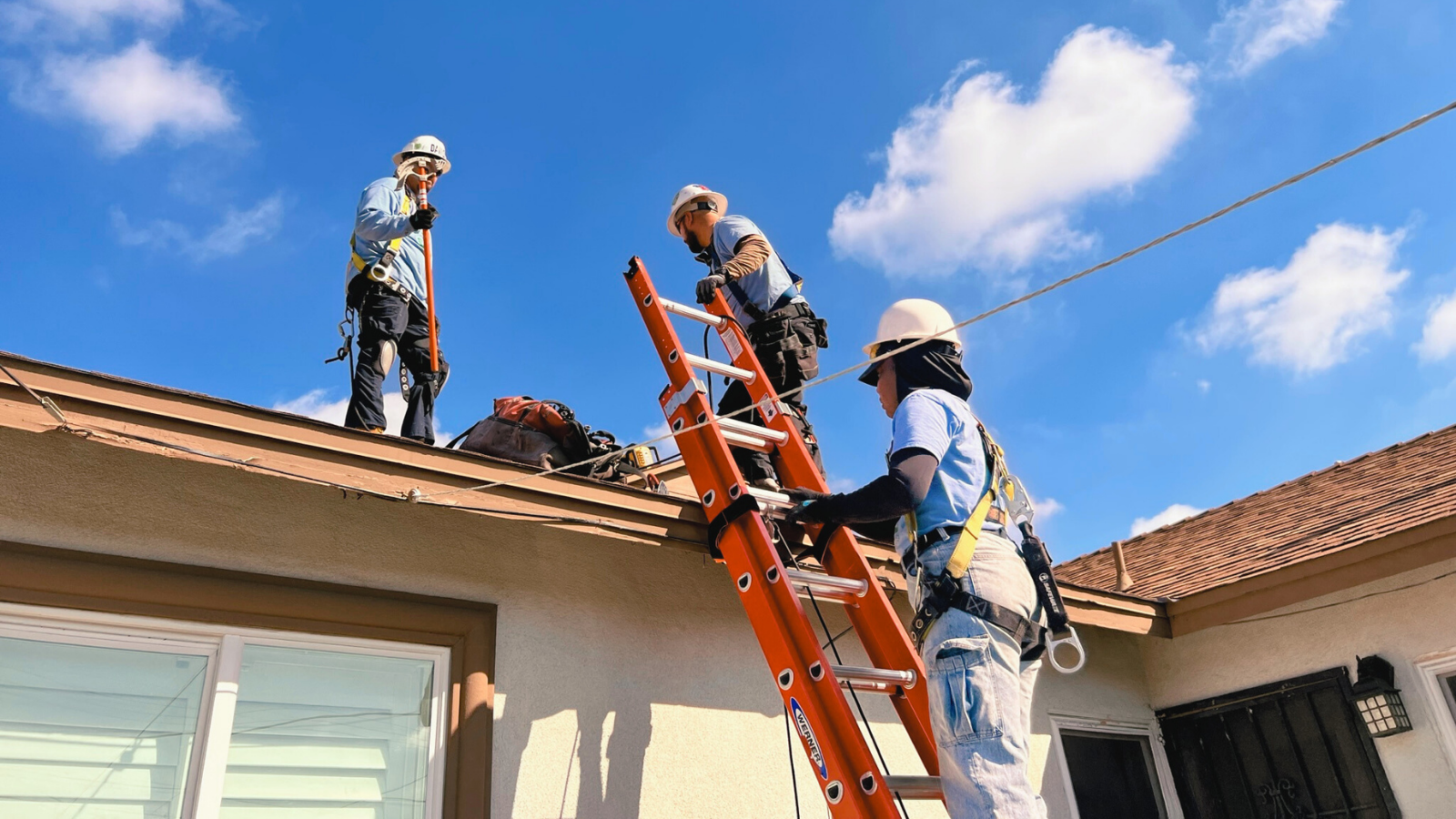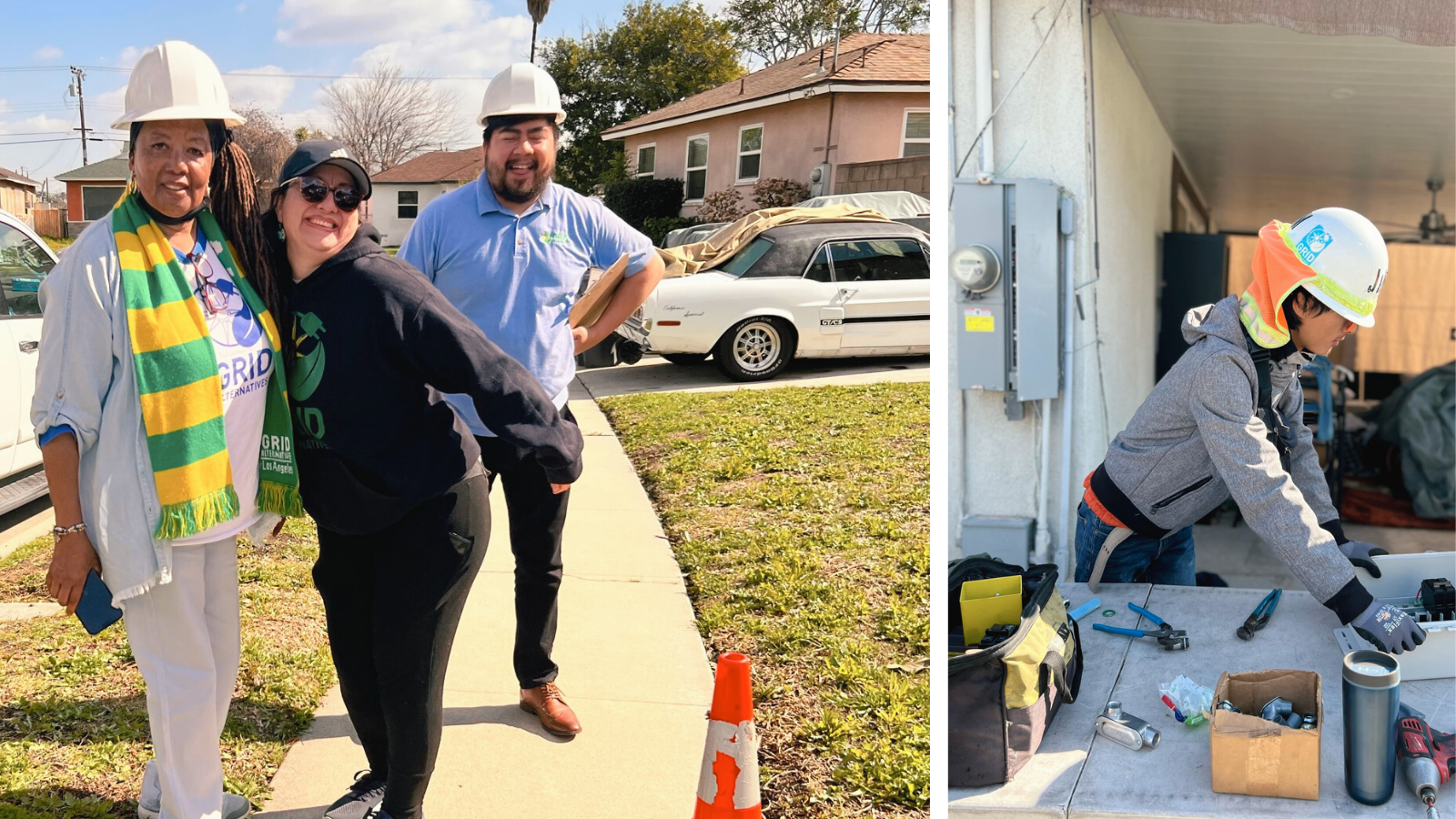 GRID GLA is able to provide income-qualified homeowners in neighborhoods like Watts, Compton and Pacoima (to name a few) with extensive services surrounding the process of going solar through grant funding from programs like TCC and DAC-SASH. 
Our solar install days often feel like a "family affair", because we have gotten to know our homeowners so much during the pre-install process. Our construction crew's passion to do work for deserving families is also palpable and contributes to the energy of our installations. For this particular install, Keisha's daughter and sister both joined us to say hello and watch the progress, further strengthening the family vibes of the day. 
---
"The sisters are an example to others who have been shy about accepting the investment in solar and clean energy."
- Senior Outreach Coordinator Orlanda Cunningham, GRID GLA
---
The day went by quickly. Outreachers Orlanda Cunningham and Brian Cervantes had done extensive work to prepare, and on install day the construction team, led by Senior Solar Installation Supervisor Lee Kwok, took over. David Andrade, Rudy Curtis, and Unique Thomas tackled the rooftop work of installing railings, and then panels. On the ground, Jimmy Cheung and Edward Aguilar handled electric work. Logistics & Safety Manager Tony Romero stopped by for safety inspection. SolarCorp Construction Fellow Brian Borrego was also onsite and assisted the team with any additional needs.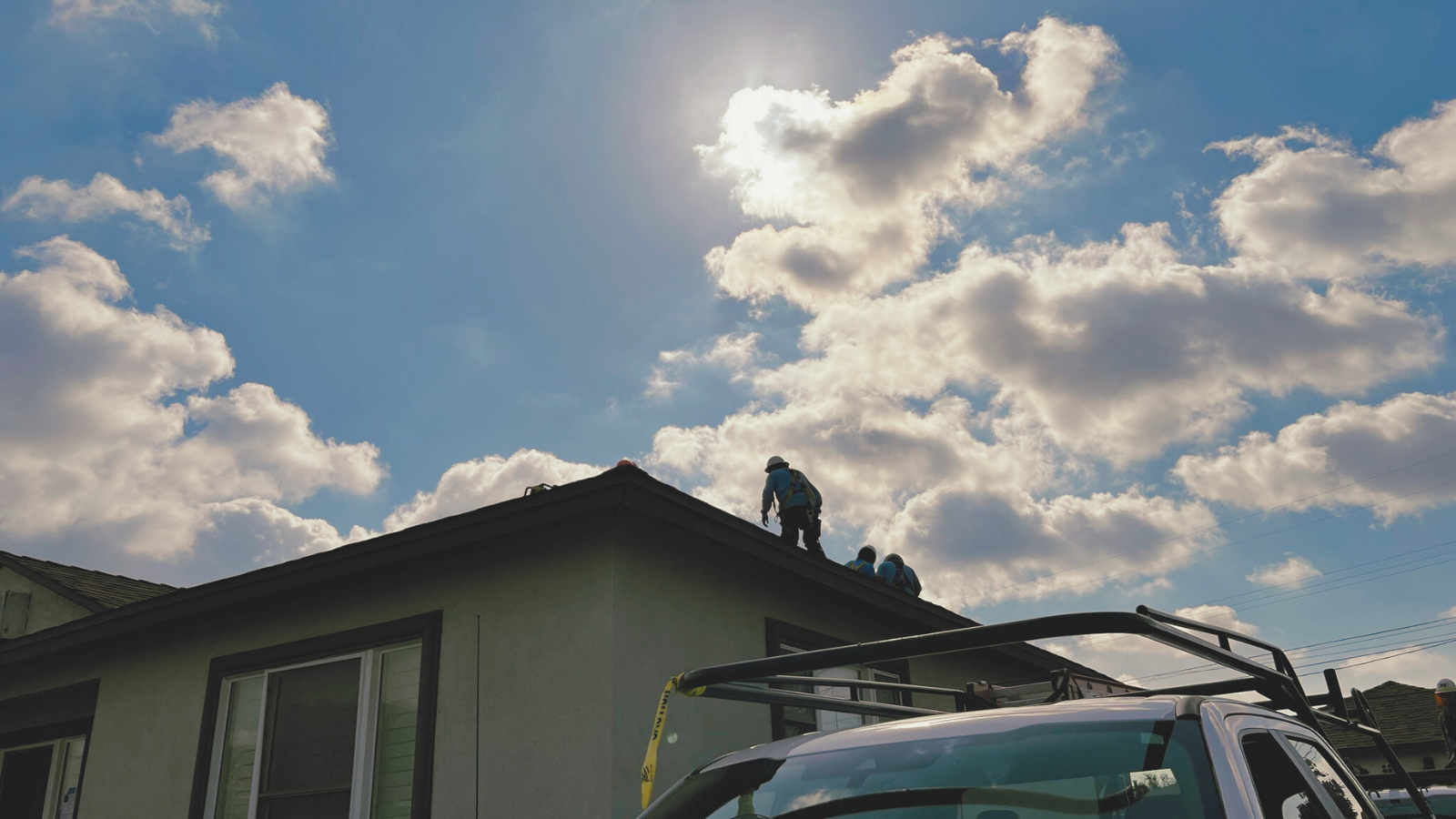 "It was a great experience" says Senior Outreach Coordinator Orlanda Cunningham (Ms.O). "From being introduced to Sisters of Watts, to being impressed that these women are really hands-on invested in being an ear and voice to the concerns of the community." Ms. O shared that she was grateful to get to know Robin and Keisha throughout this process. "The sisters are an example to others who have been shy about accepting the investment in solar and clean energy." Ms. O added. "They are great people, they're like a ray of sunshine whenever you're around them!"
The day was a big success and a true reflection of the work GRID GLA is proud to do in the communities many of us are from, which are also the communities we serve. It brings us pride to support women like Keisha and Robin Daniels, who pour so much of themselves into their communities and bring so many resources to Watts through their organizing. We were happy to welcome the sisters to the GRID GLA solar family.  
Thank you, Ms. Keisha Daniels and Sisters of Watts for spending a fantastic day with us!   
---
GRID Alternatives is a 501c3 nonprofit that offers 
Free solar panels to income qualified families
Free solar installation job training to anyone over 18 
Commercial solar installation for nonprofit buildings, resilience centers, government buildings, and affordable housing buildings
Contact us to learn more
Keep up with GRID GLA on a daily basis. Follow us on: 
Instagram
Facebook
Twitter 

Or donate today to support our mission