With a proud smile, SolarCorps Fellow James Magee clicked in the last wires under a solar panel. For the GRID Alternatives family, there were plenty of reasons to smile this week! Not only was this the third South Gate roof that James had worked on, as an installer in training with GRID Alternatives Greater Los Angeles … but this job was also our first of the new year!
Like most of the installation work we do, this system for a retired couple in South Gate came about through our Energy for All initiative. For you and your family, Energy for All is the easiest way to go solar: clean, no-cost energy production that brings you lower household bills and benefits the community around your home. GRID team members like James handle the entire process, from start to finish. That means that James and his teammates are there to help from the first day (when we take measurements and assess a new roof) to the last (when our install team, including trainees and individuals from the community, bring modules to your home and complete the job of getting you solar).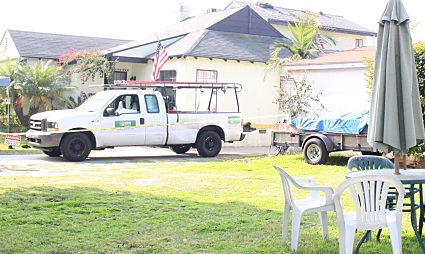 Solar brings dramatic benefits to communities like South Gate, which carry the burden of worse-than-average air quality. When we install through Energy for All, part of the bottom line is the impact we have on people: 50-80% bill savings unlocked for a low-income family can provide comfort, opportunity, and a pathway to the future they want. Additionally, we think of our solar as a key way to benefit the planet: Earth's changing climate is something we all depend on, and renewable energy is a vital tool to strengthen our communities in the face of the worst impacts of climate change. Finally, we think that solar is a wonderful way to unlock employment in communities, especially communities that suffer from underinvestment and unequal access to resources. Individuals like James, a Long Beach native, are living proof that the solar industry is ready for new talent and training for the jobs of tomorrow.
Our first project of 2020 illustrates these impacts clearly. Half a dozen modules on this hosue will lower the annual electric bill by close to 99.9%; that means that $10,737 dollars will be in pockets of members of this community, instead of going to pay for utilities. Every new kilowatt of solar takes away the necessity of generating equivalent power from dirty fuels. Would you believe that one house going green with GRID eliminates the need for 24.24 tons of carbon?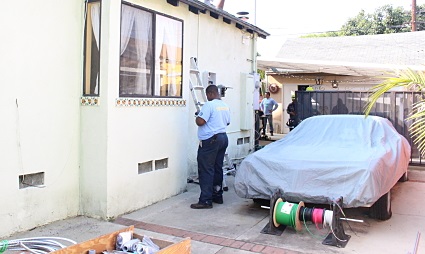 This year, we hope to bring hundreds of new families the benefits of clean, limitless energy from the sun and ensure that dozens more individuals like James are getting ready for work in the fast-growing solar industry. By helping expand access to jobs and technology to communities that have not had equal access to it in the past, we achieve a great (and growing) impact all across Los Angeles and its neighboring communities.
We have plenty of opportunities for volunteers, supporting partners, and those interested in learning more about our work in 2020. Not only are we opening doors in South Gate, we plan to do the same in a wide variety of neighborhoods … from Lancaster and Pacoima in the north to Anaheim and Santa Ana in the south.