After six whirlwind weeks of solar installations, workshops, trainings, canvassing and hot, hot weather, the Department of Energy and the Environment's (DOEE) Green Zone Solar Plus Summer Youth Employment Program (SYEP) has drawn to a close. GRID Alternatives Mid-Atlantic was proud to lead, train and provide new experiences and opportunities to the 15 Green Zone job trainees.
Green Zone Solar Plus is part of DOEE's Green Zone Environmental Program (GZEP) that provides over 300 District youth and young adults, ages 14-24, with training, education and work experiences in the fields of energy and the environment. GZEP is designed to give real-world, hands-on experiences and the opportunity to learn skills needed to compete for jobs in today's green economy. "The Department of Energy and Environment is committed to preparing the District's young adults with the skills and training they need to obtain green jobs and be future leaders in the fields of climate change and sustainability," said DOEE Director Tommy Wells. "We are excited about the success of the inaugural GZEP Solar Plus program and our continued partnership with GRID Alternatives Mid-Atlantic."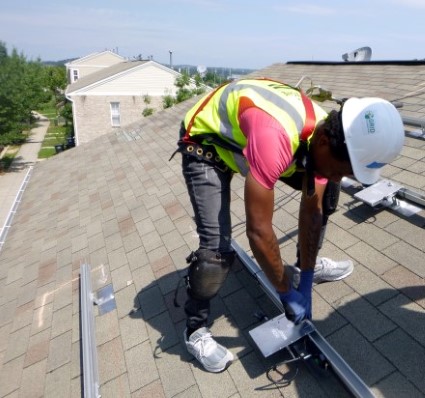 Through the Solar Plus pilot program, participants gained the skills needed to enter the growing solar industry. Throughout the summer, GZEP trainees participated in wiring and safety workshops and put their new skills and knowledge to work installing solar panels on low income homes alongside expert installers from GRID Alternatives. In addition, the GZEP job trainees received CPR and OSHA 10 Training, and GRID Electrical and Job Site Safety Certifications. Participants trained with local eco-contractor AccessGreen, taking LED lighting and energy efficiency workshops, and completing LED installs in a local public school. GZEP participants also participated in the Renewable Portfolio Standard Expansion Act of 2016 signing by Mayor Bowser, a landmark moment for renewable energy in the District.
The summer of training and resume-building culminated in a Career Day, held at McKinley Tech, where GZEP trainees learned about different industries and met employers from local environmental, energy and job training organizations. Green Habitat Solar and DCSEU spoke in the morning about job opportunities at their organizations. Following lunch, JobCorps spoke about their job placement program, Oynx Brothers & Associates discussed entrepreneurship, and Vivant Solar talked about the growing solar industry. GZEP trainees were able to interview with several employers who were hiring, including AccessGreen, Vivant Solar, and Kenergy.
On Career Day, GRID Alternatives was also proud to announce that two GZEP-SYEP job trainees and one DOEE GZEP Team Leader would be joining our Mid-Atlantic team! GRID offered two SolarCorps Construction jobs to Dominic and Keon, and a SolarCorps Volunteer position to team leader Alexis. "The purpose of GZEP is to give youth opportunities in different industries that they would not have experienced otherwise, so that those skills can build their resume and better prepare them for finding a job, and eventually, a career," said Nicole Steele, Executive Director of GRID Alternatives Mid-Atlantic, "This summer, we feel that GRID Alternatives has done just that with all the GZEP trainees. We are excited for three of the talented GZEP individuals to join our GRID Mid-Atlantic office." Keon said, "My first week being here, I was not that into it. But after the first week, I fell in love with it. I love installing solar panels." Dominic is looking forward to the "homeowners' smiles" when he begins installing solar at GRID, as well as gaining more experience in the solar industry.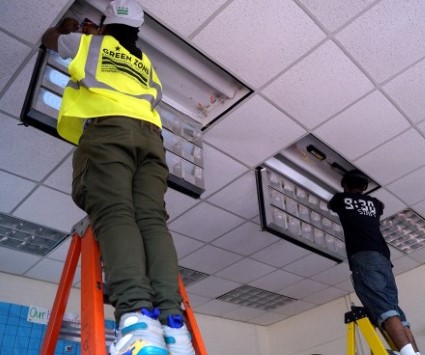 Kayla, who has been a GZEP Team Leader for three years, praised the partnership with GRID, saying the welcoming, warm personalities made the experience easier. The GZEP trainees, she said, grew a lot over the course of the six weeks. "They started making more effort because they had been given the opportunity to do something different." Thomas, the Solar Plus Site Manager, agreed, "They were exposed to things they didn't know about." Sienia Arku, Workforce Coordinator with GRID Alternatives noted, "As the summer went on, I saw the GZEP trainees putting more effort into their work, and becoming invested in what they were doing. This summer experience influenced them in a positive way, even if they don't end up working in the solar industry."
GRID Alternatives Mid-Atlantic had a great time with the GZEP trainees and cannot wait to see what the individuals will do with their new skills and talent!