Luther Courtney is affectionately called "Papa Lou" by friends and neighbors because he has gone above and beyond to be a father to not just his own children, but to many in his community. Raised in Texas, Mr. Courtney made his way to San Diego at 19 years old, serving in the Marine Corps at Camp Pendleton.

After his time in the Marines, Mr. Courtney worked for the City of San Diego for 33 years. He divided his time between the Sanitation and Water Departments as well as Equipment Operation, he was one of the first African Americans in the City of San Diego to run a crane.

Anyone who knows Mr. Courtney, also knows that working for the city wasn't his only job. He started coaching Pop Warner football in 1971. That eventually led to coaching football all around San Diego including tenures at Lincoln and San Diego High Schools, and then spending the last of his 42 years of coaching at Morse High School in his beloved Skyline Community.

Mr. Courtney was instrumental in winning 8 California Interscholastic Federation and 2 state championships. He's had a chance to coach nearly all of San Diego's famous Heisman Trophy winners and act as mentor to numerous athletes who went pro in football and baseball.

His participation in The National Football Foundation and College Hall of Fame helped usher hundreds of students into college. Papa Lou was just as concerned about his students in the classroom as he was when they were on the field. He was dedicated to his student athlete's whole selves; going to different classes, counselors and teachers to gather resources to help students get the support they needed to apply to and succeed in college. He made surprise visits when his players weren't showing the requisite levels of diligence in class and let them know he was watching and invested in how they performed at all times.

"These California boys are spoiled," he jokes. He didn't take it easy on them and pushed them to their full potential, a stance which has earned him a lot of love from former students. He laughs at the amount of times he's been spotted in airports, malls, and out and about in the community. Often people will mimic one of his most often used sayings "It's rough, ain't it?" -- a phrase which he says kept his students motivated.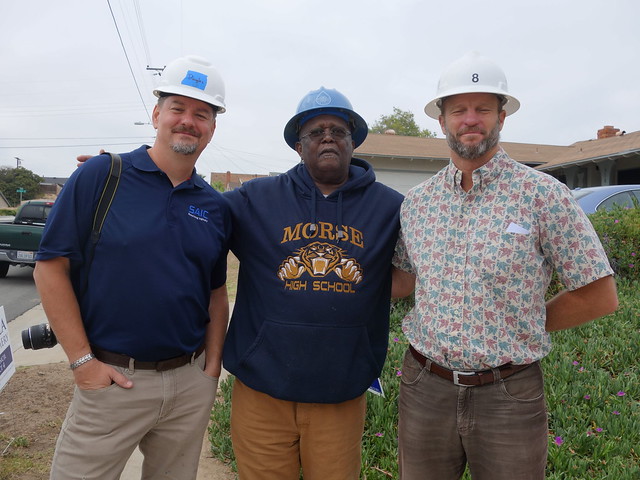 Mr. Courtney is not easily forgotten, he says he has been visited and contacted by players he has helped throughout the years -- one player even flew him out to Honolulu for the Hawa'ii Bowl. He often acted as a surrogate parent, explaining that students would often call on him when they were in trouble.

Mr. Courtney's career was always about uplifting his community and empowering its youth, never about money. Sometimes it got hard to find a balance between being a father figure in the community and in his own household. But his daughter's severe health issues and the tragic death of his stepson helped him recognized the importance of taking care of home first.

Jen White, his long time neighbor, GRID client and one of the children of the community he mentored, connected Mr. Courtney to GRID in 2018. "Men like Papa Lou help by investing so much in local youth, he is a real pillar of the community."

Although he's still very dedicated, age has slowed down his activity and retirement has slowed down his income. He's very thankful for the opportunity GRID has given him to almost eliminate his electric bill with solar. "If you want to live in San Diego, you have to save!" proclaims Mr. Courtney. Now with his 2.2 kW system, he's also eliminating 44 tons of greenhouse gas emissions.

Whether it's his community or the environment, Mr. Courtney's dedication is undefeated.