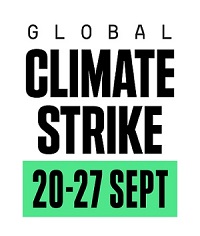 As an ally for this year's Global Climate Strike, GRID Bay Area has compiled a list of daily pledges in solidarity with the climate activists that are walking out of their homes and workplaces to demand an end to the age of fossil fuels. We may not all be able to strike, but we can pledge to make a small change each day during the week of September 20th -27th to limit our carbon footprint and show our support! Pick a day, pick a pledge, or make your own - but we hope you'll join us and millions of activists around the world in supporting climate justice for everyone!
From @climemechange on Instagram. Like this? Follow @climemechange for more!
Friday, September 20th: Join members of the GRID team at the Bay Area Climate STRIKE rally starting in Oakland at 10:00 am and merging with the SF march in the afternoon. Sign up here to march with GRID.
Monday, September 23rd: Save a cow, eat some tofu for a Meatless Monday! One day can make a huge difference: if the average American cut just one hamburger a week out of their diet - it would be the equivalent of taking 10 million cars off the road for a year!
Need help finding some vegetarian and vegan restaurant options near you? Check out HappyCow for some great recommendations!
Tuesday, September 24th: Just say no...to shopping! And we mean all shopping. Challenge yourself to go a day without taking out your wallet. Drink coffee at home, pack your lunch, and avoid the allure of two-day shipping. You can do MORE for the environment by buying LESS!
Can't commit to a day without your credit card? Read below to learn how you can become a more sustainable shopper:
Wednesday, September 25th: Bike (or carpool, or electric scooter, or bus) to work for Clean Mobility Wednesday! A chance to reduce your emissions AND get some exercise or socialize with your co-workers. Leave your car at home, we promise - it won't miss you.
Want to make your mind do some commuting? Read up on the Inequities In Transportation Pollution
Thursday, September 26th: Let's get down to ZERO waste day! Ditch (as in don't use) the single use plastic, compost your paper products, and pack your lunch in sustainable tupperware - because we're going to try our best to leave no waste behind, at least for one day!
Check out these tips on how to limit your daily waste! How many of these tips can you keep going?
Friday, September 27th: Be efficient, be-be efficient for a Friday focused on energy efficiency! Identify and unplug your phantom loads, disconnect your charged electronics, and switch some lightbulbs out for LEDs! For more resources, check out Rising Sun Center for Opportunity and their no-cost home efficiency support programs!
Friday, September 2th - Sunday, September 29th: Support GRID staff and community members as they ride their bikes for the planet during Climate Ride's Green Fondo cycling party! Donate to their fundraising efforts or cheer them on from the ride's launch at Walker Ranch in Petaluma between 7 - 9 am on Saturday or Sunday!
And lastly, consider spending your weekend like this:
From @climemechange on Instagram. Again, can't recommend this content enough.